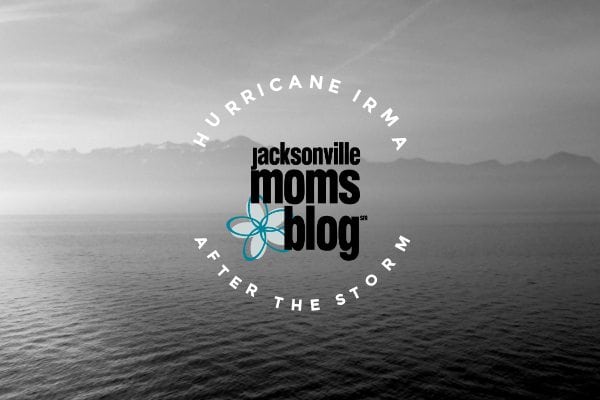 As a lifelong resident of Jacksonville, I have never experienced what occurred in the dark, early hours of September 11, 2017, and the floods, wind and damage that followed. A city rarely touched by hurricanes, Jacksonville had a wakeup call in October 2016 with Hurricane Matthew, and I am certain many citizens (myself included) thought it was impossible that we would endure another one of these storms for the second year in a row.
But we did.
What Irma didn't do was weaken was our spirit. Last year, Hurricane Matthew showed us that we can come together, support one another and grow stronger as a community, and our experience this week reinforces that fact. In the wake of Hurricane Irma, many of us find ourselves asking,"How can we help?" And others who have experienced severe flooding and damage to their homes might be wondering how to get help. Read on for ways you can receive aide or do your part to help in the Hurricane Irma relief efforts — NOW.
Do You Need Help?
These organizations have resources in place to help those in our community affected by Hurricane Irma. Click below for more information:
FEMA Assistance: Receive a personalized list of possible aide available to you. Click here to apply for assistance in Duval County.
United Way of Northeast Florida: Search for local shelters, food pantries, disaster assistance and more.
Airbnb: Search for free housing available to those who need shelter.
Chet's Creek Church: Request hurricane relief assistance via the online form.
Elevate Life Church: Request hurricane cleanup assistance via the online form.
The Church of Eleven22: Email [email protected] or call the church at (904) 685-6722.
Mormon Helping Hands will have thousands of volunteers out this weekend (Sept 15, 16 & 17) to assist in cleanup efforts. All services are FREE to anyone in need, and we provide all necessary equipment and tools. We can help with cutting up fallen trees, removing drywall, insulation, flooring, furniture, appliances, and installing roof tarps to keep rain out or whatever is needed. We also have food available for those in need. To schedule a work order call the hotline at 800-451-1954.
Christ Church Fleming Island Request hurricane cleanup assistance
Where to Donate Food & Water
Celebration Church: Collecting donations for the Red Cross Monday through Friday, 9 a.m.-5 p.m. All three of their area locations (Arena, Orange Park and Julington Creek) are accepting donations; view their list of needed items here.
Daily Manna Serving Center: Taking donations of food, water and clothing for those affected by Irma. They are located at 2659 Edison Avenue, Jacksonville Florida 32254. (904) 525-1746.
The Church of Eleven22: Collecting non-perishable foods, cleaning supplies, female hygiene products, diapers and wipes. Contact Hillary at (904) 685-6722 or Ron Armstrong at (850) 843-5600 to coordinate pickup or drop-off.
The Salvation Army of Northeast Florida: Collecting non-perishable foods, cleaning supplies, paper products and diapers. Drop off any of these items to their downtown location at 140 N. Davis Street, Monday through Saturday, 9 a.m.-7 p.m. or Sunday, 1-6 p.m.
Feeding Northeast Florida: Delivers food and water across an eight-county service area here in Florida. At this time, monetary donations are preferred to help with the cost of distribution. Donate here.
Cedar River Seafood: Collecting toys, clothes, dry goods, tools for cleanup — anything you have sitting around the house that someone in need can benefit from — for the cleanup effort in Clay County. Drop off donations at 2475-1 Blanding Blvd., Middleburg.
Murray Hill Athletic Association/Murray Hill Park: Received substantial damages from Hurricane Irma. The leadership and parents of the beloved Association and Park are asking for donations to help in cleanup and repairs from this damage. Find more info or donate on their GoFundMe page.
How to Help the Animals
Clay County Animal Care & Control: Sustained flood damage as a result of Irma. **Update** they will be accepting donations of food, litter, blankets, towels, cleaning supplies, litter pans and any other animal related products at the Fleming Island Offsite located at 1809 Town Center Blvd Fleming Island, Fl. from 9 am to 3pm Friday September 15 and Saturday September 16, 2017** They are asking for monetary donations through the Friends of Clay County Animals.
Safe Animal Shelter: Sustained flood damage as a result of the hurricane. Monetary donations are always welcome, and they also have an Amazon Wish List.
3D Ranch Ministries: Flooded when Black Creek rose to record levels due to Hurricane Irma. Any help you can offer would be much appreciated.
Animal Care and Protective Services: In need of wet dog and cat food. These items can be dropped off at their location at 2020 Forest Street, Jacksonville, Florida 32204.
The Jacksonville Humane Society: Seeking monetary donations, as well as pet food. They are taking in evacuated animals from around the state, and Hurricane Irma forced them to cancel their annual $150k fundraiser this weekend. To give, visit jaxhumane.org/donate and select "Hurricane Irma Relief." Also, JHS is helping families get back on their feet via their pet food bank. Drop off items at 8464 Beach Blvd, Jacksonville, Florida 32216.
Love Thy Neighbor
Take a look around. Do you have power? Chances are someone you know does not. Offer them a warm shower or an air-conditioned room. Here are a few other ideas:
Chet's Creek Church: Coordinating volunteers for Hurricane cleanup; click here to volunteer.
Cummer Museum Garden Reconstruction Fund: The historic Cummer Gardens sustained extensive damage from the hurricane; click here to donate.
Carmen Cay Art and Local Goods Market: Donating $10 to Feeding Northeast Florida for every Florida artwork print sold.
Here is a list of local charities that are always looking for volunteers:
United Way: 211 or (904) 632-0600
Catholic Charities: (904) 354-4846
Downtown Ecumenical Services: (904) 358-7955
Jewish Family Community Services: (904) 448-1933
United Christian Outreach Ministry: (904) 396-2401
Beaches Emergency Assistance Ministry: (904) 241-2326
Feeding Northeast Florida: (904) 513-1333
Salvation Army: (904) 301-4875
Goodwill Industries: (904) 384-1361
Bring a meal or bake cookies for first responders. Many of these hard-working men and women have been working 12-hour days and have homes of their own that need their attention — but they are out risking their lives to help our community. Click for a list of JSO substations and JFRD Fire Stations.
Peruse the Jax Moms Blog Neighborhood Groups. Offer to help those in need in any way you can.
Beyond the Jacksonville Area
We've got to look out for each other! Here are a few additional ways you can help other areas in the Southeast affected by Hurricane Irma:
Adventures in Gods Creation: Accepting water, non-perishable food, bug repellent , batteries (all sizes), battery-operated fans, diapers and wipes, feminine hygiene products and new underwear (all sizes) for the Caribbean and the US Virgin Islands. Drop off items at 115 1st Ave North.
Miami Diaper Bank: Accepting monetary donations.
UNICEF USA: Collecting monetary donations to aide affected children and their families in the Caribbean.
Samaritan's Purse: Accepting monetary donations to provide relief and assistance to those in the Caribbean and Florida.
PayPal: Accepting monetary donations for Hurricane Irma relief and is waiving all processing fees.
The American Red Cross: Needs of volunteers in Puerto Rico, Florida, Georgia, North Carolina, South Carolina and Virginia to help with Hurricane Irma relief efforts.
Airbnb: Accepting donations of housing for those impacted by Hurricane Irma.
GoFundMe: Has aggregated a list of Hurricane Irma-related fundraisers in need of assistance.
SPCA International: Provides support to shelters and rescue groups working with animals affected by natural disasters.
GlobalGiving: Accepting monetary donations for those affected by the hurricane in the U.S. and the Caribbean.
Comment below with any other ways our community members can receive aide or help out in the Hurricane Irma relief efforts.
Please note this is a fluid post; we will update it with more information as it comes in.