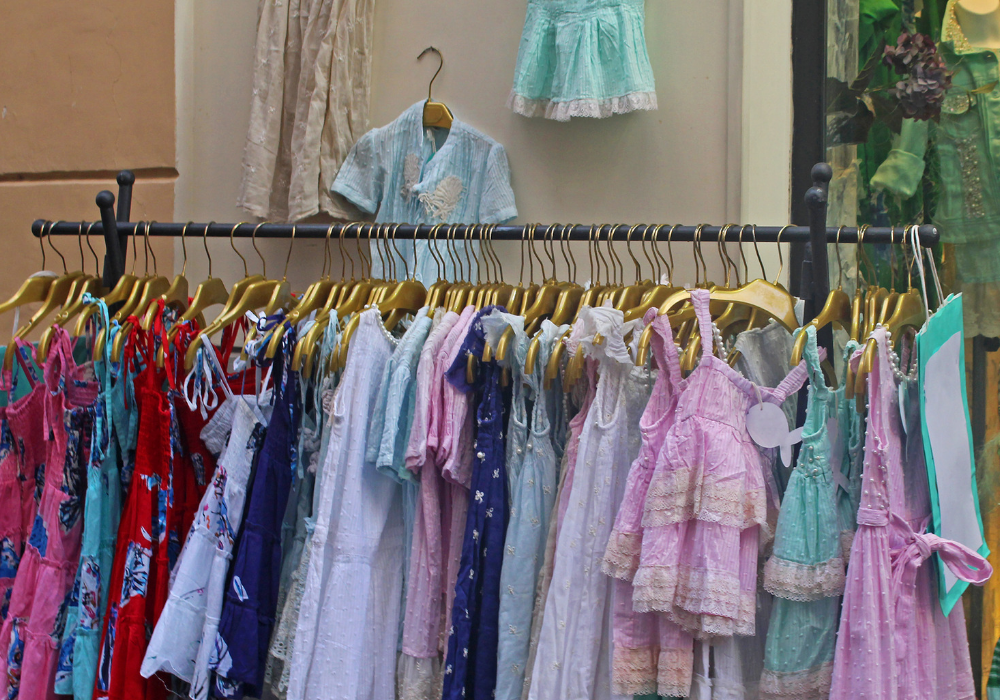 I wasn't a big consignment shopper before kids. It seemed just as easy to find things I liked on sale at Nordstrom Rack and Loft. However, there's a big difference between a $20 shirt that I'll wear for so many years before it goes out of style and a 0-3 month onesie that will fit my baby for all of two weeks. Not to mention kids' shoes! I'm not sure how my son's feet grow a size overnight, but after the third time we sized up in as many months, I was over it. 
Once I discovered a few go-to local consignment and resale stores, I became a devoted customer. Why pay $30 for Nikes when you could pay $6 for a barely worn pair? Or a like-new tricycle for 70-percent off the retail price?
I also love shopping consignment to buy specialty or one-wear clothing including Halloween costumes, Christmas outfits, special occasion items, and even winter jackets. Even better, I can clean out toys that my son never plays with and clothes he has outgrown, exchanging them for the next size up!
Jacksonville is full of consignment and resale stores selling new and gently used kids and baby items. Whether you're looking to make some money with your baby items or get your children a whole new wardrobe for school, these places are worth checking out.
Kid to Kid (Mandarin)
10601 San Jose Blvd, Jacksonville, FL 32257
Located in the Whole Foods-anchored shopping center in Mandarin off of San Jose Blvd., Kid to Kid is my personal favorite local consignment store. They have clothes (preemie through size 14), toys and gear for kids of all ages, and they carefully select the items they sell. They also have a very solid maternity section. Kid to Kid offers cash or 20 percent more in store credit. No appointment necessary, but check their website for buying hours. 
Once Upon a Child (Mandarin, Orange Park, Regency Park, North Jacksonville)
Multiple locations
There are four locations for Once Upon a Child in Jacksonville: Orange Park, Regency, North Jacksonville and Mandarin. Clothes here range from size 0 through youth 20, and they also sell furniture, toys, shoes and baby gear. How it Works: Bring in your gently used children's clothes, shoes, toys, furniture, and baby gear. A store employee will review your items and make an offer based on style, safety, and condition standards. If you accept the offer, you'll get paid cash on the spot, no waiting for items to be sold – that's RESALE!
The Growing Tree (Five Points)
5 Points Vintage, 1046 Park Street, Jacksonville, FL 32205
If you're looking for high-end, name-brand clothes and gear (through children's size 10), The Growing Tree located in their booth at 5 Points Vintage is the place to shop! They carefully handpick their items to make sure that quality items are selected. They offer brands including Mini Boden, Mimi & Maggie, Hannah Anderson, De par Deux, Baby Gap, Gymboree, Peg Perego, Fisher Price, Melissa & Doug, and Leapfrog. They also feature new, handcrafted items for children from local artisans. Selling is by appointment only. 
Amy's Turn (Jacksonville Beach)
1415 3rd Street North, Jacksonville Beach, FL 32250
The first and largest consignment store at the Beach, Amy's Turn is located off of AIA between Jacksonville and Atlantic Beach. The store is spacious and well stocked with books, clothes, shoes and toys. No appointment necessary for sellers.
WeeTRADE Kids Consignment Event (pop-up)
Location varies
With massive pop-up seasonal consignment events twice a year in the fall and spring, WeeTRADE makes it easy to sell and buy (at 50-to-90-percent-off retail) name-brand, boutique, and specialty clothes, shoes, and toys for kids and babies. Click here to learn more.
Goodwill
Various Location around Jacksonville
Goodwill is still a great option when it comes to children's clothes and you just can't beat the price! Some of the JM team members have found brands like Hannah Anderson, Boden, Vinyard Vines, and even surf brands like Volcom. Click here to learn more.
Have you ever sold or shopped consignment or resale for kids? Share some of your favorites in the comments!