TimeHop recently reminded me of a moment in my couponing life when I felt like I was on top of the world–living every couponer's dream. That dream, my friends, was the brief period when Walmart was honoring Publix BOGOs. Seriously what are you talking about? When you brought in your Publix weekly ad with the Buy One, Get One Free items circled, Walmart would allow you to purchase those items at Walmart's prices, and you would get the second item for free. I cannot begin to tell you how much money I saved. I was buying food for my family, friends and food banks–because I was literally saving that much money on groceries.
Below is the photo that brought those memories back: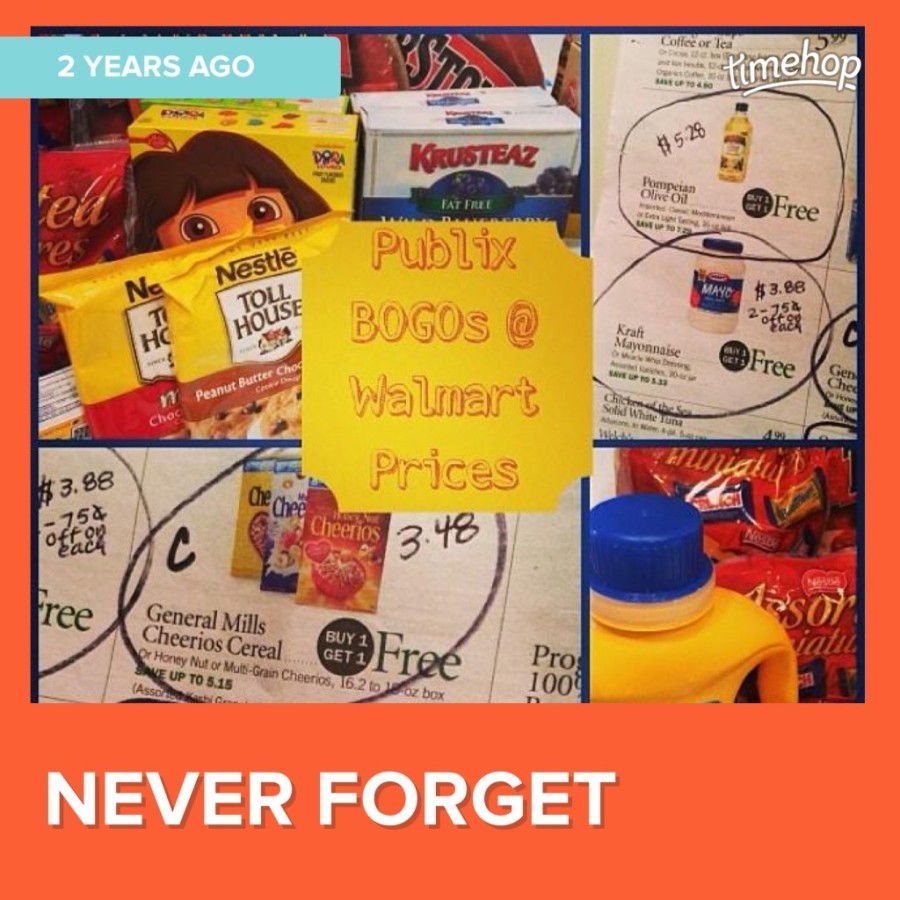 Fast forward two years to 2016 and things are not as bleak as they seem in the life of a couponing momma. There are ways to still save money without becoming the crazy lady with all the binders. What I present to you is Couponing 2.0. Couponing 2.0 is my new system of organizing money-saving deals, all while keeping your life organized and frustration-free.
Step One: Organize
(Wait you just said no crazy binders.) You can organize without carrying around bulky 3-ring binders. For Couponing 2.0 in 2016, all we need is a small coupon size or check size accordion binder. You can find these anywhere, from Office Depot to the Dollar section at Target. (I included a link so you can see what they look like.) Chances are, you have seen these everywhere. Pick one up next time you are out. Heck, go ahead and buy two, so you can make a Couponing 2.0 system for your "non-couponing friend" who always comments how they would like to start saving money, too.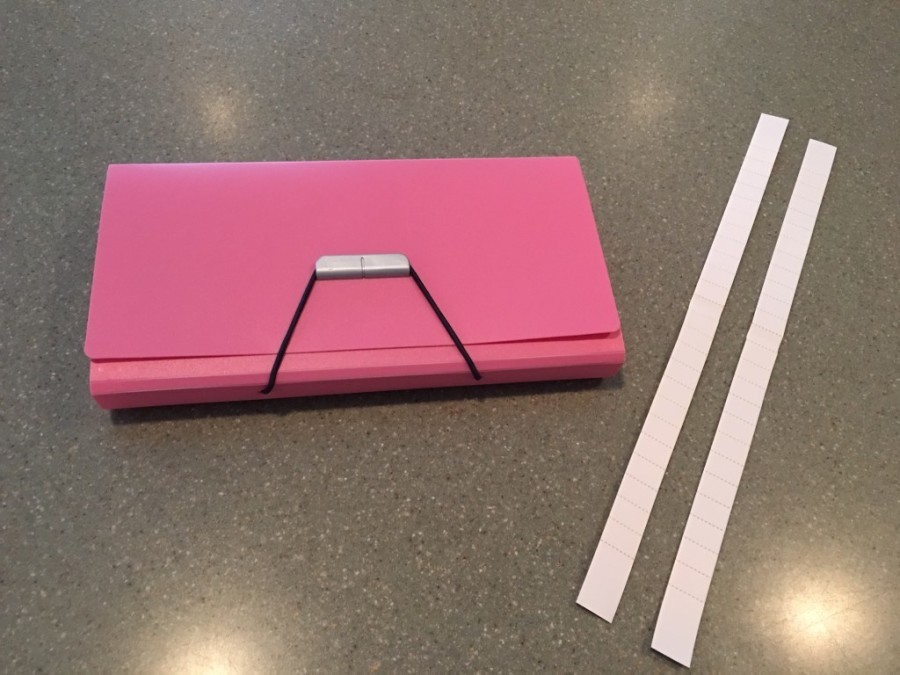 Step Two: Label
Now that we have our cute little accordion file, we must label the tabs in such a way that we will actually use them. It will not do us any good just to shove a bunch of coupons in here and never open it again. If we set it up the way we shop the first time, we are more likely to use it. But wait- you said something about keeping my life organized. Yes, I did–and that's where the labels come in. You see, I, like many moms, live in my car. Between school drop-offs, football practice, work commute–I bet I spend a solid two hours driving around town. Couponing 2.0 is going to help with all of that!
Now back to labels. I'm not going to use the Jan-Dec or A-Z labels that come with the accordion file. Flip them over to the blank side. My labeled my dividers:
Bank Items, Car Docs, Coupons, Gift Certificates, Kid Sports, Kohls Cash/Gymbucks, Printer Info, Rest. Coupons, Store Cards, Store Coupons, Target Coupons, and Tickets.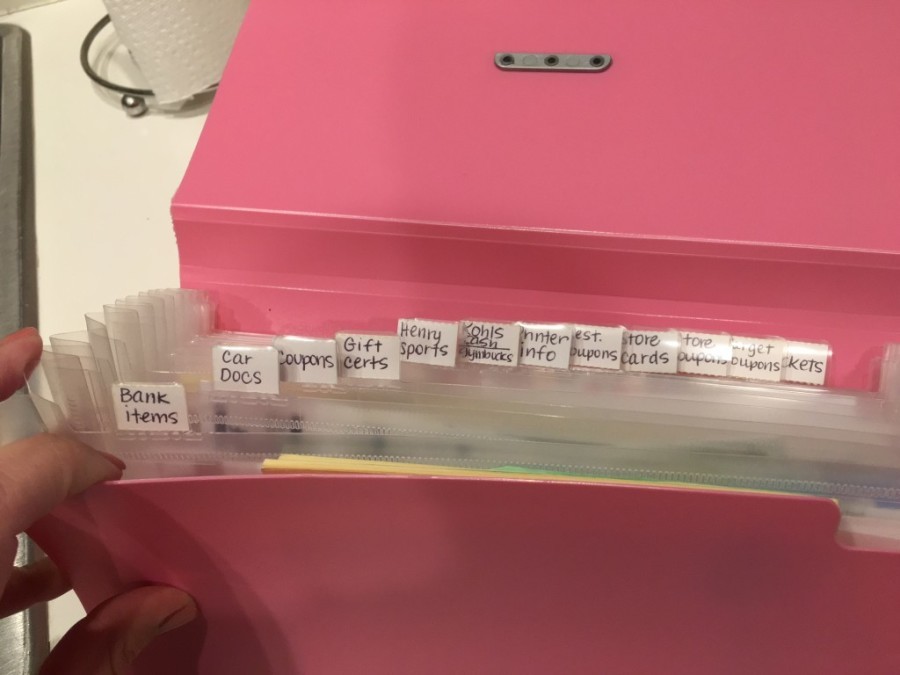 By now you have realized that not all of those labels are for saving money. Some are for saving your sanity. How many times have you left your house, knowing you need ink for your printer, but completely forgot what your printer model was? Now you can keep it in the car. Or you are talking with a fellow Mom after school, and she invites you to a birthday party, but you can't remember if your son has a football game that day because the sports schedule is hanging on the fridge? Now you can keep it in the car. No more deposit slips floating around? You can keep them in the car.
Now, these are just what I chose for my labels, but it should give you a pretty good idea about the system of combining money saving items with everyday sanity-saving slots. (Say that five times fast.)
Step Three: Divide and Conquer
After you have created your labels, now it is time to fill the slots. Do you have a Mint Magazine or ValPak just laying around (or worse–do you throw them away as soon as they arrive in the mail)? Now you can flip through it and cut away because now you have a convenient spot for these coupons! And this folks, is only the beginning. Now there is a place for everything and everything in its place (I can't take credit for that saying–it is from my favorite Max and Ruby episode "Max Cleans Up" .)
You may be wondering what the Store Cards tab means. This is where I keep my Target REDCard. The transition from binder carrying couponing lady to cute little accordion file mom has been made easier because of items such as the REDCard. For those who don't know, the REDCard is a Debit Card that automatically deducts 5% of your purchase and acts just like your checking account debit card on purchases at Target. Also, you have free shipping on Target.com when you use it. I have a separate tab for Target coupons for the coupons that print out at the register. I keep all of my coupons I cut from Sunday's paper under the Coupon tab because I am not cutting 50+ coupons a week anymore. I am just cutting out the things we are actually using. I am saving so much in other areas that I don't need to sharpen my scissors just to save .25 cents on an item I may or may not use. Instead, I have found that savings using coupons for dry-cleaning and dining out add up much faster than coupons at the grocery store.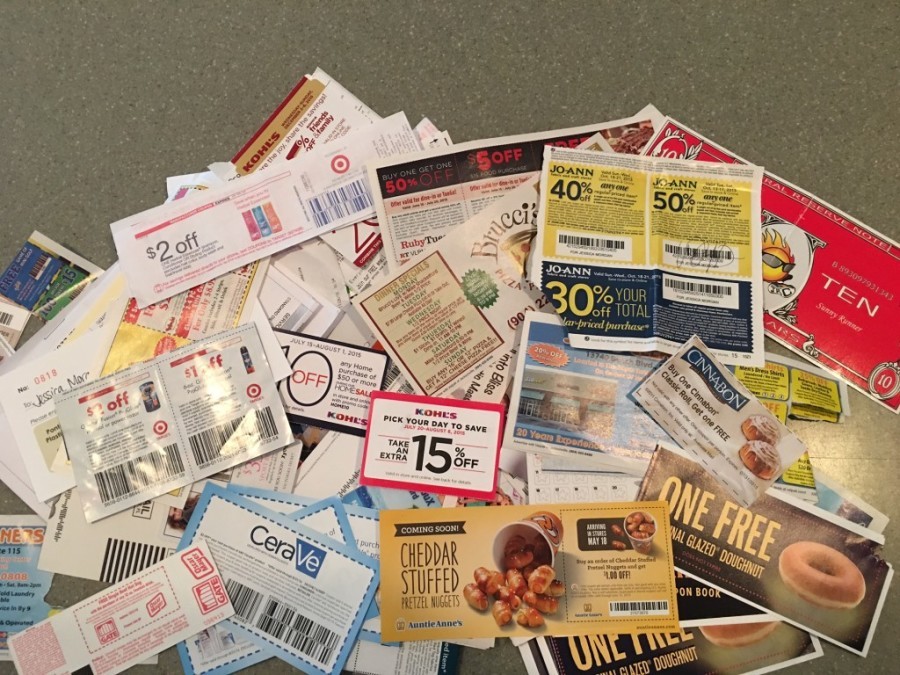 Step Four: Letting Technology Work For You
Now that your file is organized let's talk about your smartphone. Apps such as the ones for Publix, Walgreens are ok. Yes, they are just ok. Walgreens lets you search the ad for things you need, and Publix has digital coupons, but neither have very good navigation. They have some stepping up to do if they want to come even close to the Cartwheel app from Target. Cartwheel allows you to scan an item with a built-in barcode scanner to see if there is a coupon available. It is literally that simple. Once at the register, the cashier scans the barcode from the Cartwheel app on your phone, and the savings are automatically deducted from your total. Also, check your email from your phone and screenshot any coupons there and save it in your photos under an album you name "Coupons." That way, when you are checking out at that particular store, you aren't fumbling for your phone searching for an email. Or worse, trying to connect to their wifi and it isn't working–you can access your photos on your smartphone without a signal. Brilliant!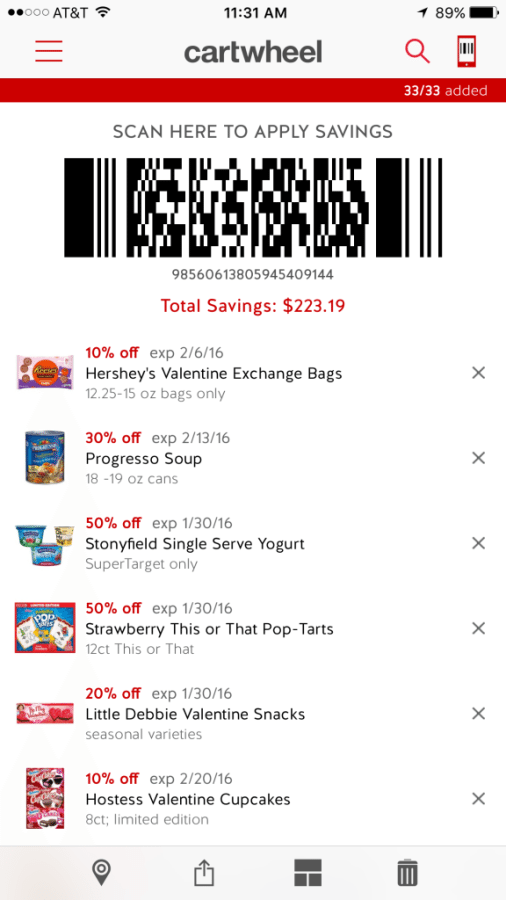 What new ways have you discovered to save money? Does it make your life more or less stressful? I would love to hear about it!