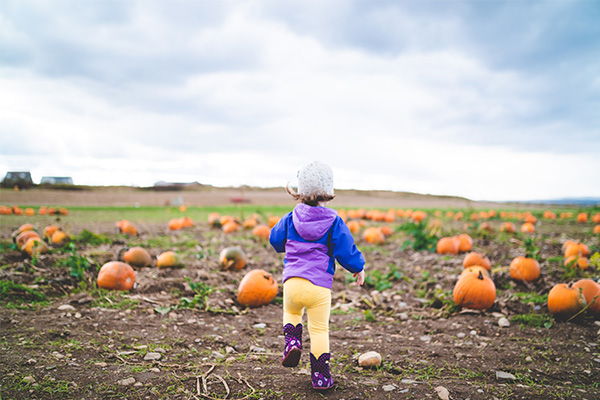 I had never carved a jack-o'-lantern, ever, until my oldest child was almost 5.
Growing up, my mother had always led the charge to carve our pumpkin. It was the one thing about Halloween she enjoyed, and she'd soak and toast the seeds for us. I loved to lick the salt off my fingers. A kindergarten teacher and a very healthy eater, my mother hated Halloween. Her war against candy is as long as my life. One year we shrieked in protest when we realized she had thrown out what little candy we had managed to obtain after trick-or-treating very daringly down pitch-dark roads surrounded by woods. We lived far from any density of houses, deep in the country, in rural Virginia. After that, we hid our candy in our rooms.
Even as my brother and sister and I grew up and stopped trick-or-treating, my mother still carved a pumpkin. But our driveway was down a long dark gravel road, and no one ever knocked on our door for candy. Then the pumpkin was not for decoration, but for her Halloween costume. My father would carve a hole in the bottom of a large pumpkin, one big enough to fit over my mother's head. On Halloween she would wear a flannel shirt of my father's and a pair of jeans to work at the local primary school, securing her hair in a shower cap, and carefully pulling the pumpkin onto her head in the school parking lot.
I have to imagine this pumpkin-headed intruder, walking quietly into the brightly decorated kindergarten room of our local elementary school, was terrifying to the students. Some of them had never seen indoor plumbing until the first day of school, my mother told me once. My mother didn't speak while the pumpkin was on her head unless she absolutely had to; even to me, as a teen, the sight of my mother in the silent pumpkin head, devoid of any human features, creeped me out.
The Halloween I carved my first pumpkin, it was on my daughter's initiative only. We all know that in Florida, October and November are still humid enough that buying a hot, pumpkin-spiced drink is only done when you can drink it inside, in the air conditioning. A visit to the pumpkin patch results in snaps on Instagram of my children sweating and red-faced. The orange globes are laid out in bright rows, baking in 90-degree heat into pies, minus the crust, at our neighborhood church.
We learned the hard way the first year we had our daughter, when, throwing myself into motherhood, I bought our pumpkin too early and watched it turn black on the front porch weeks before Halloween. Even though the patches are open, ever since that first rotting pumpkin, my rule has been no visits to the pumpkin patch until the second week of October. Carving one makes even less sense, as I don't really enjoy a rotting pumpkin filled with bugs on my front step. Now we save carving it until the night before Halloween.
My daughter must have learned about jack-o'-lanterns at her preschool because it had never occurred to me to tell her about them. It never occurred to me to carve it until she asked the year she turned 5. That fall I was finally pregnant with a rainbow baby we'd been trying for for almost three years, and I was sick, so sick. A sickness I hadn't had with my daughter but didn't mind at all with this baby boy, because being sick every day helped lessen the anxiety that I was going to lose him, just as I had lost every single baby I'd managed to conceive during the prior three years.
So, while the air conditioning roared and newspaper covered the kitchen table, I scraped out the stringy pumpkin guts while holding back the stomach-clenching urge to throw up, and I carved my first pumpkin. My little girl tried to help, but pulling out the threads and gunk in a pumpkin is hard and slippery work and eventually, she sat and watched instead. I didn't have the right tools, and it was hard to balance the pumpkin and pull out the insides. I didn't bother trying to separate out the seeds for toasting.
As the smell of pumpkin filled the kitchen and the slime of the guts coated my fingers, saliva pooled in my mouth in preparation for the vomit. I wondered how my mother bore wearing a pumpkin on her head all day, smelling the inside of it while trying to keep order in a classroom of 20 kids. Now I realize that quiet in her pumpkin for most of the morning on a day that must be the worst one of the year for a kindergarten teacher, the shrieks of small children high on sugar was probably muffled by the thick shell. It must have been a peaceful respite from the chaos.
Four years later, after that first pumpkin, I helped my daughter and our 3-year-old son carve their own pumpkins on the heat of the porch while my husband watched our 6-month-old twins in the cool comfort of the house. We were done with babies. The twins were supposed to be our third baby, conceived through IVF like my son. There are two heartbeats, the doctor had said at the first ultrasound, which I went to alone, not expecting any good news. When I called my husband from the parking lot of the doctor's office and told him, he replied, in shock, "I will call you back," and hung up. We were done. Done with babies. Done with being pregnant. And still, the smell of pumpkin guts baking in the sun gave me the urge to be sick.
I knocked on the window and traded places with my husband. Inside I breathed in the smell of days-old baby formula and the sweet cool of the air conditioning. Maybe one year I'll learn how to toast the seeds, I tell myself, watching the big kids out the window, wrangling their pumpkins and sweating in heat of a Florida October.
I know all four kids will enjoy them.