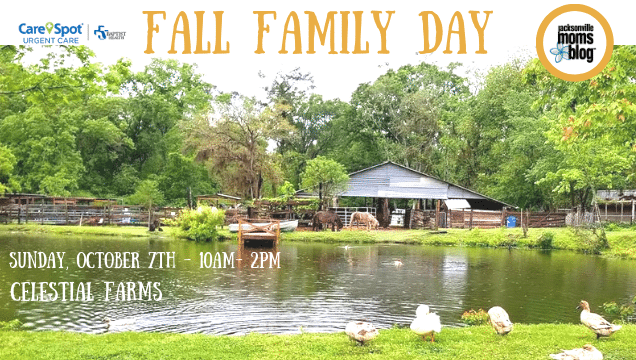 Jacksonville Moms Blog is excited to host our 2nd Annual Fall Family Day at Celestial Farms sponsored by CareSpot! Conveniently located near Jacksonville International Airport, Jacksonville Moms Blog readers and their families are invited to join us for a private event at Celestial Farms to enjoy the perfect family day out. Families can explore the farm, sensory and community gardens, Celestial Farms new studio and pavilions.
Activities will include learning about and feeding the rescued farm animals including horses, pigs, rabbits, goats, ducks, fishing in the pond, enjoying the playgrounds throughout the farm, a ride on the farm's train and the sports field including an activity course and small zipline.
Space is limited, tickets will be available through 904tix.comfor advance purchase for $10 per vehicle entry (if on foot, per family entry). Each ticket will be valid for a 2-hour time slot 10 AM – 12 PM or 12 PM – 2 PM to ensure time and space for guests to arrive, enjoy the farm, activities and vendors. Advance ticket sales only.
Tickets available HERE!
Vendors will include: 
Make family memories in the happy little camper with Tin Can Photo Lounge – By Chic Booth!
Enjoy a fun complimentary painting activity with Creative Grain Studio!
Join BSA, North Florida Council and Boy Scouts of America for a fun, interactive activity!
Bay & Bee will provide yoga class demo at 11 AM and music hour with Ashton at 1 PM! Stop by their mini play zone and let the little ones have fun!
HelloFresh will also join us with an interactive activity!
Facepainting by Linda will be painting faces.
Alma Food Truck, Pie95 Pizza and a local hot dog cart will be onsite offering food for purchase. Credit cards may be accepted, it is encouraged to bring cash as well!
Sweetfrog Jacksonville Beach will have their sweet froyo for sale!
We can't wait to share more! Guests are encouraged to bring items for feeding the animals (at your own risk), including crackers, apples, carrots, and fresh herbs. Boxes of crackers will be accepted onsite to support Celestial Farms mission as well as donation boxes located throughout the property.

About CareSpot: CareSpot is improving how people experience healthcare, existing to offer you convenient healthcare and a great patient experience with 13 convenient locations in the greater Jacksonville area.
CareSpot doesn't require an appointment and let you save a spot in line simply by going online.
Most major insurance plans accepted and also offer easy self-pay options.
CareSpot helps arrange any follow-up care when you need it.
CareSpot fills the prescriptions, complete the lab work, and perform the X-rays right at the center. It's a range of services that not many healthcare providers can match.
CareSpot offers a lot more than what you'll find at the mini clinic at your local grocery store or pharmacy. And it costs much less than a trip to the ER.
DISCLAIMER: Unfortunately, we cannot control the weather for these outdoor events. Celestial Farm events are rain or shine. In the case of severe weather, please make sure you RSVP to the Facebook event page so you receive updates and check our Facebook page in case the event ends early. Photos will be taken at the event and of attendees for use on the blog and on social media by the Jacksonville Moms Blog and sponsors.