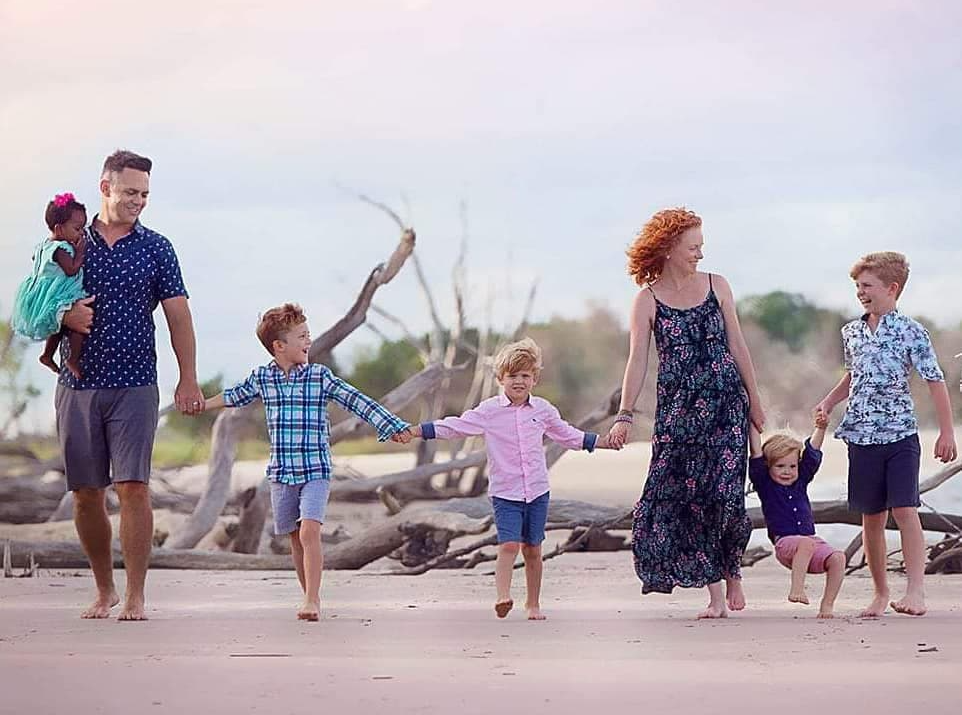 When I first had the pleasure of meeting Sarah Rogers, I was elbow-deep in poop — and yet it is one of my favorite memories. After a significant amount of encouragement and packing as if heading on a two-week safari, I convinced a friend and her 3-month-old to join me and my littles on an outing with a group of moms across town. I knew it would be a great day. We successfully loaded two babies and one toddler and headed out for an adventure. The drive went smoothly. We were singing with the toddler, the babies cooing in the back. Then suddenly, as we neared our destination, the air became pungent. We laughed and said first stop, diaper change. Little did we know that, in a few short moments, we would be facing our very first poop-tastrophe.
We opened the passenger-side door to discover my friend's precious little pumpkin covered top to bottom in a blowout of epic proportions. We were prepared. We had two changes of clothes per child, and we each had wipes. But our wipes game was not strong enough. We ran short. At about that time, I saw a mom energetically unloading her minivan full of little ones, so I went to see if she had any extra wipes. As I made my approach, I became increasingly aware of the poop smudged on my forearm. This is no way to introduce yourself to someone. As I recall, I said "Hi, I'm Stacy. We are having a bit of a poop problem. I was wondering if you have some extra wipes?" My awkwardness was met with zero judgment, a smile, a hearty chuckle, and great advice. She not only gave us the wipes we needed, but also a bottle of water. We became playdate buddies, and to this day, I always travel with a bottle of water and a towel in my car.
It was no surprise to me when I later learned that Sarah and her family had decided to become a foster family. It seemed like a natural progression. Sarah has always been the kind of mom who has a heart for everyone in the room. She is genuine and miraculously unaffected by her own accomplishments. As Sarah stepped into foster parenting and advocacy, she did so with a courageous amount of vulnerability. She began sharing her journey openly on social media. She shared her fears, struggles, triumphs and everything in between. As an advocate for Foster Florida, she supports the foster family community and shares ways that families who don't foster can support those who do.
Sarah and her husband Josh have five children: Beckett, 11, Merrick, 8, Hollander, 5, McGuire, 3, and newly adopted Nova, 20 months. Read on for more about Sarah, as well as a few ways to offer support to other parents, including those who foster.
What is the one thing that motivates you and pushes you to do more?
My motivation is rooted in my faith. I feel called to do more. It is our purpose. This journey began for me when I read a biblical passage about caring for widows and orphans. The call was to love all children as I do my own, with open arms and no strings attached. There are always excuses, but if we each take one little step, we can make such an impact. One little step can open so many doors. I want to make sure that people who have foster kids in their home feel supported. We serve all denominations, faith-based, not faith-exclusive.
What is the biggest challenge you've had to overcome?
The biggest challenge to overcome was thinking that our nuclear biological family belonged to us and that anything I did could wreck their lives or cause turmoil. I had a desire to keep my children in a bubble. As a mom, you always seek to keep your children safe. I remember hearing so clearly that my children are God's children, not my own. All these kids are God's kids. It's not my job to shield them. It is my job to love them. One day at a time. One step at a time. Getting out of your comfort zone is never easy.
How do you balance work, time with family, and time for yourself?
I'm a homeschooling mom, and, without question, my primary source of balance comes from my spouse. He is an active father and active husband. He makes sure that I have time to step away, fill myself up, get a coffee, and read my Bible. Also, developing a network of other people who are in shoes similar to mine is important. It can be lonely in foster care because, as thoughtful as people can be, it can be a challenge to communicate what your specific needs are. Having a network of people who are supportive and engaged is so valuable.
How do you define personal success?
I don't think I will know until the end of my life. It doesn't mean being perfect. It means giving my best. It is being present in what I believe God's plan is for my life. I feel the most successful when I am taking the space and time I need to reaffirm my calling and direction. This gives me the most inner joy and peace, even in the hard times. It is being confident that everyone can do something, but knowing that doesn't mean everyone can do the same thing. We all have different gifts, challenges, and abilities. At Foster Florida, in addition to providing a network for foster families, we also provide a way for families who are not foster parents to support families who are. There are so many ways to serve.
What advice do you have for other moms?
Try not to get weighed down by the everyday constant chores. When our kids grow up, they are not going to say I had the cleanest house and smoothest schedule. They are going to say my mom read books to me. My mom went on field trips. She prayed with me. Don't allow yourself to be weighed down by comparison. You were made for your children and they were made for you. Being present and loving them is what is going to make a difference in the world that all of our kids grow up in.
A question for Sarah's children: What do you love the most about your mom?
Beckett, age 10: "Because she's mine."
Merrick, age 8: "We cuddle and go on dates, and she has a kind heart."
Hollander, age 5: "Going on trips together."
Moms Doing More in the 904 is a series that highlights local moms who are making a big difference in our community. Want to tell us about an inspiring mom who is doing something great? Tag us on social media @JacksonvilleMom with the hashtag #MomsInThe904.