St. Augustine hosts one of the biggest "Christmas lights" parties in the world. Live music, a giant Christmas Tree and over 2.5 million lights transform historic St. Augustine into a winter wonderland- one of the 10 best light displays in the entire world according to National Geographic!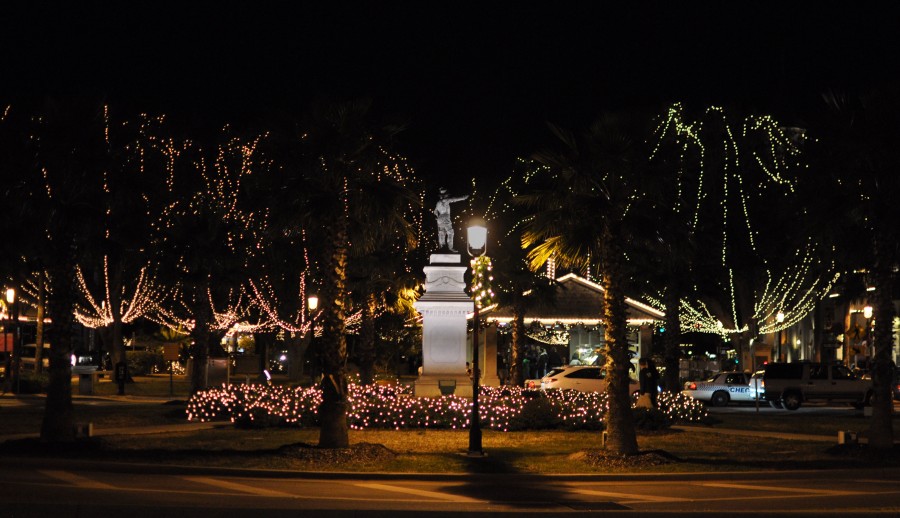 St. Augustine's Nights of Lights has been a tradition with our family for as long as we've had kids. But if you just show up you could be facing long lines and big crowds- not the best condition for a family of littles. Over the years, we've learned some tips & tricks to enjoy this uber-busy tourist season and I love sharing them on Simply St. Augustine. Jax Moms Blog asked me to share how you can enjoy a slip away to St. Augustine with little ones in tow.
Kookaburra Coffee sits on the plaza downtown & they set out their locally famous Hot Chocolate Bar on weekends & busy nights. Our kiddos love picking their own toppings for Kook's creamy cocoa! I let them choose as many sprinkles and candy cane chips and cocoa dustings and marshmallows as their little hearts desire- then we walk the town until they've worked off the sugar. Mom of the year award!
Kids love St. Augustine's Holly Jolly Holiday Trolley, which runs through January. You will receive a pair of magic viewing glasses that turn all the lights into stars or Santas and enjoy a ride past some of the best lights in town.
Lines are ridiculously long on the weekends. Go mid-week and hope for the best! Pack some fun snacks & bubbles & chalk to pass the time you're in line.
The best way to take in the Nights of Lights is on foot. Leave the kids with a sitter, park the car, grab your hubby's hand and wander the 144 blocks of Historic St. Augustine. Discover your favorite view, dance cheek to cheek in the park or sit on the porch of the Tini Martini Bar and sip a holiday martini together while gazing at lights and the Matanzas River.
St. Augustine Amphitheater is giving back to the community this year with drive in movies, free concerts, and other fun family events this Christmas. Check out their December to Remember lineup and plan some memories!
My 14-year-old son's favorite spot to take in the NoL is walking down the Bridge of Lions toward the Plaza. Leave it to the oldest brother of 6 to request a quiet walk over a noisy train ride!
If you're up for a splurge, I suggest you stay the night at Casa Monica Hotel and request a room facing the Lightner Museum's plaza. You'll have the liberty to stroll streets later in the evening when crowds lighten up if you don't have to drive home and the view of that plaza is one of my favorites!
There is no place quite as magical at Christmastime as St. Augustine. Here is a list of my favorite Nights of Lights events in St. Augustine, check it out and make room on your calendar for some fun family memories!!
Local bloggers are linking up to share their favorite ways to enjoy Nights of Lights.
Meet new local bloggers-> Nights of Lights Blogs <-there!