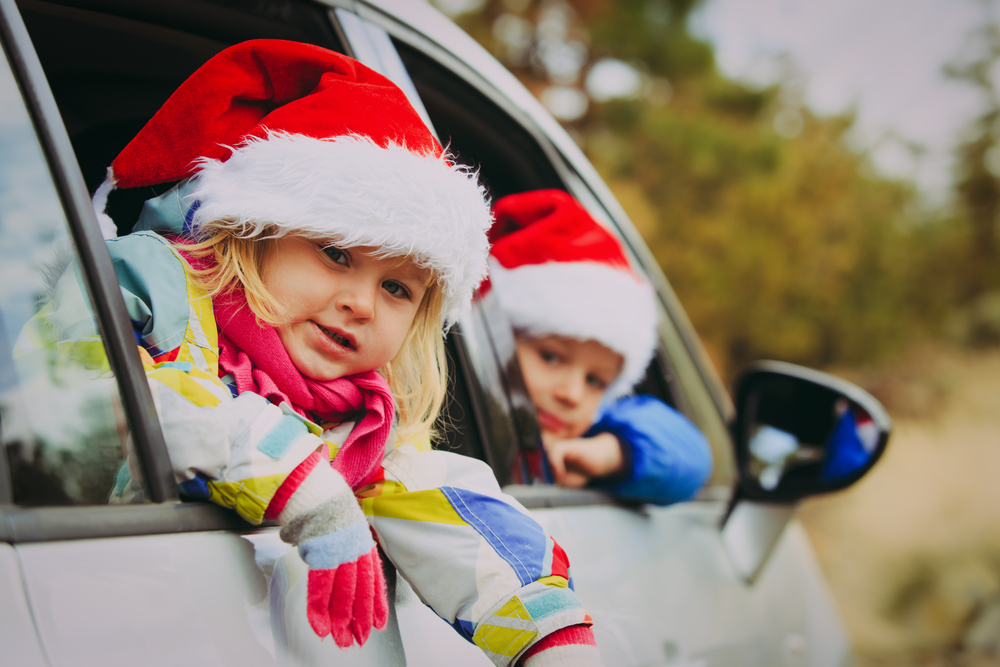 Can I get a show of hands if you are planning a road trip this holiday season? After five years living in Jax, this year we plan to hit the road after Christmas to head to my hometown in Tennessee. Along with the millions of people who will also be traveling over the upcoming month. In the past, we've been fortunate to fly home to cut down on travel time, but now that our little people are beyond the age of flying FREE, we have opted for the good ol'-fashioned road trip. A month ahead of time, and I'm already thinking about how we will survive a nine-hour drive (which will probably turn into 12-hour+ road trip) and how much it will actually cost us to drive. Will we actually save money by not flying? Think entertainment for the kids, snacks for the kids, noise-cancelling headphones and a comfy pillow for me (just kidding!), more snacks for the kids, our sanity — you get my drift. And not to mention actually fueling up with gas to get us from point A to point B.
And that's where your local Winn-Dixie and Harveys Supermarket comes in with SE Grocer Rewards. Not only are they helping you complete your Thanksgiving grocery list with turkey and all the fixin's (don't forget the pie!), they are also giving you a one-stop shop to cross holiday gifts off your list with your favorite gift cards, including Shell gas cards. And they are rewarding you EXTRA. We all love a little EXTRA this time of year, right?
Here's my plan to maximize our holiday road trip budget and check some things off my holiday to-do list:
Mom, Can I Have ANOTHER Snack?
Stock up on pre-packaged snacks for the road trip! I'll store these away when I get home so they'll be ready to go! And just for shopping, I'll get SE Grocer Rewards points — which I can use towards Shell gas when we fuel up for our trip or cash towards my last-minute snack purchase at Winn-Dixie or Harveys Supermarkets!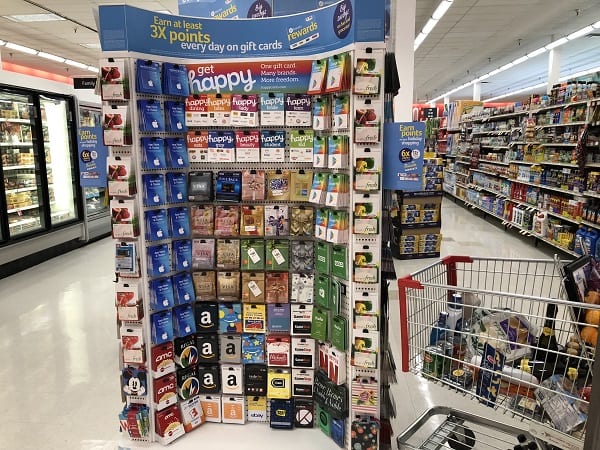 Fuel Up
Stock up on Shell gift cards themselves! On Thanksgiving, November 22, and Black Friday, November 23, receive 30x the points when you purchase Shell gift cards. I will buy these in advance to fuel up for our trip and along the way. I also plan to buy a few gift cards for my college-age niece and nephew. The perfect gift for them as they drive back and forth to campus. Or just maybe their cool aunt can fund their next road trip with friends. (Man, I miss those college road trips!)
Gifting Made Easy
I'm also planning ahead by purchasing gift cards for the places I will be shopping this holiday season. My husband sent me an Amazon list for me to order a mile-long. Why not purchase my Amazon gift card from Winn-Dixie and receive 16x points on all qualifying gift-card purchases (November 22-23)? Then I can jump online and make my purchases while the deals are hot. Done and done! And I feel rewarded. You can't beat that.
I'll also pick up some other gift cards where I plan to shop Best Buy, Apple iTunes, and Disney for when we head on our NEXT road trip this spring. I'll also grab a few Starbucks gift cards as well – this will definitely be a necessity on our holiday road trip AND they are the perfect gift for those you may have left off your list accidentally like teachers, babysitters, hair stylists and more!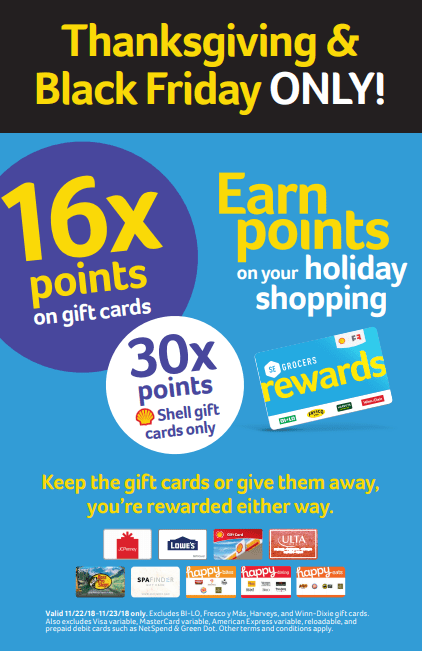 To make sure you are ready to be rewarded when you head to your local Winn-Dixie or Harveys Supermarket this holiday season, be sure to sign up here. SE Grocers rewards is a loyalty program that lets you earn points when you make qualifying purchases at Southeastern Grocers stores, including Harveys Supermarkets and Winn-Dixie stores. Those points can then be used for savings on groceries in any Southeastern Grocers store, and on fuel at participating Shell or other select fuel stations. SE Grocer Rewards also serves as a place you can see in-store ads, put digital coupons directly onto your card and keep track of your points towards gas and money towards your shopping.
Wishing you all a safe and splendid holiday season. Whether you are nestled at home or on the road, your local Winn-Dixie and Harveys Supermarkets are rewarding you for the things you are already purchasing — what's better than that? Easy as pie.