Temperatures are warming up, Spring is in the air, and it is time to head outside! One of our favorite activities to do when the weather is nice is to head to the park. Parks are a great option for kids of all ages, whether your kids want to stay in the swing, dig in the sand, climb on everything, make new friends, or just wander through the grass enjoying the day. And parks are a great option for parents, too –you come home with tired kids, you can actually have a conversation with another grown up (maybe), and of course, they are completely free!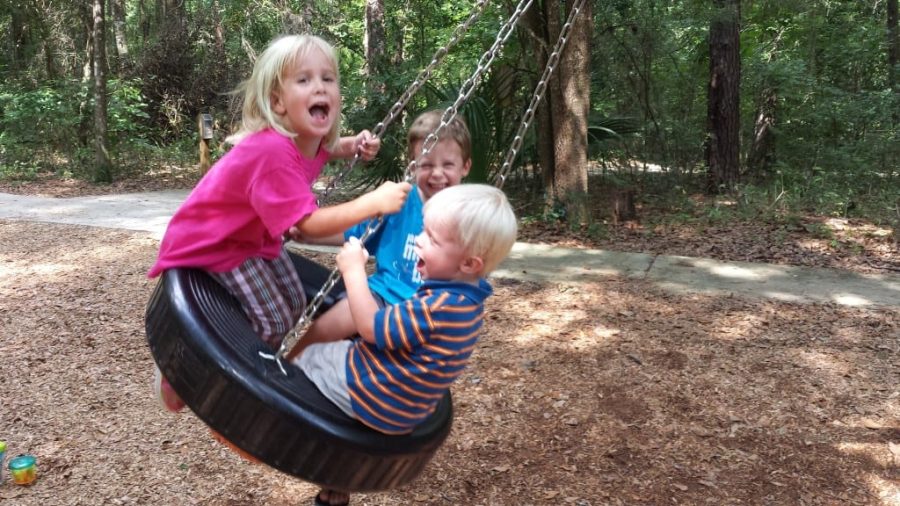 Fortunately for us, Jacksonville offers the largest urban park system in the US, with over 337 locations totaling 80,000 acres! That is a lot of ground to cover, so I've put together a list of my favorite parks. If you're looking to get outside and try a new place for the kids to play, be sure to check out a few of these! And leave us a comment with your favorites, so we can try out a few new ones, too!
This park is a favorite among locals at the beach, but offers enough activities to make it worth the drive for anyone! Sunshine Playground has two play areas, one for toddlers and one for bigger kids, and both are some of the most interesting play spaces I've seen. The wooden castle structure in the bigger kid area is so much fun to explore, with multiple places to hide, slide and climb. The toddler area is just as much fun with a wooden train, several slides, and plenty of places to the little ones to climb. In addition to the playground, South Beach Park offers ¼ mile paved loop, three volleyball courts, a tennis court, basketball court and a giant field. There is also a splash pad that opens Memorial Day and remains open all summer!
This park is absolutely worth the trip to Fernandina.  Set in a breezy, shaded area among the trees, this community-accessible playground integrates exercise, art, nature, music, imagination, and local history for children of all ages. It is not your typical playground, and my kids loved it. And I loved watching them discover new ways to play in all of the different areas of the park.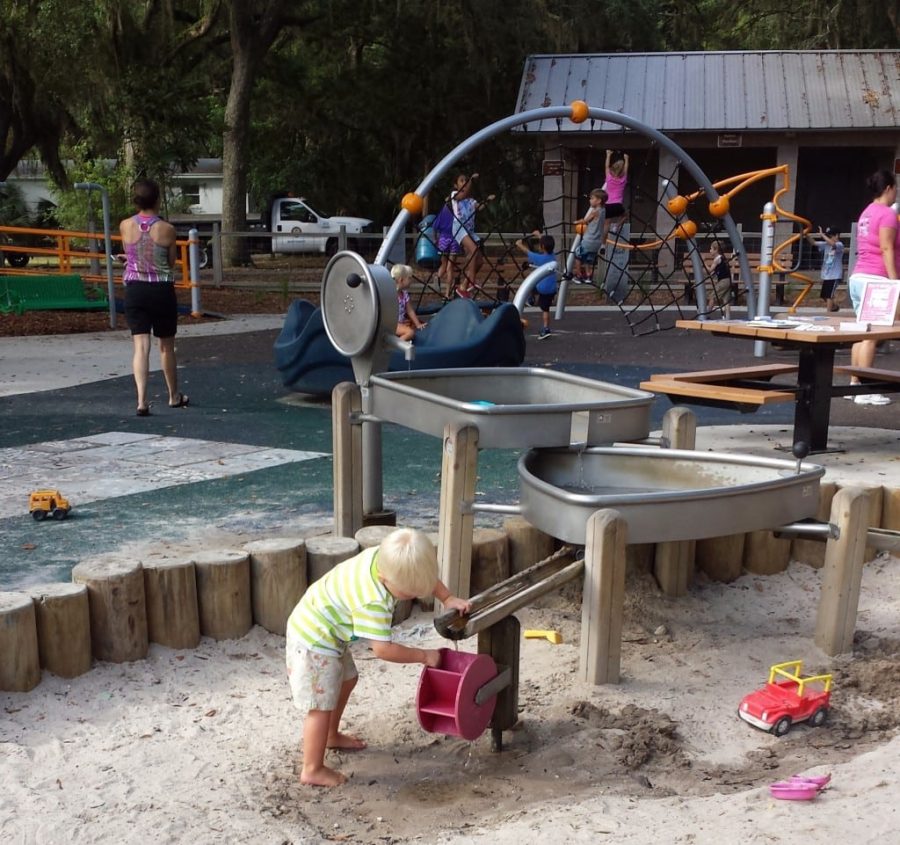 Located in beautiful, historical Avondale, Boone Park spans seven blocks and offers plenty of room to play. There are two playgrounds, gorgeous tree covered paths for exploring, and multiple pavilions, picnic tables and shaded benches. Boone Park also offers several clay and hard tennis courts, available for play by the hour or a yearly membership.
Adjacent to New Berlin Elementary on the North side of Jacksonville, Sheffield Park is a great place to play! We haven't been in a few months, and yet my kids still talk about how much they loved the 'giant, twisty slide' at this park. In addition to the playground, there are two fishing ponds and plenty of space to run around in the large, open fields.
This 144-acre park offers something for everyone! There are two playground areas, one that is completely fenced in and surrounded by beautiful trees that provide much-needed shade. One of my favorite features is the 1.75 miles paved and mostly shaded path. It is the perfect route for a walk with the stroller or a family bike ride. My kids love bringing their scooters and having me chase them along this path. Ed Austin also offers soccer fields, baseball fields, a skate area, basketball court and even an 18 hole disc golf course!
Originally developed in the 1890's, Riverside Park is full of charm. In addition to several pieces of unique playground equipment, there is plenty of space to play and numerous tables and benches that are perfect for picnics. My kids' favorite part are the ponds, filled with friendly, hungry ducks who are always eager to for us to feed them.
Despite being in the middle of Mandarin, you would never know you were in the city when you are at Losco Park. Surrounded by a quiet wooded area, Losco offers a scenic paved path that wraps around the park and is perfect for a stroll or bike ride. There are also two playgrounds as well as soccer fields.
Another park that features two playgrounds and plenty of space to run around, Jack Russell is one of our local favorites. Located in Atlantic Beach, it is beautifully laid out with plenty of trees for shade. There are baseball fields as well as tennis, racquetball and basketball courts, but perhaps the most unique feature is the huge skateboard park. Even if your kids aren't into skateboarding, it is fun to sit on the bleachers and watch.
Step back in time at Alpine Groves Park. This 54-acre park, located in NW St. John's County, features a turn-of-the-century homestead and citrus grove that your kids will love to explore. The farm themed playground is made up of great playground equipment, and there are also nature trails, picnic areas, and a covered dock for fishing and canoe & kayak launching.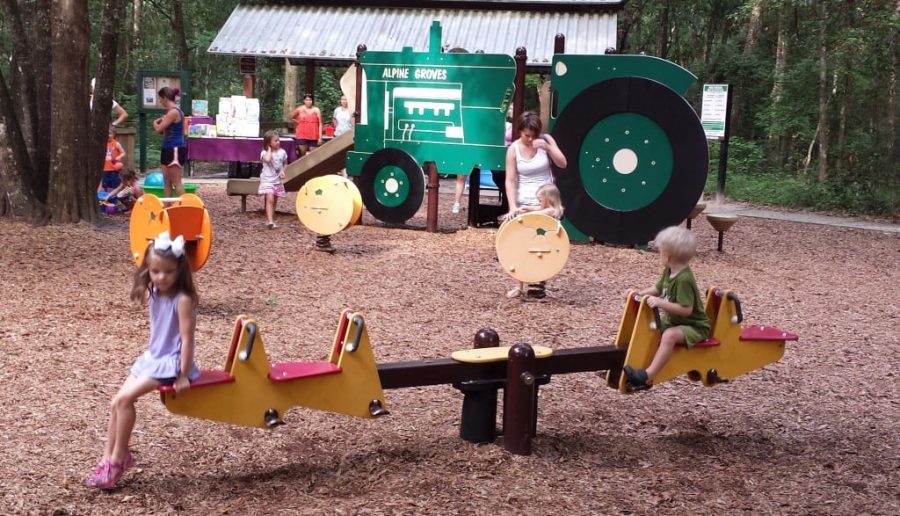 Home to the Clarke House, which is listed on the National Register of Historic Places, this park is a favorite spot for birthday parties and family gatherings. The large, wooden castle themed playground is memorable for kids of all ages, and the canopy created by the oak trees makes for a beautiful backdrop. This park also features sand volleyball courts, nature trails, and a butterfly garden.
Which park in Jacksonville is your favorite?