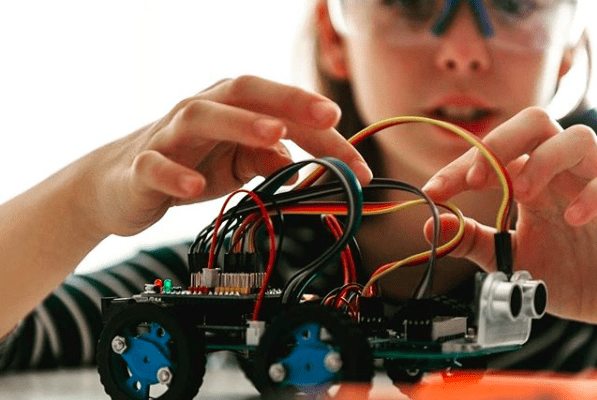 There are a lot of things to take into consideration when choosing an after-school activity for your child, and finding something they love (as much as you do) can be tricky. We've tried it all with my son, Brendan. Starting at age 3 with soccer and T-ball. Then karate, then gymnastics. While some of those were definitely a hit and a miss, I do not regret our trial and error with extracurricular activities. He now knows his likes and dislikes, and that is worth the time the effort.
At around the age of 7, Brendan showed a huge interest in STEM-related activities. He said he wanted to be an inventor and engineer when he grows up, is a Minecraft whiz, and a stellar science student. Brendan also loves to "craft" and work with his hands. When we first heard about a "Maker Academy" opening up in Jax Beach, we knew our 9-year-old big kid would want to give it a try.
Bolts & Bytes Maker Academy opened up just this year. Brendan was able to participate in their very first Inventors class and has been hooked ever since.
Located in Jacksonville Beach, Bolts & Bytes Maker Academy is a fully equipped educational makerspace for kids, young adults, and adults alike combined with expert instruction. The classes are built around project-based learning, where there is no right answer and creative solutions and approaches are encouraged.
Brendan is currently finishing up his first session in 3D printing and already signed up for the second session, 3D Printing Pro: Gizmos & Gadgets. When he is older, we may sign him up for a second weekly session as all the classes pique his interest.
Other classes being offered this fall include Drone Pilot Race School, Electronics Exploration, and Re:Use, a class on upcycling things that you'd normally recycle or just throw away (perfect for your young inventor)! Check out the schedule here to see all the classes being offered this Fall.
When I asked Brendan what he loved most about Bolts & Bytes, his first answer was, "I love being able to make stuff. I love learning about 3D printing." His second answer was, "Mr. B. is really nice, and he lets you do lots of cool stuff." Let's be honest, if your kid doesn't love the instructor, you are already in for a bad experience. A lifelong tinkerer, Reed Beaubouef attended Fletcher High School and is a graduate of Rhode Island School of Design, as well as a former director of online advertising products for web.com. More importantly, he lets these kids' imaginations run wild. "If you can dream it, you can do it" seems to be the Bolts & Bytes motto.
Bolts & Bytes was founded on the belief that children learn best when they are truly interested and excited by what they are learning. Schools may be outlawing fidget spinners in the classroom – we're teaching students how to design and build their own custom spinners. We combine maker technology like 3D printing, coding, robotics, electronics and drones with a fully featured makerspace with all the fabrication tools that your imagination may require. We are here to guide, to encourage and to instruct – but more than anything, we are here to light the spark of the imagination.
Is your child a tinkerer, too? The students at Bolts & Bytes not only learn skills like coding, electronics, 3D printing, and robotics, but they are also given the essential time and freedom needed to explore, share and invent. This is the first time that Brendan wants to continue on with an after-school activity, and I couldn't be happier!
Bolts & Bytes currently offers evening classes in addition to limited classes during the day for homeschool programs. Programs are for students ages 9 to 16 (Inventors Studio begins at age 11). You can now choose between 4-week and 8-week sessions. There is also a 10%-off sibling discount.
JMB EXCLUSIVE READER OFFER: JMB readers save 15% on any registration — use code: jaxmoms when registering. Offer valid through the month of October 2018.
Click here to learn more about Bolts & Bytes Maker Academy. Classes begin soon and are filling up fast!