I was approaching my 15th wedding anniversary and 40th birthday, which could only mean one thing — a wedding ring upgrade. (Don't bother looking that up; I invented that as the 15th anniversary/40th birthday gift. You're welcome.) Don't get me wrong, I absolutely love my engagement ring and wedding band. My husband bought them for me at a time when we were broke and in love, and I truly cherish both rings. I didn't want to replace my rings, just enhance them a bit. Or is that what I wanted? I didn't know, and I wasn't sure where to start.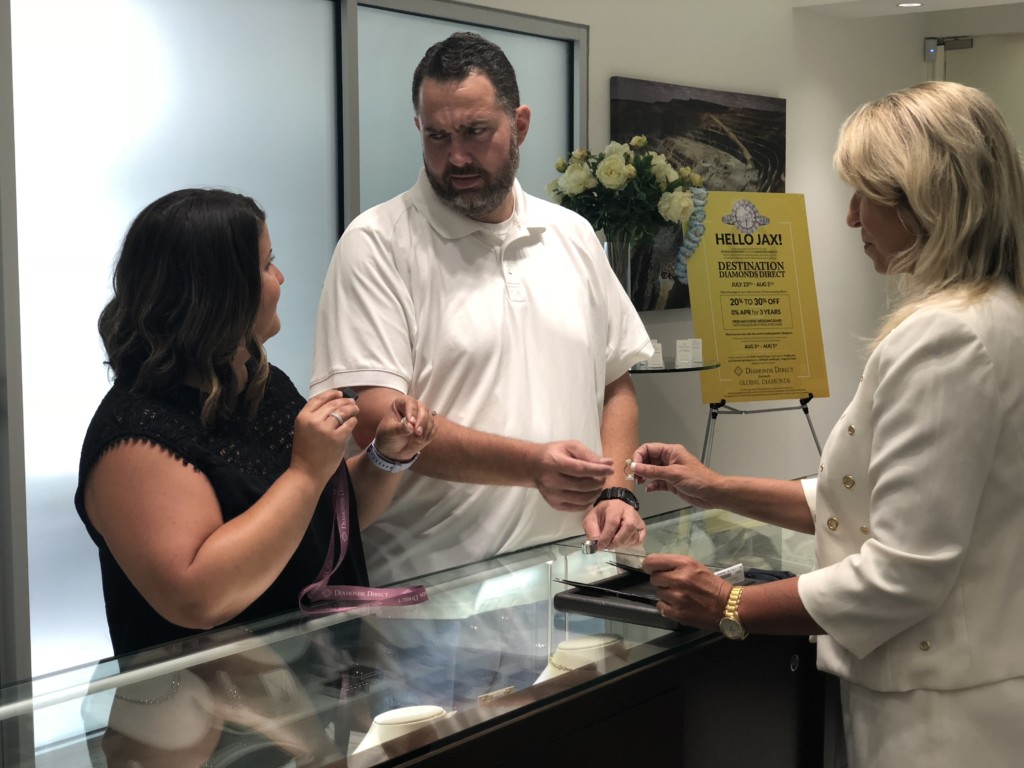 I had heard of Diamonds Direct (formerly Global Diamonds) on the radio and knew they were the official jeweler of the Jacksonville Jaguars. I even admired an amazing engagement ring on the fiancée of one of the players and was shocked at how sparkly and unique it appeared. Once I realized they were located in the Markets at St. Johns Town Center, near the stores I normally shop anyway, I decided to stop by and take a look. It was summertime, so my kids were not in school. I cringed at the thought of bringing them to a jewelry store with me, but alas, my desire for a ring upgrade far outweighed the nagging voice in my head that told me to get a babysitter while I shopped.
I visited the store on a Friday with my kids in tow. Imagine my surprise when we entered the store, and I saw they had an actual KIDS' ROOM! An honest-to-goodness room for kids to hang out, watch TV, even pay video games. Pair that with the fact that they offer complimentary water, soda, coffee (and beer and wine for the grownups), and let's just say I was very pleasantly surprised.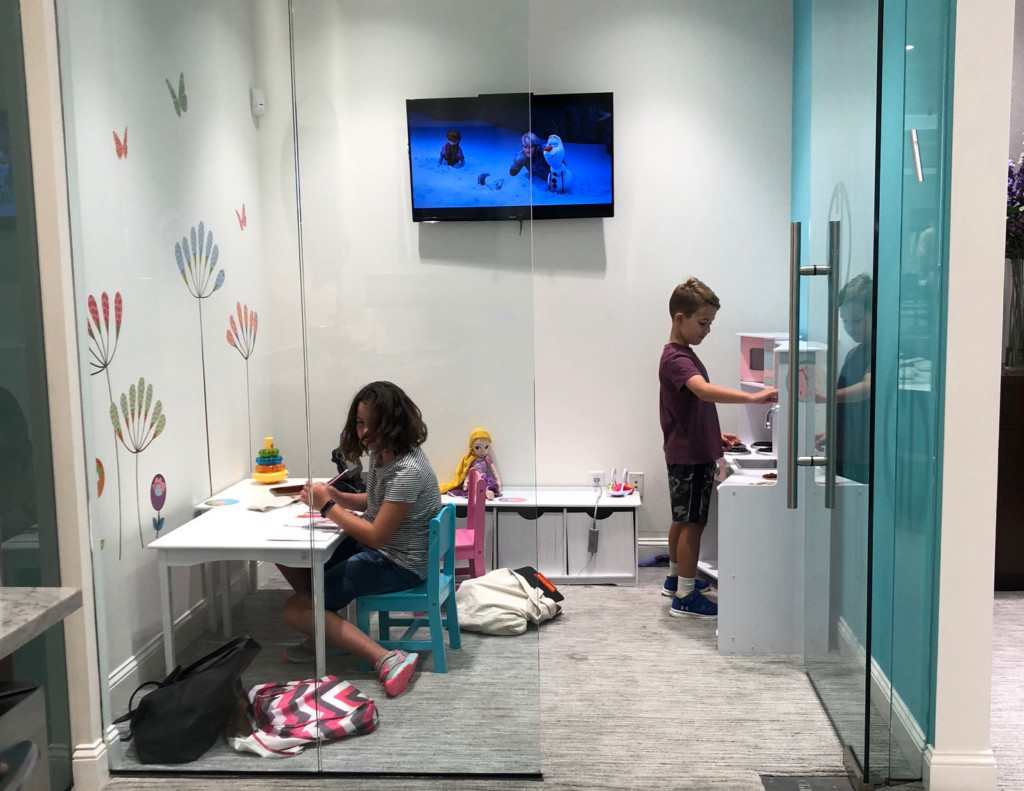 When my salesperson, Deanna, mentioned they were also business partners with the Jacksonville Zoo, it made sense that the store would be so family friendly. Once the kids were settled, I explained my dilemma to Deanna. She listened intently to my query — how I wanted to upgrade but didn't know how. She showed me a few gorgeous ring enhancers — rings that wrap around your solitaire engagement ring to give it a different look.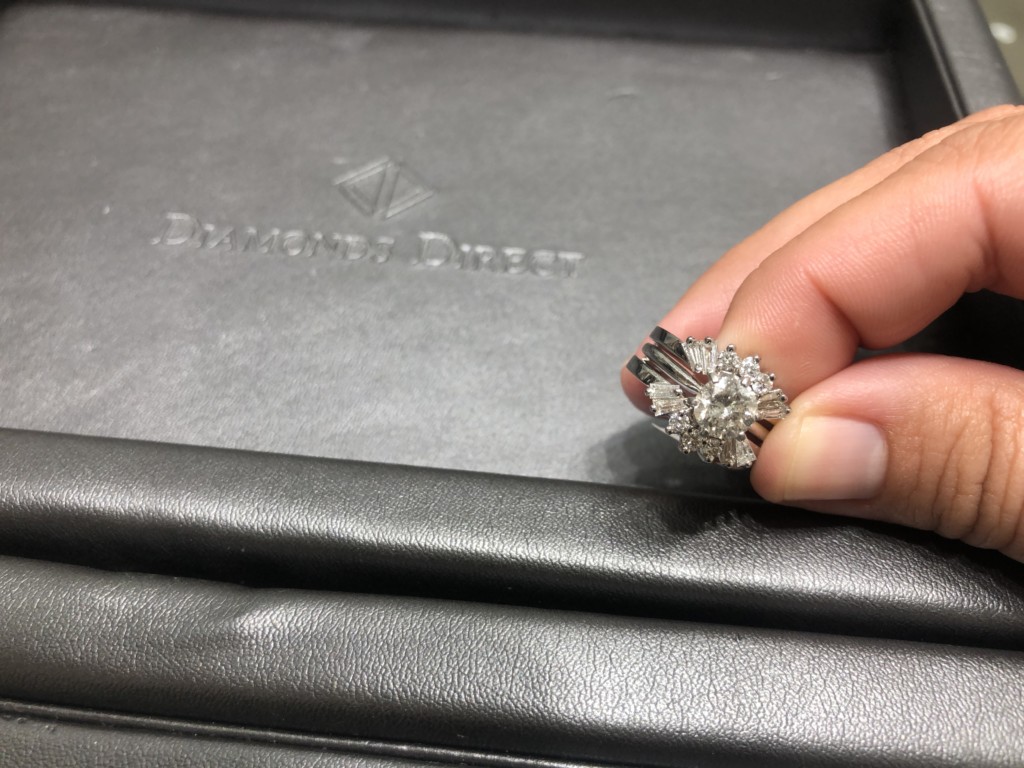 After a brief discussion, she showed me their selection of anniversary bands. Yes! This is what I was looking for — something to wear with (our without) my existing wedding set. I couldn't believe how many different styles were in their showroom and the huge range of price points. Deanna mentioned they offer custom design services. If I had a particular ring design in mind, they can create a 3D CAD image of it before it is produced, with only a few weeks turnaround time. I found a gorgeous infinity band that looks great with my current rings, but I wanted it to coordinate with my current wedding band and not have diamonds around the entire ring. That was an easy modification for them — so my ring became a custom creation! I forgot to mention that while I was browsing their jewelry, my rings were being cleaned and the staff at Diamonds Direct were also re-plating the rhodium on my white golf engagement ring. What is that, you ask? White gold will begin to yellow with time (in my case, 15 years) and once a ring has begun to yellow, the original white gold color can be restored with a coat of rhodium.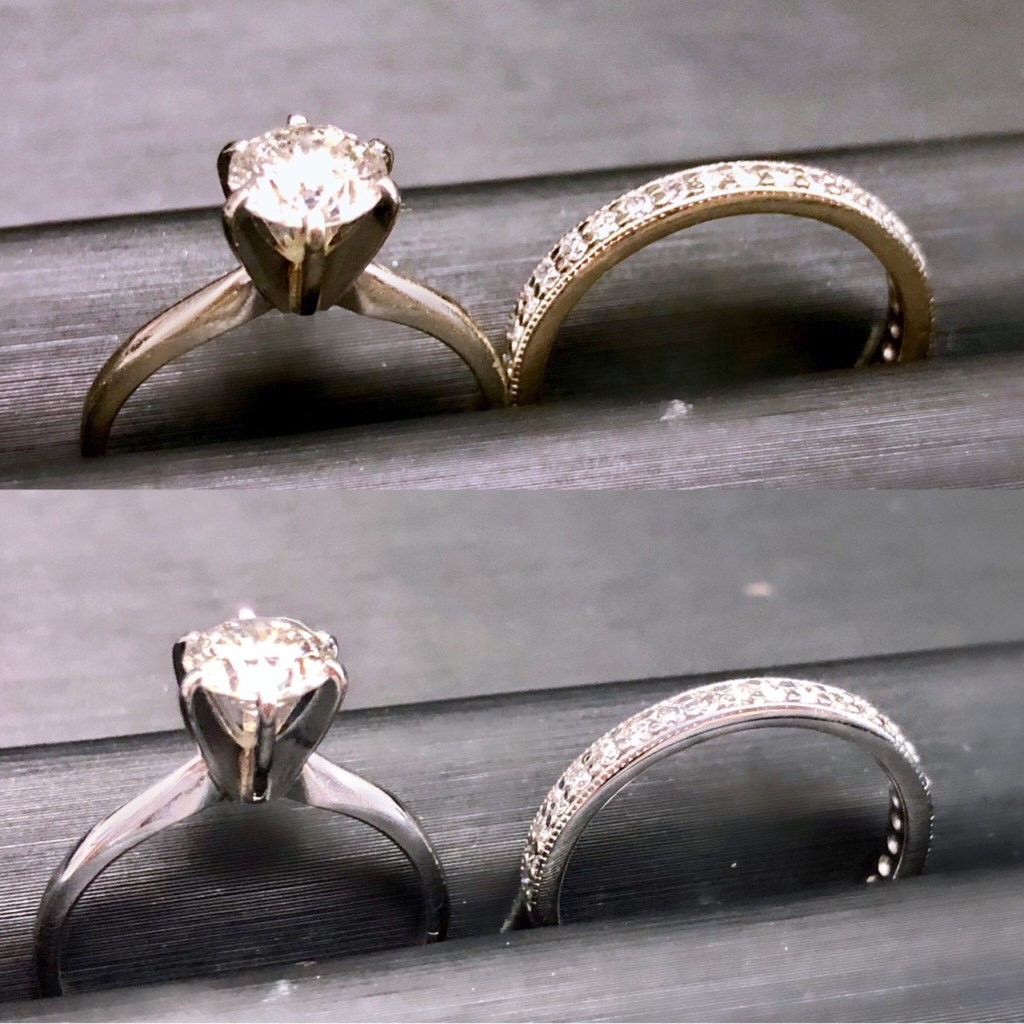 So for those keeping track: my kids were entertained, I was enjoying a glass of wine, and my engagement ring was being restored to its former glory — all while I shopped in a low-pressure environment for an anniversary band. Needless to say, I wish every afternoon was as relaxing as this one!
We discussed financing options, and I was surprised to learn they also offered layaway. (Christmas presents, anyone?) While my order was being finalized, I made my way over to the earrings, bracelets and necklaces. (I was already mentally making my list for my next big birthday.) They explained to me that they offer free stone replacement if a stone ever falls out, and they have 110% lifetime upgrades on loose diamonds, diamond studs, solitaire rings and pendants. For example, if I buy a $5,000 diamond from them today, they would give me $5,500 towards an upgrade after a year. That sounds like a fantastic investment (and an excellent negotiating strategy with our husbands)!
I couldn't be happier with my experience at Diamonds Direct. From start to finish, I was constantly impressed by their friendly professionalism. And my ring is GORGEOUS! With that said, if you are looking for me, chances are I am at the Town Center, having my rings complimentary cleaned and enjoying a glass of wine while my kids play at Diamonds Direct. That's what I call a win/win/win!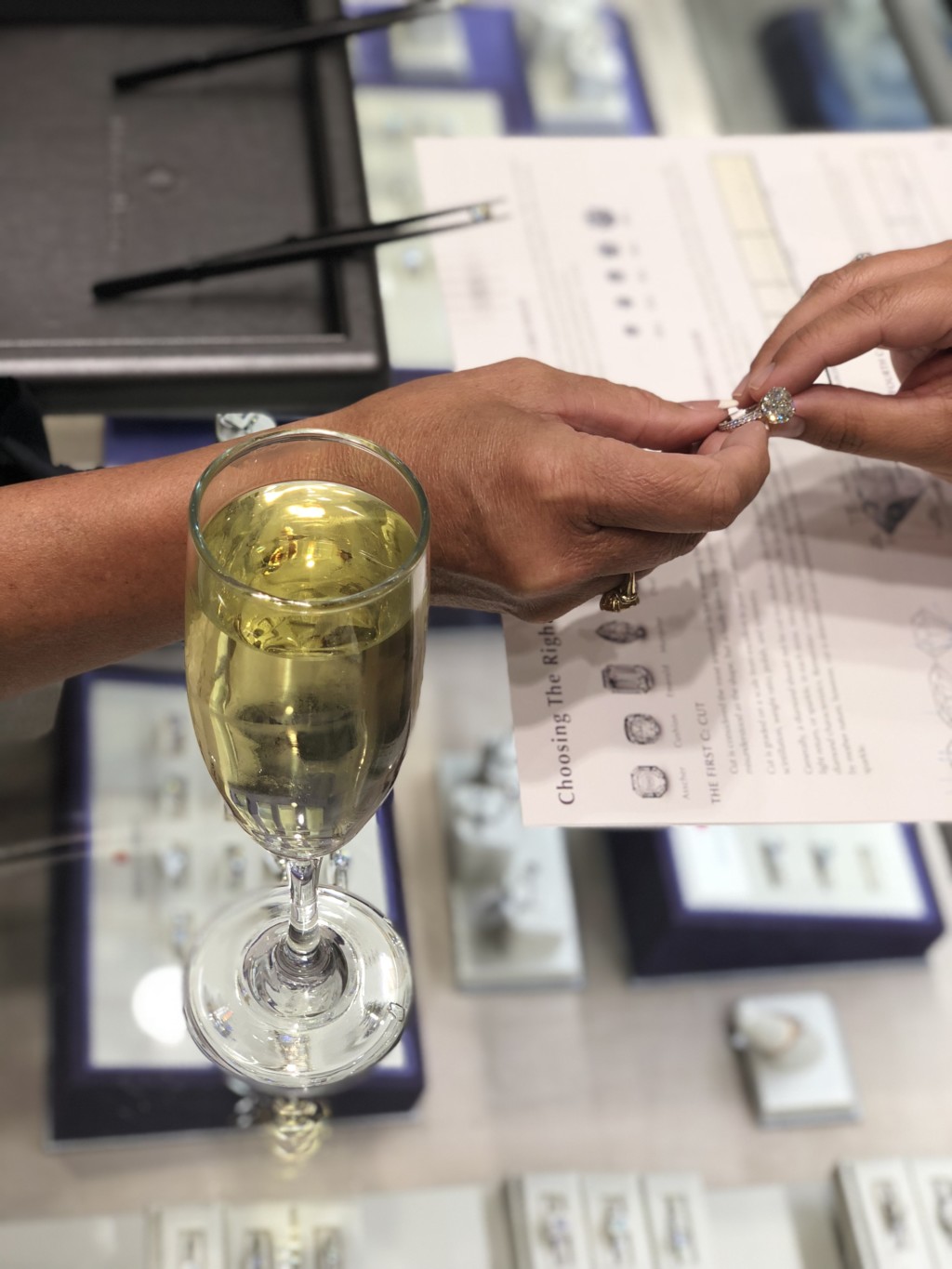 Diamonds Direct Happy Hour Event: Friday, Aug. 3
Join me at their store on Friday August 3rd from 5 pm to 8 pm for a very special Happy Hour!
This amazing Happy Hour will feature delectable hors d'oeuvres from Fogo de Chão, as well as complimentary drinks and desserts as you browse the largest and most exclusive collection of fine jewelry from designers including HENRI DAUSSI, Uneek Fine Jewelry, Christopher Designs, Kirk Kara, and more.
Also at the event, you can enter to win a three-night stay at Mexico's beautiful El Dorado Spa Resorts, by Karisma thanks to the local agency Palm Travel Group.
As part of this celebration, Diamonds Direct will be hosting DESTINATION DIAMONDS, an exclusive three-day designer Trunk Show August 3rd, 4th, and 5th where you can meet world-class designers and take advantage of the best sales of the summer. For all of the details on their epic two-week celebration sale, visit diamondsdirect.com.