The Vucho family in Lake Asbury owns a pool, and with five boys in the house ranging in age from newborn to 10 years old, parents Randy and Brandi took a number of precautions to keep their children safe. Randy, a security consultant, had surveillance cameras installed around the house, a safety gate around the pool, a deadbolt on the door and a door chime that tells them when anyone opens the back door.
On the afternoon of April 4, Brandi was catching up on a little housework while two-year-old Ayden and his twin, Brayden, were napping in their room. While she was vacuuming, Ayden woke up, went downstairs, unlocked the door to the patio and the deadbolt, got outside, and squeezed through an opening in the pool gate. Reaching for a ball, he fell into the pool.
A few minutes later, five-year-old Caleb looked out the back door and saw Ayden floating in the pool. Captured on Dad's surveillance camera, the story unfolded when Randy looked at the video later to see how Ayden got to the pool in the first place.
"It was hard to watch, but I had to know how this happened to make sure it would never happen again. The video shows the whole thing, and I saw the moment Caleb ran to the pool and pulled Ayden out by his pants leg," said Randy. "Caleb was scared to death, so he ran to get my wife, who called 911."
Within minutes, an ambulance with Clay County Fire Rescue arrived. Although Ayden's eyes were open, he wasn't talking nor moving. "My wife said they had him on a stretcher and on the way to the Wolfson Children's ER at Baptist Clay very quickly," said Randy. "Brandi called me at work to tell me what happened. That was the worst 35-minute drive in my life, getting to the ER."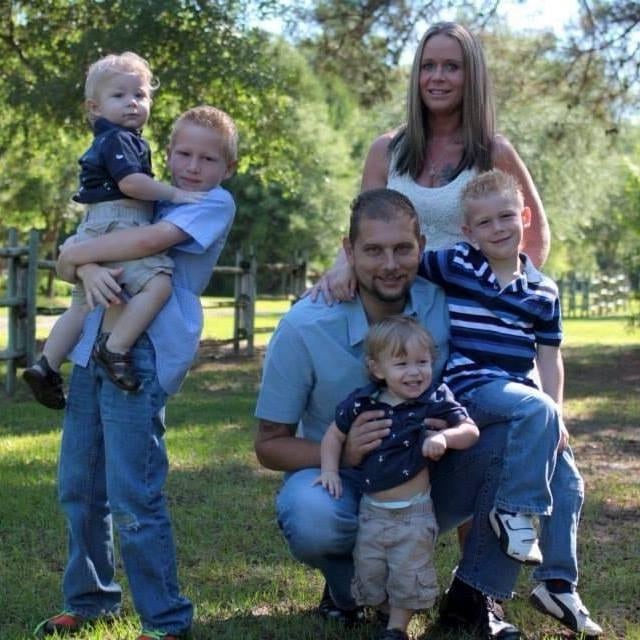 While Brandi was waiting for her Mom to rush to the house to take care of their other four boys, Randy arrived at the Wolfson Children's ER first.
"I ran in the doors and the nurse saw the look on my face and she said, 'Ayden is OK. He's doing great.' When my wife arrived 30 seconds behind me, the nurse said the same thing to her. We burst into tears of joy and relief!"
Even though Ayden seemed back to normal, his pediatric emergency physician Dheval Patel, MD, and the pediatric ER staff were taking no chances. "They were constantly monitoring his heart and oxygen levels," said Randy.
"Because our Wolfson Children's ER in Fleming Island is staffed by the same experienced pediatric emergency doctors as the Wolfson Children's ER in Jacksonville, we were able to monitor Ayden closely here using advanced, kid-sized technology," said Baptist Clay Medical Campus Emergency Services Nurse Manager Katherine Pickett, BSN, RN. "We are thankful Ayden didn't experience any of the many possible complications that can follow in the minutes or hours after a near-drowning. As pediatric emergency experts, our team is able to pick up on some of these problems before they lead to permanent impairment or even become deadly."
Not long after his arrival at the Wolfson Children's ER at Baptist Clay, Ayden grew restless and was ready to get out of his bed. Luckily, his pediatric ER nurse knew just what to do to keep this energetic toddler occupied while he was still being monitored.
"Being the day before Easter, the nurse came in with plastic Easter eggs and hid them for Ayden to find to keep him busy. He loved it and had so much fun!" remembered Randy.
Ayden was discharged home that evening when his doctor was comfortable his vital signs were normal and he was suffering no ill effects from his experience.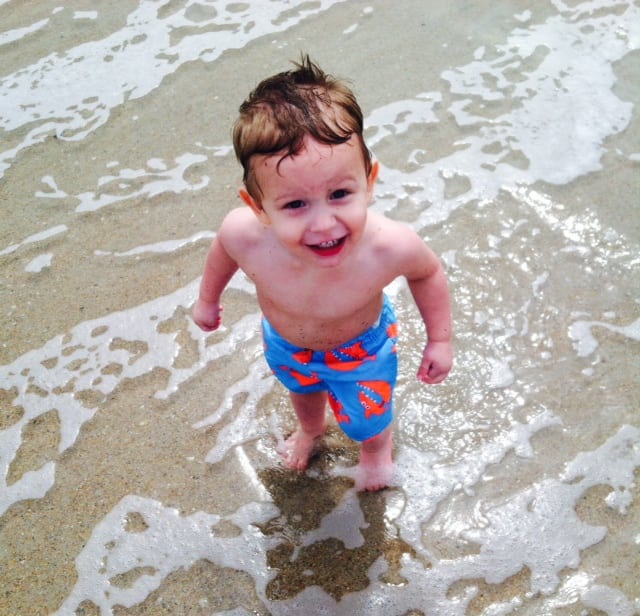 With their big family, Randy says he and his wife are very familiar with the Wolfson Children's ERs in Clay County and Jacksonville. But what happened with Ayden was life-changing.
"We're looking at it as a miracle," said Randy. "It was amazing how everything and everyone came together. How quick Caleb got to Ayden and pulled him out of the pool, how quick the response was by Clay County Fire Rescue, how fast we got to the ER and how that very night, he was hunting for Easter eggs.
"It's hard for my wife and me to think about how close we came to losing our son," added Randy. "But we owe Wolfson Children's Hospital everything. You saved our son's life. We are so thankful y'all are here in Clay County."
Water Safety
The summer is one of the most exciting times of the year for your kids, but it's also a time when kids can be at risk for injuries. That's why the Safe Kids Northeast Florida Coalition, led by THE PLAYERS Center for Child Health at Wolfson Children's Hospital, encourages all parents and caregivers to be prepared and find out more about water safety at the links below:
Local Infant/Child CPR Classes
Safe Kids USA Water Safety Information
Thank you to Wolfson Children's Hospital for sponsoring this post!