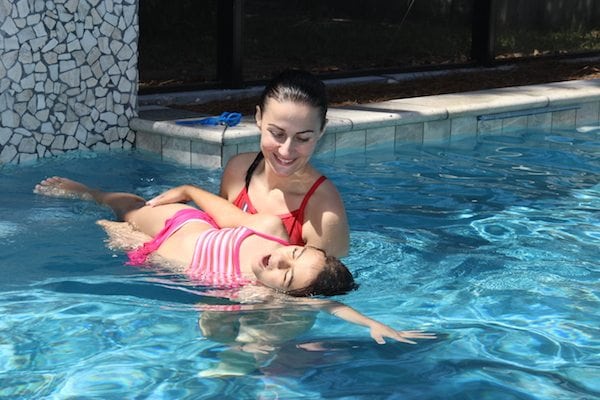 As we near the end of the summer, you may be thinking the swim-lesson season is over — but I would like for you to take a few minutes to consider the health and safety benefits of swimming throughout the entire year. Learning to become a strong swimmer could potentially be life saving! Swimming takes specific conditioning and well-established muscle memory development through consistent practice.
Why swim all year?
Avoid the frustration of starting over with swimming each Spring.

Prevent fear of water from becoming a hindrance to your child's ability to enjoy the water.

Easier to find a time that is convenient with less students enrolled in swim classes.

Your child will be conditioned for swimming and less likely to panic in water, therefore, much safer in the water when the pool season rolls back around.

Your child will be able to enjoy pool parties and vacation next summer if they can already swim.

Swimming conditioning will diminish quickly without consistent practice.

Open water swimming or surfing is an amazing inexpensive hobby for many and is only safe if you are a strong swimmer.

Swimming is a great social activity for you and your child outside of the school environment.

Your student could be ready for swim team or water camps next year.

Your student will become comfortable with a coach at an early age helping to decrease separation anxiety.
I began swimming myself as a infant, and I have never felt like I couldn't swim or had any fear of the water.  The investment my family made in regards to my swimming impacts my life today. I learned all of the competitive strokes by the age of 5 and then joined a swim team, learned to surf, and scuba dive by the age of 12. I know with exposure to swimming from an early age and consistently throughout childhood, most children can have the same opportunities.
I have been swimming for fitness and surfing my entire life and am fortunate to have a high level of fitness and overall good health as an adult. I attribute my good health to the pursuit of every aquatic sport throughout my life, and it breaks my heart to see the same children each summer struggling to learn to swim.

Do you think swimming is just a summer activity?
I have considered three of the many possible reasons why some parents choose not to pursue swim lessons for their children throughout the year: time, money, and perception that swim lessons are merely a summer activity.
We live in a fast-paced world and often cut out the things that make life better, such as exercise and fun. Swim lessons can be taught in 20 minutes and will be packed with fun and exercise along with learning a valuable skill. The cost for swim lessons should be near $1 per minute and for private or semi-private lessons, up to $2 per minute. Twenty minutes of exercise and fun for your children really should only cost less than what many of us spend on coffee each day.
No athlete at any sport takes over seven months off, especially swimmers.
I hear stories every summer about children who were swimming the previous summer, and a year later, it feels as if they are starting over. The gap in swim practice leads to diminishing strength and confidence. It's especially important to have consistent positive swimming exposure to the water if your child has any anxiety about the water. Swimming is not like riding a bike, as some may think.
Tragically, the leading cause of death and injury for children under 5 is water related. Children will be safer and more comfortable in the water the younger they learn to swim. The best age to start lessons is 6 months, as swimming becomes more difficult to learn as you get older.
Many children who have consistent year-round swimming exposure from a very early age could be swimming by 3 years old. Year-round swim students are more likely to be able to swim all strokes, including freestyle, backstroke, breaststroke, and butterfly. Swimming skills are developed through repetitive practice and can deteriorate if a child isn't consistently exposed to swimming.
Fear of water only occurs from lack of swimming exposure or a traumatic water incident. Swim lessons year round will help your child swim faster and prevent fear of water. Give your child an advantage over many other children and make sure they are swimming by next summer!
Join us at the Swim Lesson Club USA for year-round swim lessons in our heated indoor pool off San Jose Blvd.

The Swim Lesson Club USA Difference
Their pool is an ideal environment for lessons and learning.

Indoor warm water and only one class at any time.

Offers private, semi privates and small groups with no more than four students.

Affordable options for all families.

Low monthly tuition compared to similar swim schools.

Offers a prorated monthly tuition to allow for a rolling enrollment.
As a progress-focused swim school, they expect children over the age of 3 to be able to take pop-up breaths, float for at least five seconds, and return to the wall/stairs within 12 classes. Our instructors have years of swimming instruction experience and parent-instruction focus to condition life-saving behaviors.
Swim Lesson Club class goals by age:  
Baby to 2 1/2 years old: Parent instruction and life-saving skills conditioned with repetitive practice.

2 1/2 years old: Transition into pop-up breaths and more of a formal stroke.

3 to 5 years old: Stroke development with pop up breaths, and back floating / swimming on back.

Over 5 years old: All strokes introduced and begin stroke refinement and evaluation for pre-swim team and the swim team.
To learn more about Swim Lesson Club and details of offerings and class openings, visit them online at SwimLessonClubUSA.com and on Facebook.