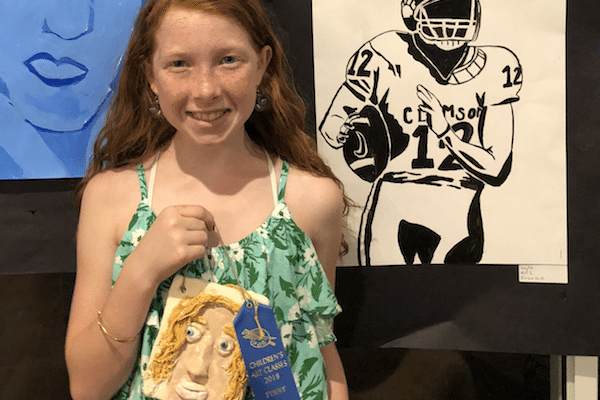 Finding an extracurricular activity that your child is really interested in can be tough. My middle daughter, Kayte, had tried almost everything. Although she liked some and was pretty good at others, we had not found "that thing" she was passionate about.
A friend told me about the studio-based Children's Art Classes, and it sounded perfect! My daughter really enjoys art, so I was hopeful that this could be something she loved. Looking back now, I feel like we hit the jackpot!
Kayte completed Art I last year. She liked learning from the teachers and getting to use all of the different mediums and techniques. Her favorite was the ebony pencil drawing and the scratch art. This program is not your typical painting and crafts. At Children's Art Classes, they explore different types of art and allow students to develop several unique masterpieces which are showcased at the annual end-of-the-year art show. Some of these techniques include charcoal, clay, watercolor, India ink, print making, sculpture and many more.
The instructors pour their experience and their hearts into teaching and developing masterful skills in the artists. This is very evident at the art show because all of the students' work is simply amazing! The art show felt much like some of the other recital-type events, as Kayte felt celebrated and special on this night. My heart was full as I watched her beam with pride as she walked us through all of the galleries.
We are excited to start Art 2 and look forward to another amazing year. Thank you to the staff at Children's Art Classes for helping me find something so perfect for my budding artist! At Children's Art Classes, they have a perfect starting point for everyone, with a full curriculum from Tiny Hands (ages 3 and 4 years old), ages 5&6, 7 and 8 to Adult
Check out the Children's Art Classes located in Orange Park, Baymeadows and NOW open at the Beaches! Learn more at the open house held at all locations on Saturday, August 18 10 a.m. – 2 p.m, August 25th 10 a.m. –2 pm, September 1st 10 a.m. –2 pm, and September 8th 10 a.m. –2 p.m.