August is a month filled with change — summer ends, school begins. And I have found it to be very easy to overspend when we are pulled in so many directions. That's why I was happy to learn more about Wintastic Rewards from RaceTrac, a more rewarding summer rewards program where guests can score big on more than just soda. With the kids in tow, I stopped by my local RaceTrac to find out more!
This being Florida, of course it was hot outside, so our first stop was Swirl World. Not familiar with Swirl World? Well, you should be! With flavors such as Birthday Cake, Ice Cream Sandwich, Space Pop and Chocolate Orange, you are sure to find something for your sweet tooth. We thoroughly enjoyed the 40+ unique toppings, and I liked that we had the option of a bowl or cone, too. But my favorite part about Swirl World was the price! At only 44 cents an ounce, it is a much more affordable option than a traditional fro-yo shop! It was a tough call though — because we all love a good slushy — and RaceTrac had TONS of options. Most places may offer just a few, but not RaceTrac. They had 14 flavors! It was starting to look like my kids had found their new favorite place. That was confirmed by our next discovery.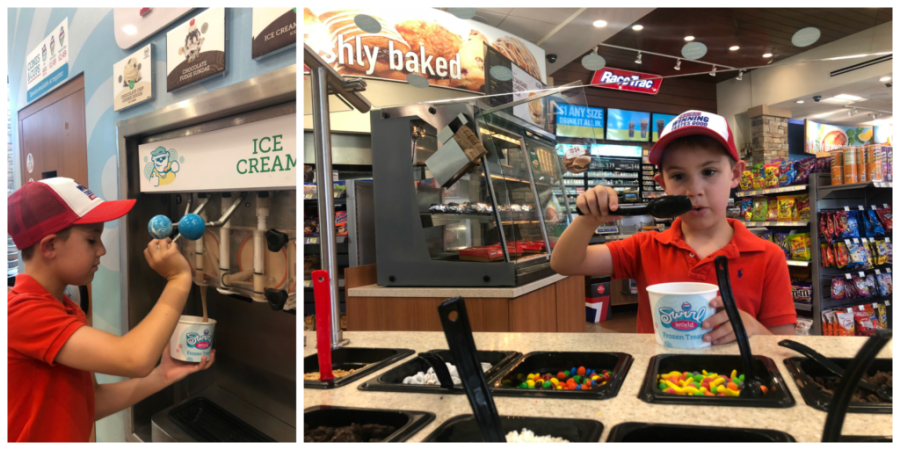 I had always been a fan of roller meats. Whether it was a rolling hotdog, taquito, sausage… you name it, I loved it. It seems that I had passed down my love of moving meats to my children. They were delighted to try Nathan's Famous 100% premium all-beef hot dog from the Roller Grill, complete with a soft, steamed bun. The kids loaded their dogs with the traditional toppings — ketchup, mustard, mayo and onions. I loved the more unique options such as banana peppers, salsa, sauerkraut, jalapeños and tomatoes. Needless to say, we were in condiment heaven.
Just when I thought I couldn't score any more cool points with the kids, I introduce them to RaceTrac's all-new breakfast sandwich made with Kellogg's Eggo Waffles! This sandwich includes maple syrup, sausage, egg and cheese all stacked together between two classic Eggo Waffles. (But hurry — this is a limited-time sandwich, only available until November!)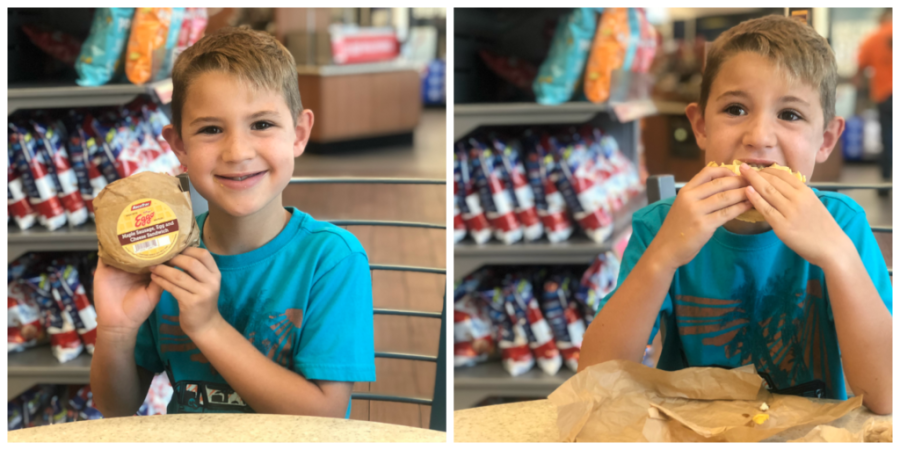 Talk about a great way to start the day! Oh, and did I mention the coffee?! RaceTrac's "Crazy Good Coffee" bar offers a variety of blends of fresh-brewed coffee, including 100% Hazelnut, Regular, Columbian, Guatemalan, Decaf and Dark Roast. If coffee isn't your speed, check out RaceTrac's fountain drinks. All of them, and I do mean ALL of them (including the many options for iced tea), are only $1. Guess what goes great with iced tea? CRUSHED ICE.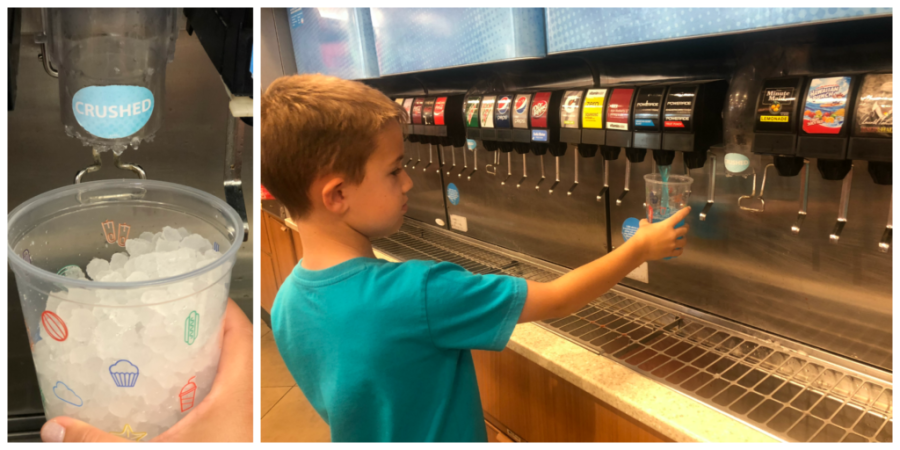 All of these wonderful, Mom-is-suddenly-cool options are neat, but the icing on the cake (or fro-yo!) is RaceTrac's all-new Wintastic Rewards. To participate, make a qualifying purchase, scan the loyalty barcode in the app, get a 1-in-3 chance to win a digital coupon for an in-store offer, and redeem the offer during your next visit or a new transaction. It is that simple. I'm  happy to partner with RaceTrac and save money this summer!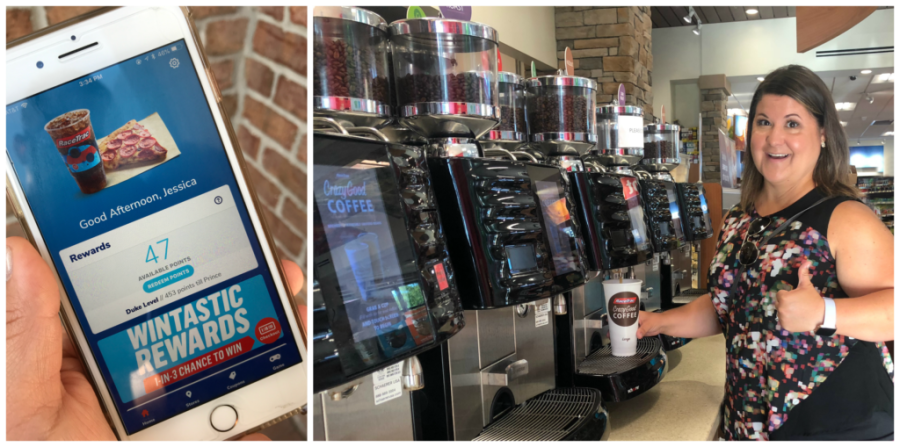 RaceTrac partnered with influencers such as me for its Wintastic Rewards campaign. As part of this Program, I received compensation for my time. RaceTrac believes that consumers and influencers are free to form their own opinions and share them in their own words. These policies align with WOMMA Ethics Code, Federal Trade Commission (FTC) guidelines and social media engagement recommendations.