"I want an official Red Ryder, carbine action, two-hundred shot range model air rifle!"
"No, you'll shoot your eye out."
As eyes widen at the sight of the latest toy catalog to appear in your mailbox and your child's wish list grows, it's easy to get swept away with the excitement and spirit of giving during the holiday season. But don't let your holiday celebrations go the way of Ralphie from A Christmas Story, with an eye laceration from a much-coveted toy ruining the fun and possibly sending you and your child to the ER.
There's Nothing Fun or Jolly About Toy-Related Injuries
The U.S. Consumer Product Safety Commission (CPSC) reports that in 2016, there were an estimated 174,100 toy-related injuries treated across the U.S. in hospital ERs. With the outpouring of gifts from family and loved ones doting on your children, it's important for you to know the risk of toy-related injuries as well as the best safety guidelines when it comes to toys for your tots.
Each year during the holiday season, the non-profit World Against Toys Causing Harm, Inc. (WATCH) releases a list of the 10 most dangerous toys of the year. Click here to see the list for 2017. Spoiler alert: you might want to re-think the fidget spinner stocking stuffer.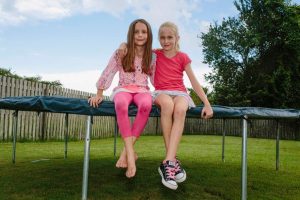 Jumping to the ER
Last Christmas, Ken and Allyson Williams were almost as excited to give their 7-year-old twin daughters Kate and Abby a trampoline as the girls were to receive it. With the girls being budding gymnasts, a trampoline in the backyard would certainly see its fair share of jumps, flips and twists. With the gift came some ground rules, like always dismount from a seated position, and never jump.
But even with the best intentions from Mom and Dad, accidents can still happen.
That spring, Kate broke her left forearm after performing an improper dismount. Broken forearms are one of the most common trampoline-related injuries seen in emergency rooms. After her fall, the family took Kate to the Baptist/Wolfson Children's Emergency Center at Town Center for X-rays.
Kate is back to cartwheeling and jumping — following any and all safety rules, of course — in her backyard with her sisters. With a Nemours Children's Specialty Care pediatric radiologist to properly diagnose the type of break she had, and a Nemours pediatric orthopedic surgeon who was able to operate the next day, Kate was in the best hands possible during a worst-case scenario.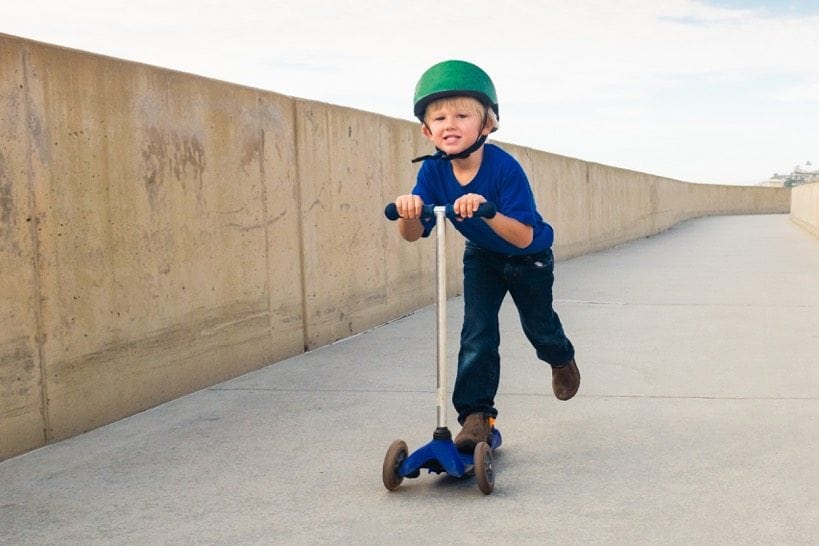 Scooting to the ER
Year after year, the CPSC reports that non-motorized scooters continue to be the category of toy associated with the most injuries. With their sleek design and small wheels, modern-day scooters don't just scoot — they fly. If a rider isn't properly protected, it's easy to see why scooters are to blame for the most injuries.
So, should you park the scooter for good? Following a few simple steps will keep your scooting tyke safe:
Just like with any other ride-on toy, a properly fitting helmet is a must. Elbow and knee pads are also recommended.
Consider your surroundings — are you near an open road? Children should always stay away from vehicles while using a ride-on toy.
These aren't all-terrain vehicles, and they should be ridden on a smooth, paved surface.
Children should be supervised at all times while riding.
You've Got Toy Safety in the (Gift) Bag
While trampolines and scooters are certainly the most repeat offenders when it comes to toy-related injuries, seemingly innocuous toys can also pose a threat. While it's important to be vigilant, also remember that danger isn't necessarily lurking in every gift bag. Safe Kids Northeast Florida, led by THE PLAYERS Center for Child Health at Wolfson Children's Hospital, has a few quick tips to consider before handing that new gift or toy over to your tot or teen:
Consider your child's age when purchasing a toy or game. It's worth a second to read the instructions and warning labels to make sure it's just right for your child.
Before you've settled on the perfect toy, check to make sure there aren't any small parts or other potential choking hazards.
Keep a special eye on small game pieces that may be a choking hazard for young children. While these kinds of games are great for older kids, they can pose a potential danger for younger, curious siblings.
After playtime is over, use a bin or container to store toys for next time. Make sure there are no holes or hinges that could catch little fingers.
Click the image below for additional toy safety tips.