At UF Health North, expectant mothers have greater options when it comes to delivering their babies. The campus is home to the region's newest, most advanced hospital that includes a Labor and Delivery Unit. Located in the outpatient medical office building next door is the UF Health Birth Center.
While the settings and services are different, they share a common purpose: to provide a comfortable, supportive environment for mothers and babies.
So how do you know which place is right for you? You decide.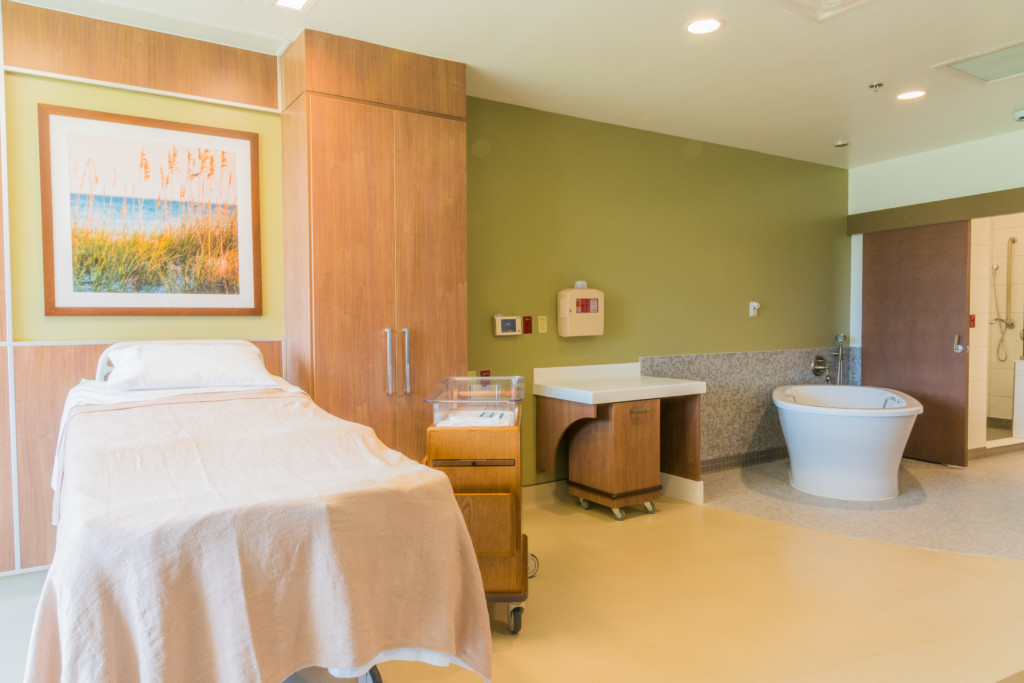 In the Labor and Delivery Unit, women can expect a spacious suite and access to the latest medical technology. Patients receive care from the obstetricians and certified nurse midwives at UF Health Women's Specialists – North as well as from anesthesiologists, if they choose to have an epidural. In addition, nitrous oxide will soon be available for moms who want to self-manage their pain or anxiety during labor. This will provide an alternative for those who are unsure if they want an epidural. Nitrous oxide can be stopped at any time and the effects dissipate within minutes, allowing for other medications to take effect. Two obstetric operating rooms are located within the unit for planned or emergency cesarean sections. Vaginal birth after cesarean, or VBAC, is also available.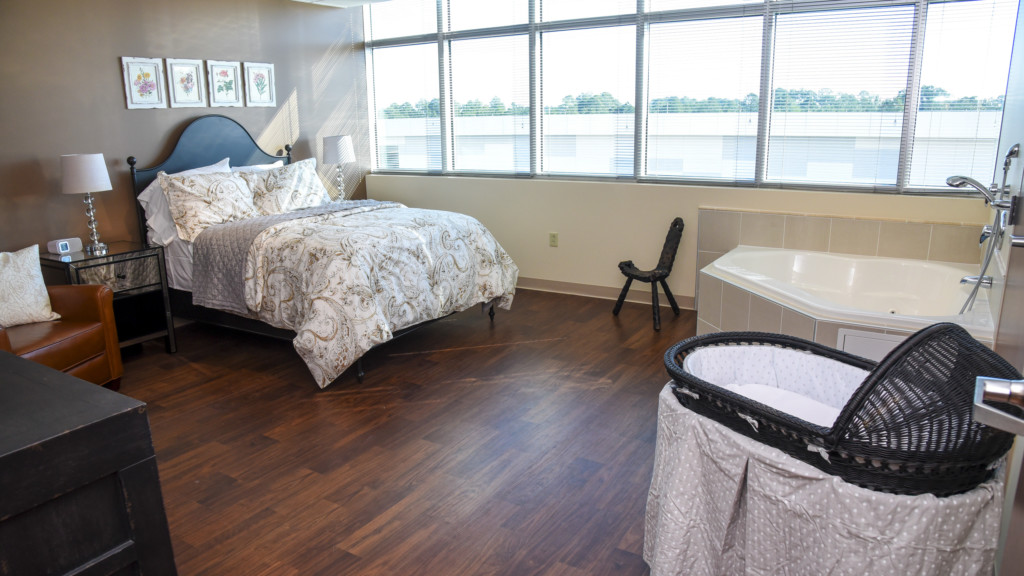 The UF Health Birth Center is staffed by certified nurse midwives who provide a home birth experience in cozy delivery suites. Each room has a heated spa tub for water births. Mothers have numerous nonpharmacologic pain relief options at their disposal, such as acupressure, massage and sterile water papules. This center has all the benefits of a midwife-guided home birth, and is adjacent to the hospital should a mother or baby need to be transferred.
The Labor and Delivery Unit and the UF Health Birth Center both welcome doulas to support their patients during delivery. Both locations also offer aromatherapy, hydrotherapy, hypnobirthing, labor balls and music for mothers to manage labor pain. Some of these techniques can even be used during C-sections.
Visit North.UFHealthJax.org/birth-options for more information about all of the options available during delivery at UF Health North.
Register for a tour of the Labor and Delivery unit at North.UFHealthJax.org/babytours or by calling 904-427-8687.
Register for a tour of the UF Health Birth Center by calling 904-427-6378.
About the Author
Katie McPherson is a marketing specialist in the Communications and Marketing department at UF Health Jacksonville. She coordinates marketing and advertising efforts for UF Health North, labor and delivery, women's services and nursing. In addition to promoting these service lines, Katie writes features for Open Lines, provides copy for new webpages and creates original marketing pieces to support initiatives of the organization.