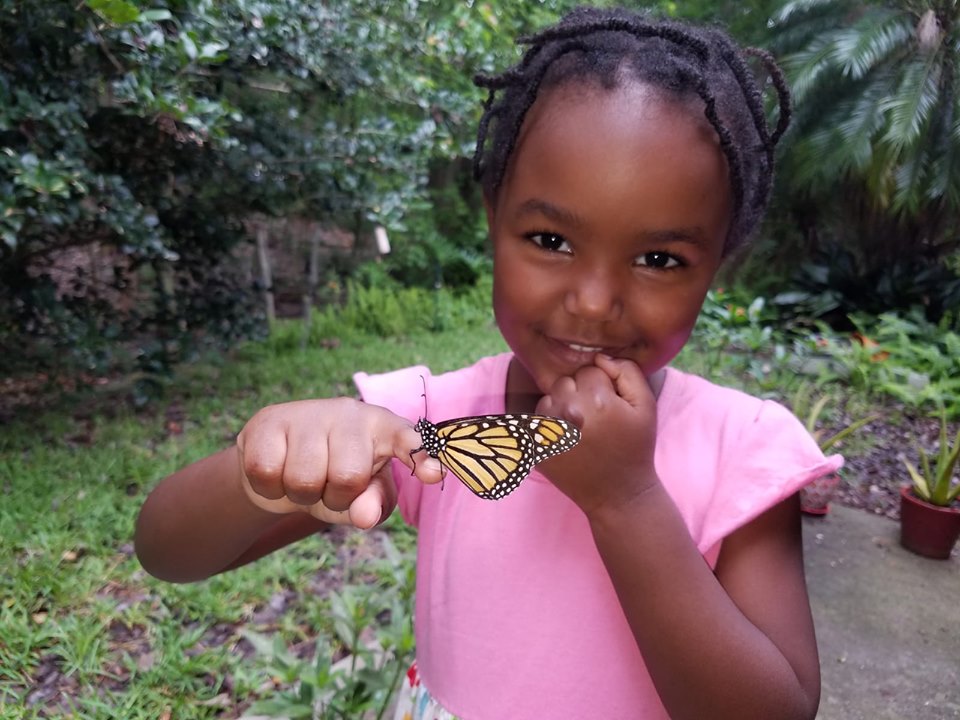 Butterflies have always had a special place in my heart. I'm not sure when the fascination with them began, but I do know I loved monarch butterflies so much that my husband and I incorporated them into our wedding by releasing a dozen butterflies after we were pronounced married.
When my dear friend started raising monarch butterflies, I enjoyed watching her learn more about the beautiful insects and how excited her kids were. She ended up getting overwhelmed with the number of caterpillars in her garden, so she asked if I would be interested in raising them, too. I admit, I was apprehensive at first, but after she gave me the 411, the rest is history.
From that point on, our whole family has loved helping tend to the garden, looking after the caterpillars, and watching them evolve through the life cycles. Our favorite part is making it to the chrysalis stage, and of course, seeing the caterpillar emerge into a butterfly and finally naming it before it flies away. Each caterpillar and butterfly has captivated our attention, brought us joy, and provided a beautiful distraction to the everyday hustle and bustle.
Raising butterflies can teach us all the importance of slowing down. Now is the time to enjoy nature and the beauty it offers. We're always so distracted by other things that it's easy to miss what is right in front of our faces. These little miracles never cease to amaze us, and we feel pride when one makes it to the next stage. The fact that they have overcome so much to make it through all the stages and then the miracle of a big butterfly coming out of a tiny chrysalis is such a beautiful and amazing thing to witness each and every time. Honestly, I'm not sure why it never gets old.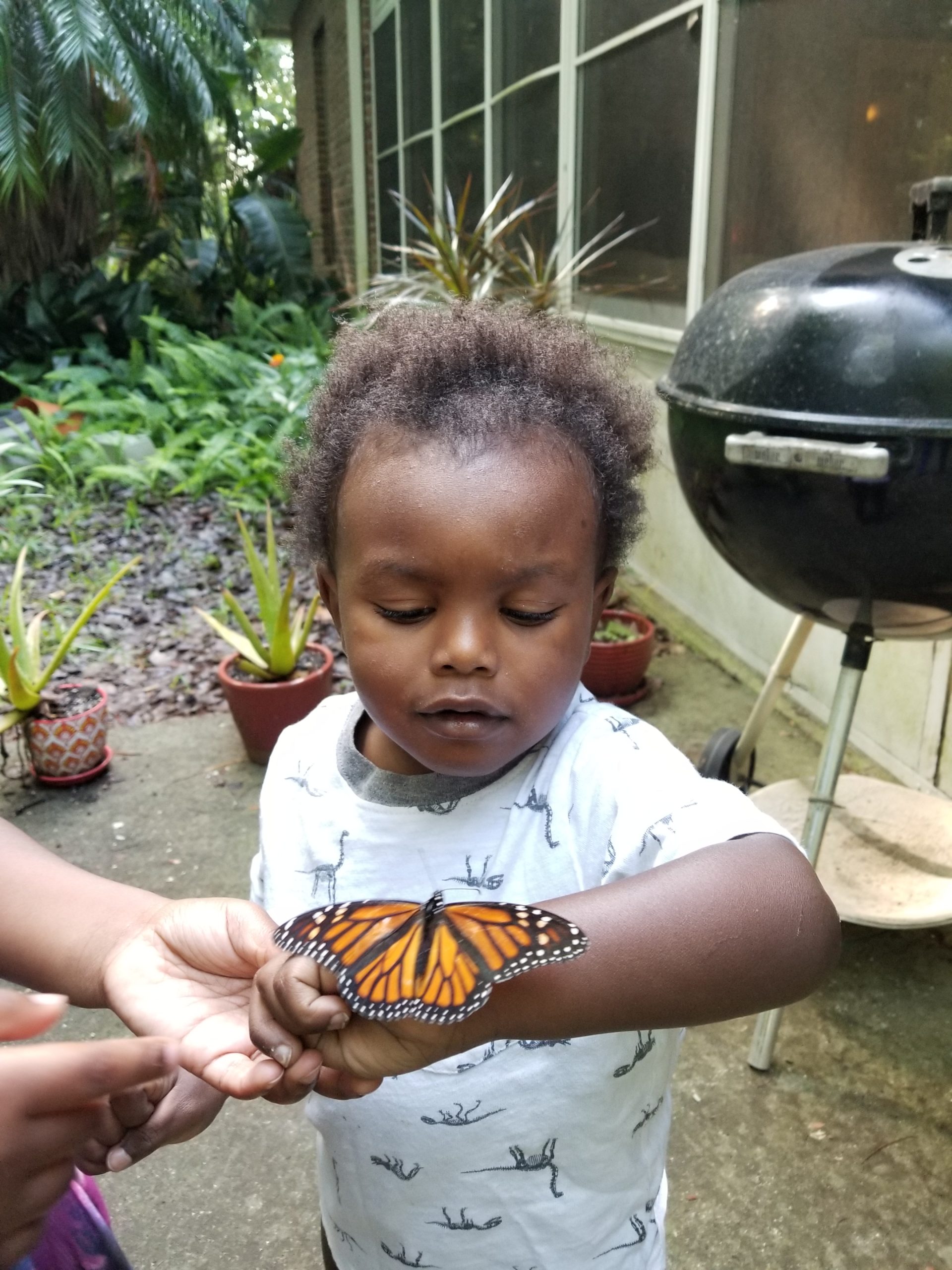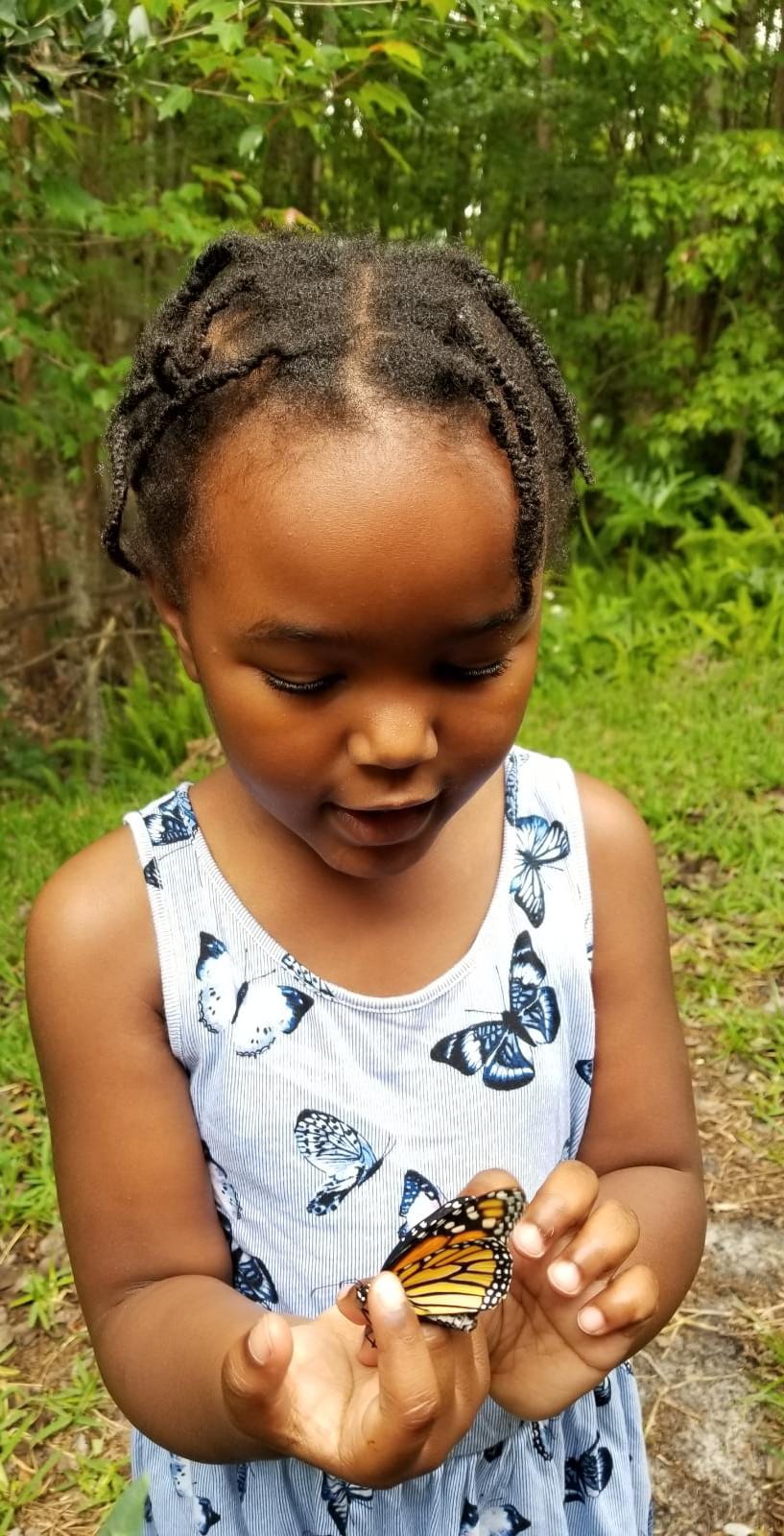 Why a Butterfly Garden is Good for the Whole Family
I have also seen some desirable traits emerge in our children since the first experience of raising butterflies:
Compassion: Starting a butterfly garden with milkweed (to attract monarch butterflies) was a great way to teach our children about compassion for animals and the tiny caterpillars that need our help. They got to learn about monarchs' migration and the importance of not using pesticides. By being compassionate for monarch butterflies that are sadly disappearing, they learn the satisfaction of making a difference in the world, along with the joy of being part of the unique community of people trying to change the monarch population.
Patience: In a society where everyone wants things right away, raising butterflies gives us a great reality check. Our kids got to quickly see that plants take time to grow while flowers take time to bloom in addition to learning to watch and wait for butterflies to come to the garden to lay eggs. Then they learned to wait for them to hatch and watch the caterpillars eat and grow until the crystalis stage. Finally, when the wait for them to turn into beautiful butterflies is over, they had to wait once again for their wings to dry for the finale of releasing them after we selected a name for them. All of this takes a lot of patience. Since this process can't be rushed, patience is learned, and the great reward is seeing the garden grow and witnessing every stage of the monarch butterfly!
Responsibility: Our kids love helping in the garden by taking turns watering almost daily and adding new plants. They love going on an egg hunt to see what eggs were laid by monarchs that have visited the garden. They love checking on the caterpillars throughout the day and making sure they are all still there. Working together as a family, we are a team creating something beautiful, and we are reminded of this responsibility every time we see butterflies visit our garden.
Gratitude: Raising butterflies have taught our kids that caterpillars don't live a long time and sometimes they do not get to become butterflies — and sometimes butterflies are born with problems that could prevent them from ever flying. While this is very unfortunate and sad, we know that the time we had with them at whatever stage is a gift. We have gratitude for being able to see them grow and appreciate the joy they bring. We are grateful that butterflies transform and that we get to see them evolve from a little caterpillar into a beautiful butterfly. Monarch butterflies have a dangerously low population due to a combination of pesticides that poison them and herbicides that kill their primary food source — milkweed. For my family, raising butterflies helps us feel that we are doing something positive, however small it may be, to help save the monarch butterflies. Our little backyard butterfly garden can have a big impact on their world.
Although raising these butterflies came about serendipitously, I had no idea going into it that my entire family would be involved. My husband assists with the butterfly release and provides photographic journaling, the kids are learning valuable attributes and communing with nature, and I am enjoying our daily treks to the backyard to check on the progress of our temporary inhabitants. This is indeed a win-win situation for the monarch butterfly population and my family.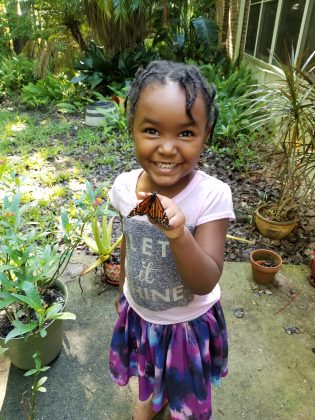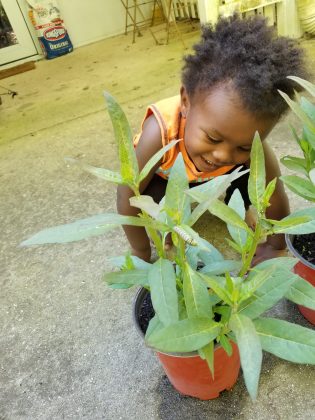 How to Start Your Own Butterfly Garden
Purchase some milkweed at your local nursery (avoid big-named retailers and chains as they typically use pesticides on their plants), and you can follow some specific tips listed here.
Have you ever started a butterfly garden? Comment with your experience!