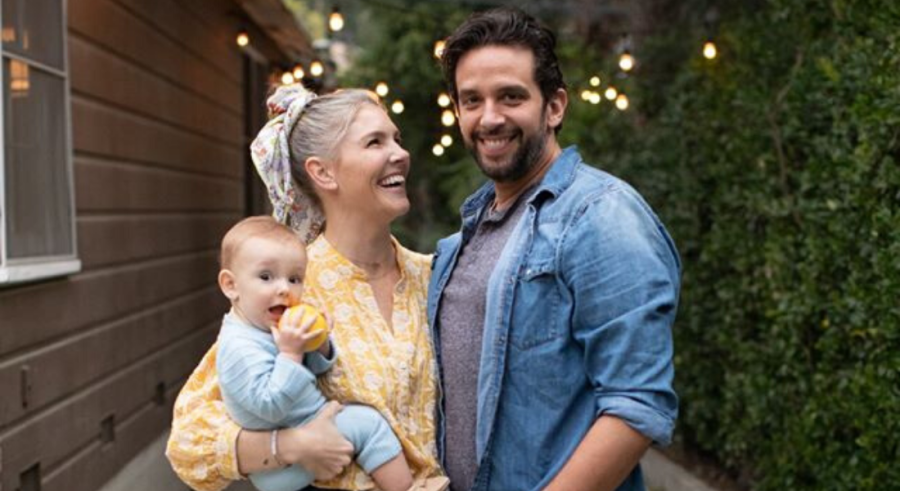 Earlier this year, everything was normal — relatively speaking, anyway. Now, we live in a COVID world, where everyone is wearing masks and social distancing. It's hard on everyone, to say the least. But as we've adjusted, people have started to relax, even as the number of cases has surged again. Yet the tragic case of Broadway actor Nick Cordero is a heartbreaking reminder of why we need to take COVID-19 seriously and live each day as if it were our last.
Nick Cordero was a Tony-nominated Broadway star, appearing in shows like Bullets Over Broadway, Waitress, and A Bronx Tale. He also was happily married to Amanda Kloots, a former Broadway dancer and Radio City Rockette; together, they have a 1-year-old son named Elvis. Cordero was just 41, the picture of health, and in the prime of his life. And then came the diagnosis.
In late March, Cordero was diagnosed with COVID-19, and the virus hit him hard. Kloots kept the world updated on his progress as he battled the disease, and it was in turns heartbreaking and inspiring. Kloots often couldn't even be with her husband; on Instagram, she wrote, "At some point every day I go to @cedarssinai and stand outside the hospital. I talk to Nick, I pray, I play his song and I sing to him! It's the closest I can get to him on a daily basis."
Cordero was in critical condition almost immediately, placed on a ventilator, undergoing dialysis and extracorporeal membrane oxygenation (ECMO), a process where blood is pumped and oxygenated by a machine so the heart and lungs can rest. Just several weeks later, his leg had to be amputated, but Kloots tried to remain optimistic, telling fans to keep faith that he would eventually wake up. By May, Cordero had suffered major damage to his lungs, but eventually regained consciousness — and Kloots said he was getting better. "I've been told a couple times that he won't make it. I've been told to say goodbye. I've been told it would take a miracle," she wrote. "Well, I have faith. Faith that is small as a mustard seed sometimes, but that is all you need sometimes. He's still here and despite his odds gets slightly, slightly better every day. Where there is faith, there is hope. Where there is hope, there can be a miracle!"
Even after Cordero woke up, Kloots explained that his functioning level was extraordinarily low. He could only interact with people using his eyes, could barely move his jaw, and couldn't move the rest of his body. But still, by the end of June, he was stable and recovering. But despite his seeming recovery, on July 5, Nick Cordero passed away after spending 95 days in the hospital.
"I am in disbelief and hurting everywhere. My heart is broken as I cannot imagine our lives without him," Kloots wrote. "Nick was such a bright light. He was everyone's friend, loved to listen, help and especially talk. He was an incredible actor and musician. He loved his family and loved being a father and husband. Elvis and I will miss him in everything we do, everyday."
Cordero had no pre-existing conditions. He was young, in good shape, and healthy. And yet COVID-19 still ravaged his body; he suffered multiple lung infections, septic shock, multiple strokes, and needed a temporary pacemaker. There's no explanation as to why some people are able to escape COVID with just minor symptoms, while others, like Cordero, don't make it. His tragic and heartbreaking story proves how important it is to keep several things in mind.
First, while it's unbelievably hard, it's so important that we continue to take COVID-19 seriously. "This is my reminder to you to stay safe, wear your mask, wash your hands, social distance and don't leave your home unless you have to," Kloots wrote. "You don't want this virus. You don't want your loved one to get this virus. It's still here and unfortunately increasing again. I never thought Nick or I would get COVID and we both thought of we did we would be able to stay at home and recover. Nick is 41 years old, in shape and had no preexisting health conditions…. [m]y heart breaks for him everyday."
The second thing to keep in mind is more timeless: never take a single day for granted. None of us are promised tomorrow; whether it's COVID-19, a car crash, a hurricane — we never know what might happen, and we don't know if this is the last day we'll have on this earth. Now, more than ever, we should remember how precious life is. Hug your children, kiss your spouse. Take the time to enjoy the world around you while you still can.