Fall has arrived in Jacksonville—well, sort of, it is starting to get a little cooler, right? The outside temperature was 62 degrees this morning, and you know what that means for a Floridian?–Sweatshirts! Yeah, I'm wearing one for preschool drop-off. I love that football is back, we will soon be wearing boots and comfy clothes, and one of my favorite things about fall is pumpkin everything! Specifically, I'm excited that pumpkin donuts are back at Cinotti's Bakery in Jacksonville Beach. Everyone was apparently excited about that, because they sold 779 dozen pumpkin donuts just Friday and Saturday last week! Isn't that insane?
Another fall favorite is all the pumpkin patches in Jacksonville and the surrounding areas. I love taking Kingsley every year to pick out pumpkins to decorate and carve, and the photo ops are always fun too!
Pumpkin Patches and Farms:
Isle of Faith
1821 San Pablo Rd S
Jacksonville, FL 32224
I have taken Kingsley to this pumpkin patch every year and we love it! They have a Hay Maze, multiple photo ops, Noah's Ark and Cinderella's Carriage climbing toys, Miss Muffet's Tuffet with giant spider and the freshest pumpkins in town. Open Daily 12 pm-8:30 pm and Saturdays 9 am-8:30 pm.
Oct. 5, 1-5 pm – Car Show and Live Concert. Car Show for all car enthusiasts, all types of cars displayed. Larger, better trophies awarded by judges. One Fan's Choice Award. $10 registration fee for cars. Admission to the event is free. Food, games, a live music concert, Hawaiian shave ice and Giant Waterslide and more.
Oct. 12, 11 am-1 pm, Fall Festival. Free admittance. Free food, games, prizes, crafts, tattoos, music, pop corn, Hawaiian Shave Ice, Giant Waterslide, Space Walk Bounce House and more.
Oct. 19, 10 am – 3 pm, Craft Fair. Large variety of handmade crafts displayed for sale. Food, refreshments, Blue Muse 80's and funky jazz band, from 11 am – 1 pm. Do your Christmas Shopping here! Admission is free. Crafters: $25 to rent a space and keep 100% of your proceeds. Limiting duplication of crafts, first come first served.
Oct. 26, 10 am – 1 pm, Pumpkin Bowl Kickball Tourney with Pet & Bike Parade. Bring your bikes and pets at 10 am to decorate for the parade. Stay for the parade and Kickball Tournament. Music, prizes, trophies,  Pumpkin King and Queen, IRene & Stan Francis, Grand Marshalls Chuck & Denise James.
Oct. 31, 6-8 pm, Trunk or Treat Halloween Alternative. Bring your car trunks, truck beds, and van hatches  decorated with a child friendly theme. Distribute candy from your trunk! Kids come in costumes to trick or treat from trunk to trunk. Prizes awarded for best trunks and costumes. Candy for all. Live Music and games. Suggestion: Choose Bible themes or child friendly pop culture themes. Examples: Jonah and the Whale, Daniel and the Lions Den, Gilligan's Island, Disney movie characters, etc.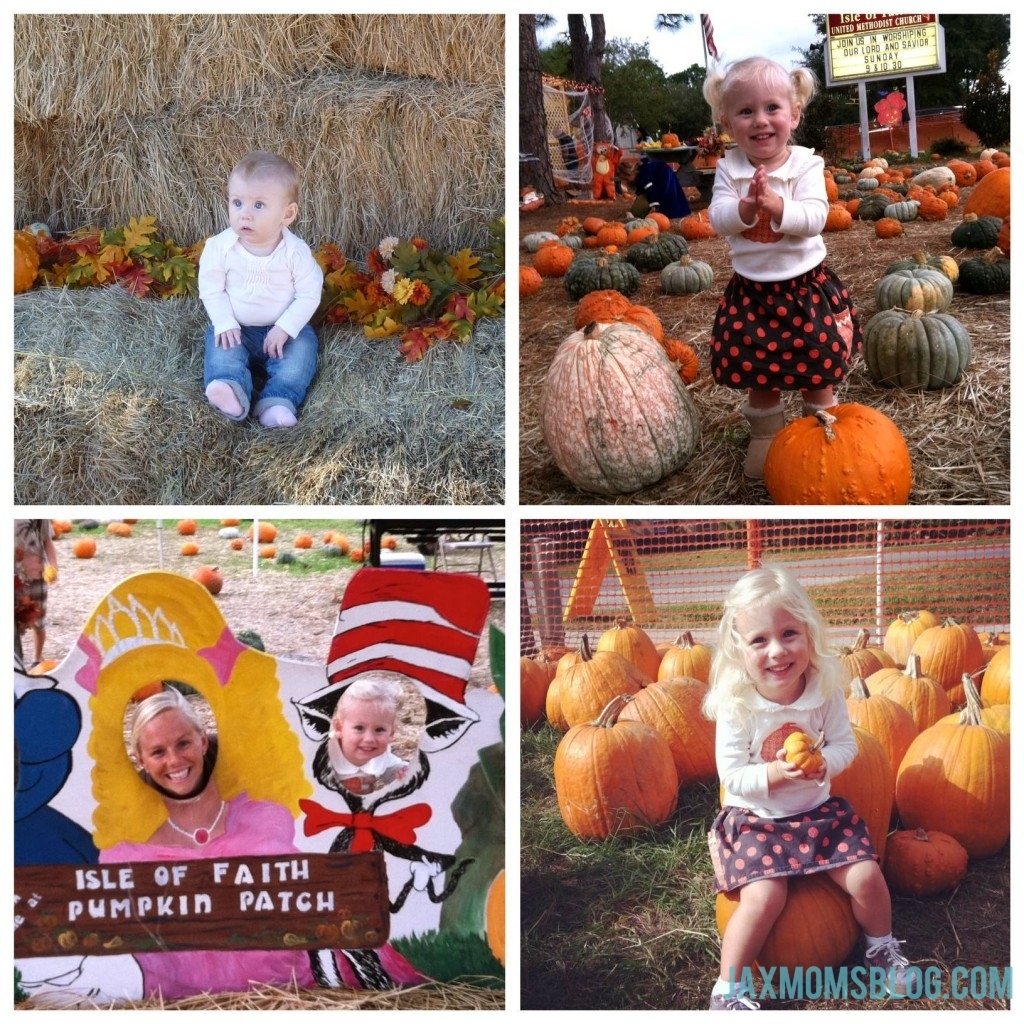 Christ United Methodist Church
400 Penman Rd
Neptune Beach, FL 32266
The pumpkins arrive and the pumpkin patch opens on Saturday, October 12 at Christ United Methodist Church. Join the Beaches communities to celebrate this annual tradition. Fall Festival and Craft Fair Saturday, October 26: 10:00 am – 2:00 pm. Join them in the pumpkin patch for this annual event of family fun, food, games and those very special hand made gifts and home-made goodies for the holidays. For information, please contact the Church Office 904-249-5370
Mandarin Road Farm Festival
14159 Mandarin Rd.
Jacksonville Fl. 32223
(904) 424-1500
Friday October 25th (5-10pm), Saturday October 26th (5-10pm), October 27th (3-8pm) Inflatable bounce houses, Slide, Interactive Games, Pony Rides, Haunted Hay Rides, Old Time Games, Concessions, and much more! Mandarin Road Farm Festival is held on an 8-Acre Horse Farm in the heart of Mandarin. This unique setting will bring the fall season to life for you and your family. This will soon be a Mandarin area tradition year after year!
Mandarin United Methodist Church Pumpkin Patch
11270 San Jose Blvd
Jacksonville, Florida 32223
Pumpkin Patch opened Saturday, Sept 28. Open Monday-Saturday from 9 am to 9 pm; Sun from 11 to 9. There are several different locations set up for photo ops.
Tommy's Pumpkin Patch & Fun Zone
2460 County Road 210 West
St Johns, FL 32259
"Experience Fall at its Best! Come out and enjoy our "Fun Zone" filled with exciting things for the entire family, and when you are all done with the Fun Zone pick out a pumpkin to take home! Our Fun Zone consists of a hayride, bounce house, cow train, mega slide, play area, huge corn maze, pumpkin cannon, mini games, picture taking zones, full concessions with funnel cakes, and petting zoo with goats, chickens, pigs, turkeys, and many more fun farm animals. Our Pumpkin Patch has thousands different pumpkins to choose from, if its a sweet pumpkin for making pies, and tall pumpkin for carving, or a funny looking gourd we have them all! So, come on down to Tommy's Pumpkin Patch and Fun Zone where you can have some good ole' fashioned fun that you can't get anywhere else!"
Family Fun Pumpkin Patch
4480 S.R. 16
St. Augustine, FL 32092
On the Corner of S.R. 16 and South Francis Rd. $5.00 a person gets you into all attractions! We will be opening October 5th and will remain open until Halloween.
Hours of Operations:
Tuesday- Friday 4pm-8pm
Saturday-Sunday 10am-8pm
Conner's A-Maize-Ing Acres
Facebook Page
19856 County Road 121
Hilliard, FL 32046
904-879-5453
Open to the general public this year from Oct. 5, 2013 – Nov. 9, 2013. Conner's is a working family farm and has tons of fun activities for the kids. Check out all of their "Farmtastic" Fun Activities here.
Day and Hours of Operation:
Sunday and Monday – Closed
Tuesday – Friday – 10am to 2pm by reservation only
Saturday – 10am to 6pm without reservation
Amazing Grace Crop Maze
Facebook Page
2899 Wisteria Farms Road
Green Cove Springs, FL 32043
Open to the public Fridays and Saturdays from October 4 until November 2 and during the week for field trips. Attractions include: crop maze, hay ride, corn crib, pumpkin patch, corn hole, scarecrow throwin', steer head ropin', duck races and more!
Amazing Grace Crop Maze will also be open for special hours on October 17th noon-9pm and October 18th noon-9pm for flashlight nights!
Sykes and Cooper Farms
Facebook Page
5995 Brough Rd
Elkton, FL 32033
"9 acres of cornfusion and fun! Fresh produce is not the only addition to our farm! October 2010 marked the inaugural year of our newest addition: "Agritainment!" What is agritainment? Combine a 9-acre corn maze full of "cornfusing" twists and turns, "live" entertainment including, Jack, the loudest hee- hawing donkey around and some more good ole family fun… And what do you have? "Agritainment"! More than just a maze, we also have "Spookley the Square Pumpkin" kiddie maze, some yummy new treats, and other fun attractions. You are sure to have an a-MAZE-ing time at Sykes and Cooper Farms!"
Other fun events:
Sweet Pete's Candy Corn Classes
1922 N Pearl St
Jacksonville, FL 32206
Sweet Pete's, Jacksonville's only All Natural sweet shoppe is creating sweet Halloween fun! Confectioner, Peter Behringer has always loved candy corn but had never tried making the classic candies. After mastering a small batch version of candy corn, Pete decided to launch the hands on candy making class so customers could learn to make the popular Halloween treats. The class is hands on and each participant leaves with the candy corns they made.  The candies are all-natural, dairy free and gluten free.  Each class also comes with a scoop of ice cream. Class participants of all ages will love seeing the Sweet Pete's sweet and spooky Halloween decor by professional Holiday Design Company, Fabiano Designs.
Candy Corn Classes Available October 1-31st
Reservations Required
904-376-7161
$8.50 per person
Maximum Group Size: 8 people
Adventure Landing
1944 Beach Blvd
Jacksonville Beach
(904) 246-4386
4825 Blanding Blvd
Jacksonville, FL 32210
(904) 771-2803
Haunt Nights
Select dates October 4th-November 2nd
Haunts Nights features 3 Haunted Houses and Triple the Terror! Featuring Northeast Florida's only 3D Haunted House, Apocalypse 3D! Visit their site for schedule and tickets.
Hallo-WEE Party
A Not-So-Scary Celebration for Kids!
Join us from 10am-2pm for a day filled with fun:  Crafts, Games, Bounce Houses, Face Painting, Candy, Dance Performances & More! There is a $3 admission per child and partial proceeds will benefit Seamark Ranch Children's Home!  Plus, take part in the Costume Contest at Noon!  Great prizes awarded for:  SCARIEST, CUTEST & MOST ORIGINAL Categories!  Enjoy our Thrilling Special:  Wacky Worm Rollercoaster Ride Mini Golf Game. Only $5 per person (children 12 & under)
Ponte Vedra Library's Un-Scary Halloween Party for Babies, Toddlers, and Preschoolers
101 Library Blvd
Ponte Vedra Beach, FL 32082
Thursday, October 10 from 10:15 – 11:15 am
"Halloween Costume Parade will begin at 11 am! All babies, toddlers, preschoolers and their caregivers are invited to join us for games, crafts, prizes, a costume parade through the library, and more to celebrate Halloween! Costumes are encouraged, but not required. Please Note:  Bring your own camera to take pictures of your child(ren) at our "Pun-kin Pictures" station! This special party for our littlest library patrons and their families is generously sponsored by the Friends of the Ponte Vedra Beach Branch Library. Please call the Library at 827-6950 for more details. Ms. Anne and friends can't wait to celebrate with you!"
Jacksonville Zoo Spooktacular
370 Zoo Parkway
Jacksonville, Florida 32218
October 18-20 and 25-31, Gates open from 6:30 p.m. – 9 p.m., Zoo closes at 10 p.m.  Cost: $8 – members; $10 – non-members.
"Welcome to the Lands of Enchantment for the 26th annual Spooktacular! The Zoo comes alive for ten nights of fun with hundreds of pumpkins, candy and excitement!  Enjoy trick-or-treating, music, dancing, food, giant slides and bounce houses and see some of your favorite zoo animals.  Visit with the fairies, wizard, pirates, scarecrows, frog prince, and many more!  There will also be three scare zones, not recommended for the faint-at-heart.  Join us for Jacksonville's premier family Halloween event.  Save time and money – tickets can be purchased online in advance for $1 off admission."
The Zombie Buffet 5k and Kids Fitness Chase Sunday, October 20, 2013 9am
"Who Gets to Run and Who Gets to be a Zombie? Join us for our third annual Zombie Chase. On this one-mile course, kids ages 5-15 will run from start to finish while trying to avoid being "bitten" (stickered) by the zombies that roam the course. Parents and older siblings ages 16 and up, you are the zombies! Proceeds to benefit the Shannon Miller Foundation."
The Catty Shack Ranch 8th Annual Haunted Forest
1860 Starratt Road,
Jacksonville, FL 32226
Phone: 904-757-3603
"Come join us in one of our biggest events of the year! Costumes are encouraged, but not required. Tour our ranch and meet all our big cat residents (and quite a few spooky residents that weren't invited…). Don't forget to bring your camera! While you're here, make sure to visit our concession stand for cotton candy and sno cones and our gift shop for some great souvenirs!" Find out all the details on our event page.
Town of Orange Park Fall Festival
2042 Park Avenue
Orange Park, FL 32073
"The Orange Park Fall Festival is an annual Arts and Crafts event held at the Orange Park Town Hall grounds.  This year will be our 31st Annual Event, and it will be bigger and better than ever. Two full days filled with food, fun, crafts, vendors and entertainment. The Fall Festival will take place Saturday October 19th 9:00am – 6:00pm with Opening Ceremonies beginning at 9:00am and Sunday October 20th from 12:00pm – 5:00pm."
St. Augustine Alligator Farm
999 Anastasia Blvd
St. Augustine, FL 32080
(904) 824-3337
Creatures of the Night
Trick or treating and fun at the Alligator Farm October 25, 26 & 31, 5:30pm-7pm. Alligator feeding and raffle drawing at 7:15pm. Annual Pass Members: Adults $8 & Children (age 2-11) $6 Non-Members: Adults $9 & Children (age 2-11) $7
Beaches Town Center Costume Contest and Parade
Saturday, October 26, 2013 from 10 am to 1 pm on First Street in Neptune Beach
"The Beaches Town Center Costume Contest and Parade is a free family event for children of all ages. Make your-own-crafts, games and refreshments provided. The Fletcher High School Interact Club and the Fletcher High School National Honor Society will be volunteering to assist children in the crafts and games. Registration for the costume contest starts on First Street, between Lemon and Orange, outside of Lillie's Coffee Bar.  The costume parade will walk on the sidewalk though Beaches Town Center with costume contest winners announced following the parade. Prizes will be awarded. Enjoy refreshments, games and crafts AND performances by Dance Trance KIDS and Studio 1014. Trick or Treat in all of the participating shops and restaurants in Beaches Town Center during and after the parade."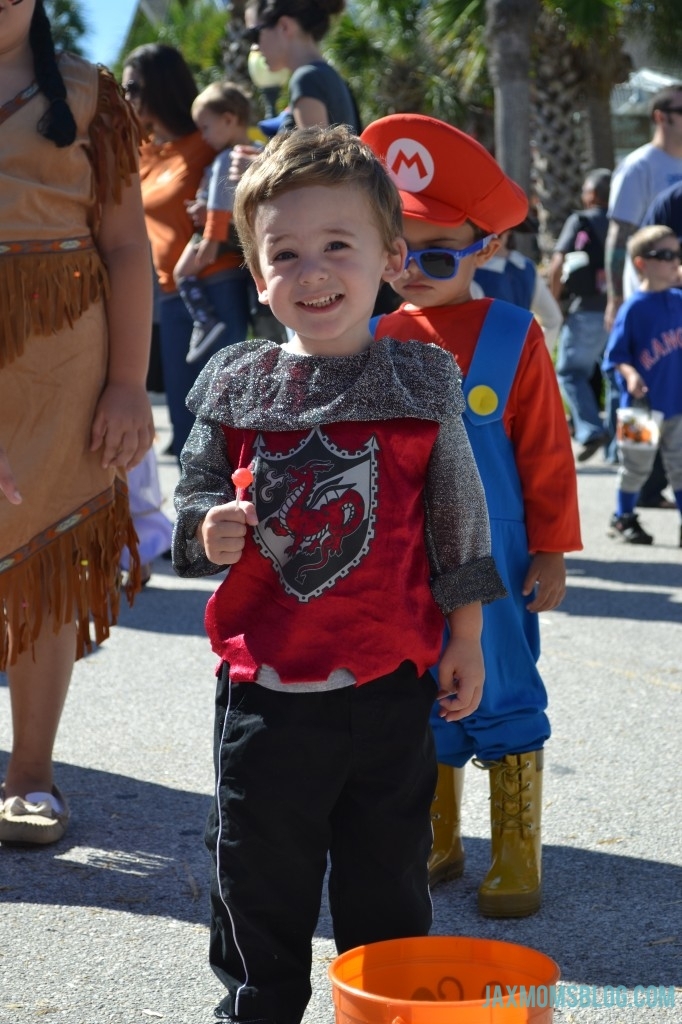 Discovery House Fall Festival
3602 Park St
Jacksonville, FL 32205
Saturday, October 26 10am-1pm. Bounce house, games, face painting, food, and lots of fun! PLUS wear your costume for an all ages costume contest at noon! All OUTSIDE activities are FREE. Discover House will be available for regular play hours INSIDE from 10-3p.
Evergreen Pumpkin Run 10 Mile and 5K
This is fun race in Evergreen Cemetery on Sunday, October 27th at 8am. The entire race course is lined with pumpkins! This race is sponsored by The Evergreen Cemetery Association and benefits the Springfield Historical Society! A $50.00 1st Place Sports gift card will be given to the runners wearing the best costume in the following divisions: Scariest Costume, Funniest Costume, and Best Overall Costume.
Check your local Publix for details, but most locations have trick or treat events on October 31st.  You can learn more about it in our Publix post.
The Avenues  Mall-O-Ween Spooktacular
A safe, indoor trick-or-treating event at the Avenues mall on October 24th, 6pm-8pm. Check-in at mall services and then have fun trick-or-treating mall-wide!
St. Johns Town Center Mall-O-Ween
This event will include a mall-wide trick or treat, costume characters, and a magic show beginning at 6:30 p.m. in the Park Green, in front of Maggiano's. The first 250 children to check in will receive a reusable Halloween tote and a Candy Map. Check in will begin at 6:00 p.m. at the St. Johns Town Center table in the Park Green.
For adults:
"Our Pumpkin Ale will be on tap Thursday, October 3. Our Pumpkin Ale is mildly spiced with a blend of pumpkin and seasonal flavors. We will be serving pumpkin Donuts from The Donut Shoppe that are made with the Bold City Pumpkin Spice blend. A big Bold City thank you goes out to Dave, owner of the Donut Shoppe."
Jaxtoberfest
October 11-12th
"Three stages of entertainment will feature performers along with a variety of traditional German music and dance. These lively stages will be featured on the Shipyard Property located at 750 East Bay Street, Jacksonville, FL 32202 – along the St. John's River. Enjoy a bit of Germany… Jaxtoberfest style!
A variety of vendors will offer authentic mouthwatering German foods for everyone to enjoy. For the kids (or kid in you), we will also have a large variety of festival staples available–everything from pizza, to french fries, corn dogs, gyros and funnel cakes. Of course, the feast would not be complete without an ice cold gulp of German beer! We will feature multiple taps of tasty brews, wine and soda from multiple beverage stations throughout the festival.
KINDERFEST – KinderFest is a family-friendly area that will welcome fans of all ages. For the young (and young at heart) this area will be filled with games, face and pumpkin painting, fun inflatables, and more family friendly fun activities and games."
What are you favorite fall activities in Jacksonville?