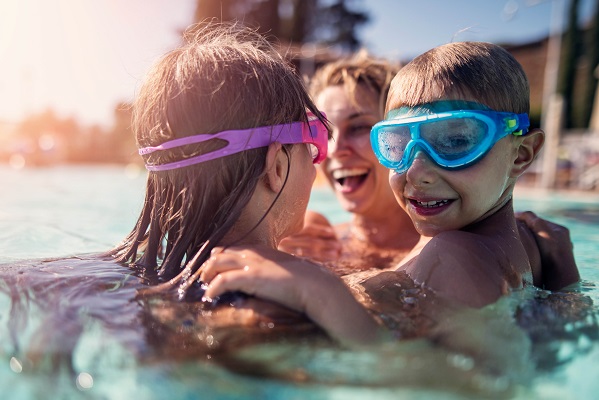 One-year-old Claire Milter was rushed to Orange Park Medical Center's emergency room two years ago after she was found unresponsive in her home pool. Upon arrival, the emergency team acted fast and were able to quickly resuscitate and stabilize baby Claire. Since the accident, Claire has made a complete recovery and is now a happy healthy 3-year-old. Her parents Ashley and Brett want to share their story with other families.
On average, there are 10 deaths per day from unintentional drownings in the United States. One in five people who die from drowning are children 14 and younger.
"This is where we step in. We are here for those children and their families if an accident happens but we're also here for them before it happens," said Orange Park Medical Center Trauma Surgeon and Trauma Medical Director Dr. Miren Schinco. "We are committed to helping prevent these type of things from happening in our community."
Each year Orange Park Medical Center puts on 10 injury prevention events for both adults and children to help reduce the number of trauma-related injuries in the area. Since opening in 2016 Orange Park Medical Center's trauma center has treated nearly 5,000 patients.
Helpful Water Safety Tips
Layers of protection are essential to help prevent drowning.
Attention: Provide close and constant adult supervision of children in or near water.
Barriers: Fence pools and spas with adequate barriers.
Classes: Learn swimming and water-safety survival skills as well as CPR.
If a child is missing, check the water first!
Water Safety Awareness Day
Saturday, March 9, Orange Park Medical Center doctors along with area swim schools, Jacksonville Fire and Rescue, First Coast YMCA and other water safety organizations will be joining together to help prepare parents and children for a safe summer at a Water Safety Awareness Day event. The event will include children's activities, short education sessions for parents and Claire Milter's parents, Ashley and Brett sharing their story. The event will be held 9 a.m.–12 p.m. at Orange Park Medical Center. Parents and children of all ages are invited to attend.
To register or find out more information about the event, visit OrangeParkMedical.com/WaterSafety. The event will be held at Orange Park Medical Center located at 2001 Kingsley Avenue Orange Park, FL 32073.

ABOUT ORANGE PARK MEDICAL CENTER
Orange Park Medical Center, serving Clay County and its surrounding communities, is a full-service, acute care hospital with 317 inpatient beds. Orange Park Medical Center is a Joint Commission Top-Performing Hospital, ranked as one of the best hospitals in the country for heart, lung and surgical care.
For more information about services, facilities and physicians, please visit OrangeParkMedical.com.