In 2013, I wrote one of my favorite blog posts of all time, What I Really Want for Mother's Day. Back then, my littles were 2 and 4 years old. When your kids are that age, you are deep in the trenches of parenting. Starting preschool, teething, potty training — and unfortunately, most of us are still on #TeamNoSleep. Fast forward four years and countless blog posts later, and I think it is time I updated my original Mother's Day post.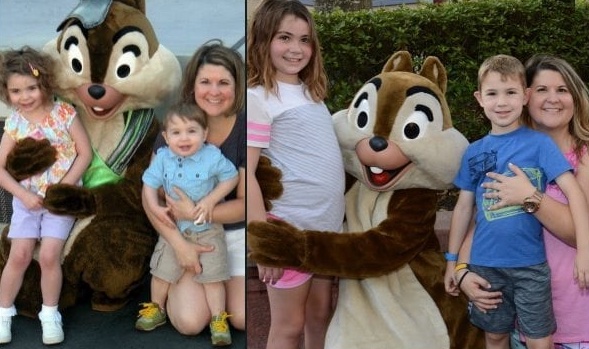 Don't get me wrong, I still want everything I wanted in that first post. I want to freeze time with my precious babies. I want to remember them just as they are. My 4-year-old daughter and 2-year-old son seem like a distant memory compared to the 8-year-old girl and 6-year-old boy they are today. I fiercely want to hold on to those little toddlers and remember everything. The way Henry's chubby cheeks shook when he ran and his obsession with Spider-Man. And the way Lily would come bouncing out of her room with her crazy, huge curly hair after her nap.
I recently went to Disney World with my kids — just three of us, which I love because I am really a kid at heart and my hubby isn't as big of a Disney fan as the rest of his family. I tried to recreate photos with my now-big kids from when they were younger at the Happiest Place on Earth. As hard as I tried, the pictures just weren't the same. It was then that it finally hit me: I cannot freeze time. I cannot stop them from growing up. I would like to say that I have come to terms with this, but I really haven't. So, in this new and updated version of my 2013 self, I would like to offer alternatives to sadly moping around on that Sunday in May, knowing that each year is slipping by faster than the last. I may not have figured out how to time travel, but I definitely know a few things. One of them is what Moms Really Want. And Dads, it isn't a meal they have to clean up.
Let us sleep in or take a nap (OR BOTH). It doesn't matter if you are a mom to a newborn or a teenager, we all crave sleep. And not just sleep — sleep where we know that there is another adult in the house that will tend to the needs of the little person or people while we are in Dreamland. Let us be, and I promise we will be in a much better mood when we wake up!
Take us out to a fancy meal (but only if we feel like getting out of our pajamas). Don't make Mom put on makeup if she doesn't want to do it. If she doesn't want a fancy meal, go pick her up her favorite coffee (and don't gripe about how much it costs). Please don't cook something we have to clean up. We understand the intent is a good one, just please give us one day off from cleaning after our family.
Any and all homemade gifts. We love them. We just do. I can't explain it. Sure, I enjoy diamonds and jewelry as much as the next lady. But there is something about a made-with-love picture or project that just melts us moms. Some of us squirrel these sentimental tissue-paper crafts and clay handprints away in a special place. When you are not around, we pull them out and cry. Dang it, there I go again. (I really need to invest more time researching that time machine.)
Let us take a nice picture of you. My sweet angels sometimes groan about having their picture taken (unless it is with Disney characters, of course). My husband is worse than the kids in this aspect. So on Mother's Day, if we want a picture of our family, then that's what we should get. No grumbling or crazy faces. Trust me, one day everyone in that picture is going to be glad that picture was taken. Trust me.
What do you really want for Mother's Day? (And a time-traveling machine is a completely acceptable answer.)