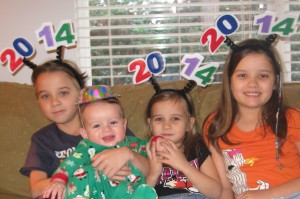 Recently I was lamenting that all my kids get less of me, and I was especially feeling sorry for my poor little six-month-old, Henry. He just spends so much time in the car picking up and dropping off the kids here and there. I feel like I don't get to interact with him as much as I did with the other ones. Someone in a group I was speaking to remarked, "Yes, he gets less of you, but he has THEM!" I don't know why I hadn't thought of that already. I'm sure I had the same constraints when Lainey was an infant. I still feel guilty because I don't read her as many stories as I read my older two. But yes, Henry has two sisters and a brother who love him as much as I do!
But as I spent time with my own brothers and sisters over the holidays, and as my husband enjoyed some time with his brother, I realized that Henry will always have his siblings. Pretty cool. This should help ease my mommy guilt!
As I write this, I am watching three of my kids play Monopoly together. I have so many memories of playing this game with my siblings. I hope that Will, Sophie, Lainey, and Henry look back fondly on this time together like I do. I remember riding bikes past the limits as set out by my parents, making my brother play Barbies, creating elaborate houses for our stuffed animals, talking in the dark as we shared rooms, riding in a very crowded car many times from Savannah to New York, staying up until midnight to hear what Billboard's Number One Single of the Year would be, sharing Showbiz Pizza tickets (yesterday's Chuck E. Cheese), and building forts in the woods. We also shared many sibling squabbles, created alliances and took sides, endured our parents' divorce, survived the awkward middle school years together. I know my kids will share many ups and downs together, I will probably referee many of the same fights that my mom once did but hope they will be glad they have each other!
Growing up with three brothers and two sisters, our family probably missed out on extravagant vacations and some of the extracurricular activities we longed to participate in. But, we always had each other and just our one mommy. In the same way, my kids will probably miss out on a few experiences because we are a family of six. Some things are just less feasible logistically and financially. And now that my brothers and sisters are grown adults, we have each other as we learn to be parents, as we remember and piece together memories of our childhood, as we navigate this new fast-paced culture, as we seek to ease our mommy guilt, and as we watch our own parents get older and leave this earth.
And Henry. He has the same thing. And lots of cousins!!  🙂
I only hope that as parents Chuck and I can help nurture this bond between siblings.  🙂