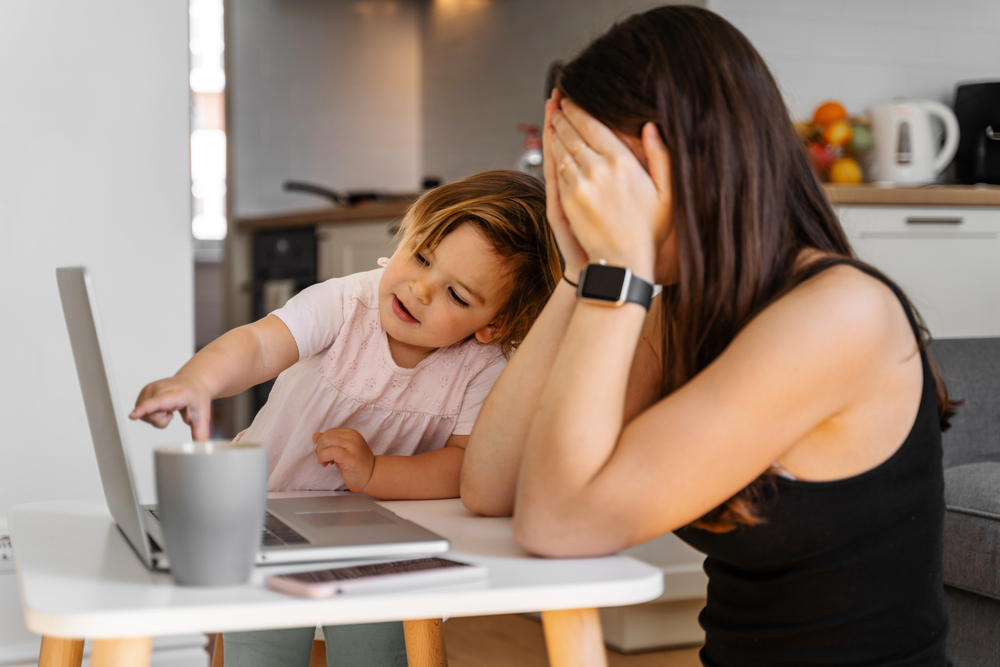 My babysitter has a cold and canceled just in case. I have 2.5 hours of conference calls before my son goes to his afternoon VPK class.
I've done this before. Over and over and over back in 2020, when everything shut down, and I, like so many moms, had to juggle a toddler, a baby, and a job with no childcare.
I set up the TV, make lunches and plastic-wrap them so they're ready to go, and I can throw them at the kids without missing a beat. I let my team know what's going on so they're not surprised by a small guest or the Mickey Mouse Clubhouse theme song. My kids are pretty good during calls, but they're still 4.5 and 2.
Ten minutes before the call, an email from the school lands in my inbox: COVID EXPOSURE IN YOUR AFTERNOON VPK CLASS.
The world is open — but it isn't. The offices are open — but they're not. The classrooms are open, but… also not? A whopping 80 percent of Florida may get Omicron, said one headline I saw.
My brother-in-law gets COVID. My sister has to wait in line for three hours for a work-required PCR test.
Are we next? Will we even know? How many times am I going to have to hold my 4-year-old down while he gets swabbed up the nose?
I am just. Tired. Tired of being a mom of young kids in a pandemic. A recent study suggested that COVID babies are delayed. Is this why my 2-year-old has a speech delay? Is this my fault? Is it because of the masks? Is it because of the closure of all of our beloved indoor play spaces I took my older son?
Can we plan a birthday party? Outside? Inside? Upside-down?
I'm tired of being a responsible employee, getting all of my childcare ducks nicely in a row, only to have them obliterated and end up here, once again.
Is this a sniffle? Do we need to go to the doctor? My car is covered in pollen, is this just allergies?
Luckily, the predicted Jacksonville peak is the end of January. So, I'm just going to hunker down, repeatedly chant "this too will pass" to myself, be okay with Mickey Mouse being the babysitter for calls, be thankful that my work team is flexible and in the same boat, and stress bake some banana bread and sourdough.