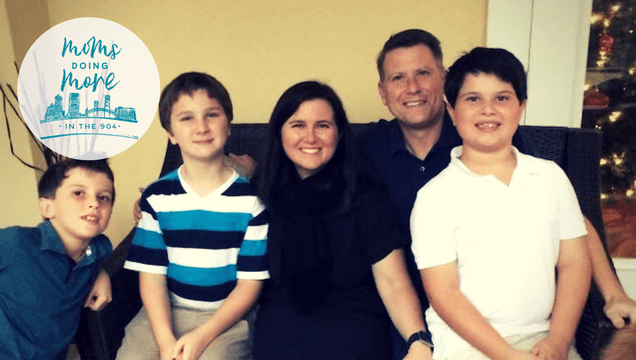 If you haven't already met Jennifer Chapman in person, you've probably seen her name. Maybe you've worked with her on a board at Leadership Jacksonville, sat with her on a committee for the Junior League of Jacksonville, or volunteered with her at Junior Achievement of Florida. Maybe you've purchased something from one of her startups, or joined her organization called #meet, aimed at introducing professionals across Jacksonville to each other.  It's also possible you've seen her at one of the Rodan + Fields leadership conferences, for which she runs a virtual skincare franchise. Or you've waved hello as she and her husband Josh are outside renovating their "new" home. The Happy Chappies (Owen, 12, and Matthew and Ben, 10), as she calls her family, are loving "Dorothy," their house in Springfield which was built in 1904.
You also may know Jennifer in her current position as the Public Affairs Sr. Administrator (Site Leader) for Mayo Clinic in Florida and the Southeast, where she helps manage government relations, creative media, communications, marketing and community health and engagement for the Jacksonville campus. Jennifer joined Mayo in January after 10 years as the Senior Director of Public Affairs for Fidelity Investments, where she executed all public and government affairs and community outreach for the Boston-based company.
But what really sets Jennifer apart — aside from her deeply caring heart, meticulous professionalism, and warm, dry sense of humor, is her desire to effect real, positive change in all that she does by building relationships and creating opportunities for others. Whether that's as a parent, as Chairman of the Early Learning Coalition of Duval (appointed by Gov. Rick Scott in 2013) or for the City of Jacksonville as a member of the Strategic Partnerships Steering Committee, Jennifer is always aiming to make Jacksonville a better place for everyone to live and work. She often hashtags her social media posts #ilovejax, and it's evident that her love for this city also drives her desire to make it exceptional.
What is the one thing that motivates you and pushes you to do more? 
I am always on the lookout for something new to do to challenge myself. For someone who is athletic, that might mean running a 5K and working up to a marathon or working on reducing your handicap in golf, but I have no athletic skills whatsoever. (I can trip standing still.)  For me, that challenge usually means taking risks at work, or launching new personal endeavors for fun or profit.
What is the biggest challenge you've had to overcome?
I don't like to disappoint people. I hate to say no because I don't want to let people down or make a decision that will negatively impact them. And while I have done a better job of not over-committing myself or sticking to my instincts in a decision, I still have to fight the urge to acquiesce to make someone happy or go with the flow. It is the hardest with parenting. My husband and I still have trouble sticking to our guns, seeing a consequence through with our kids. We know it is the right thing to do, but gosh, it is so much easier to just give in and move on in the short term.
Why or how do you select the organizations you do to spend your time on?
I used to get so caught up in the excitement of the mission of a worthy organization, that when I was asked to support it or get involved, I would jump in head first and think about what I had agreed to much later… usually, at the point where I was overextended or dropping the ball. Now, I am more focused on what value I can bring and how much time commitment is required. If I believe I can offer something of genuine value and do it in a way that it doesn't strain my other work, home or other personal obligations, I set clear, upfront expectations, and then, I say yes. If not, I at least try to point the organization to one or two other folks who might be able to help.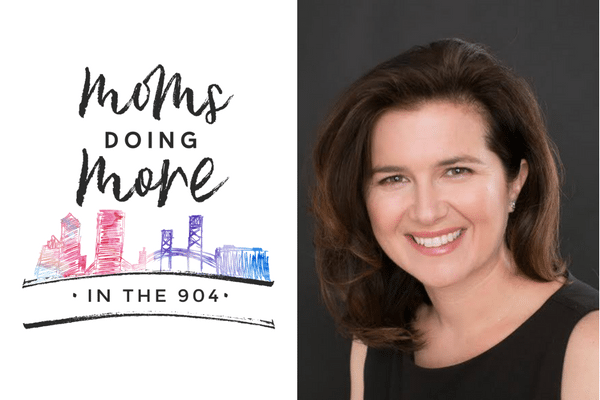 How do you balance work, time with family and time for yourself?
I have a great team at home supporting me. My husband Josh is a huge reason I am sane and able to be so engaged in my work and in the community. It is because of him that I can travel for work, or attend evening meetings and events. And he is a GREAT listener. If I had a nickel for every time I have come home with an idea for a business we should start, a non-profit we should support or project I wanted to take on… well, we'd have a boatload of nickels. My children are also used to the reality that their mom will often not be the one to come to school for parties or greet them at the door after school. But I know it is the right arrangement for us.  I am a happier person when I am engaged and challenged outside the home. In addition, I prioritize my time and know my limits. 
How do you define personal success?
I used to think it was the title I held or the amount of money in my paycheck, but that has changed in the last few years. Now, I consider something successful if I took a risk or did something that was an investment in myself or my family. Work can be hard.  Marriage can be hard. Making positive change in the community can be hard. Parenting can be the hardest. But, if you are consistently putting in the time and effort to get better in any or all of those areas, how can you not be successful?
What advice do you have for other moms? 
Even though I am a public affairs professional, I worked for a financial services company for more than a decade. At Fidelity, we taught the principles of investing and saving to kids in the community, and I think these ideas are a great way to approach to working motherhood.
Regularly invest in a diverse portfolio – even if it is only a little amount at a time. That means, put a little something into your work, family AND personal or outside interests consistently. When you stop investing in one area, it makes it harder to get started again. Even the smallest contribution gets you closer to where you want to be.
Don't be afraid to take on some risk. No one gets anywhere really great playing it safe 100% of the time.
If you haven't started investing (in yourself) and taking a few risks yet, start now. It is never too late!
A question for the boys: What do you love most about your mom?
Owen (12): She gives the best back scratches.
Ben (10): She is pretty.
Matthew (10): When we talk about cool stuff.
Moms Doing More in the 904 is a new series that highlights local moms who are making a big difference in our community. Want to tell us about an inspiring mom who is doing something great? Tag us on social media @JaxMomsBlog with the hashtag #MomsInThe904.