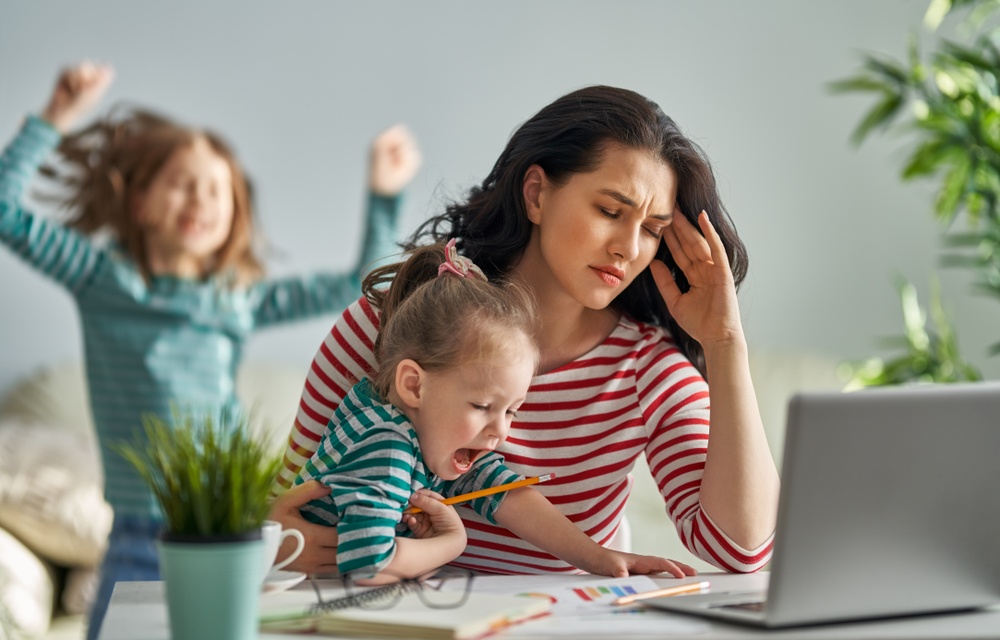 Are you a work-at-home mom? You're in good company! Whether your kiddos aren't in school yet or they are, and it's spring break or summertime, you know the struggle all too well of trying to bring in cash while simultaneously entertaining little people. (Or, in the case of the coronavirus — you're newly working from home while also homeschooling your kids following an extended spring break.)
The bottom line? Don't panic! Deep breath, Mama. You got this… from a pair of seasoned pros — one with preschoolers (ages 2 and 4) and one with big kids (ages 5 and 8).
Working from Home with Littles
I have been working from home since my oldest (now 4) was 6 months old. For the past 4 years, I have learned that keeping a loose schedule works best for us — it doesn't have to be a "get all of these things done today or else" kinda thing. My kids like routine, predictability, and learning through play. Now that they are older, I involve them in creating schedules by asking them to suggest one thing they each want to do that day and work it into the schedule.
But if a schedule would just cause you stress and anxiety, DON'T MAKE ONE! It's completely okay; you have to do what works best for your family.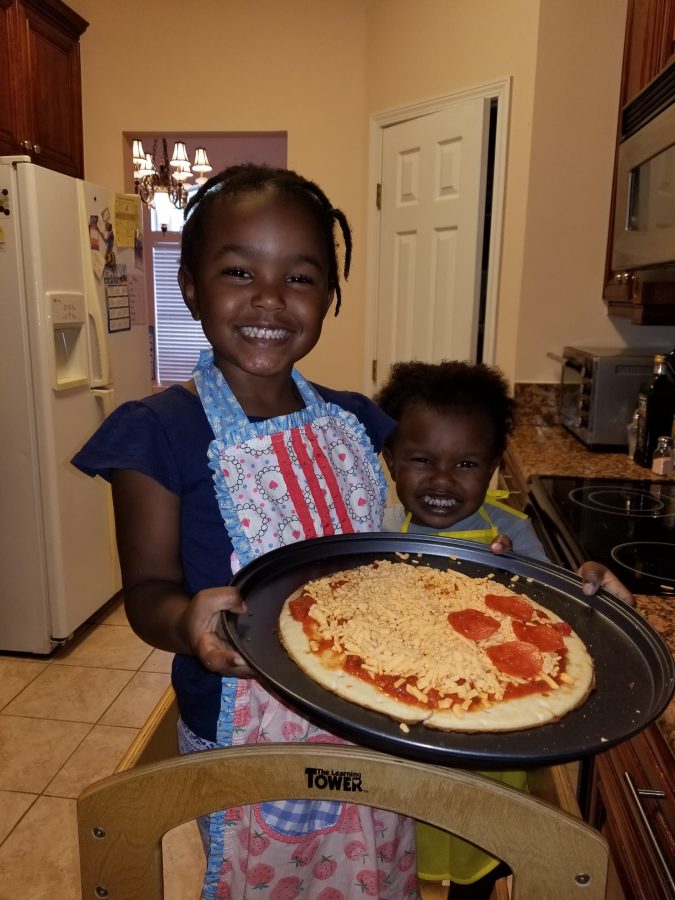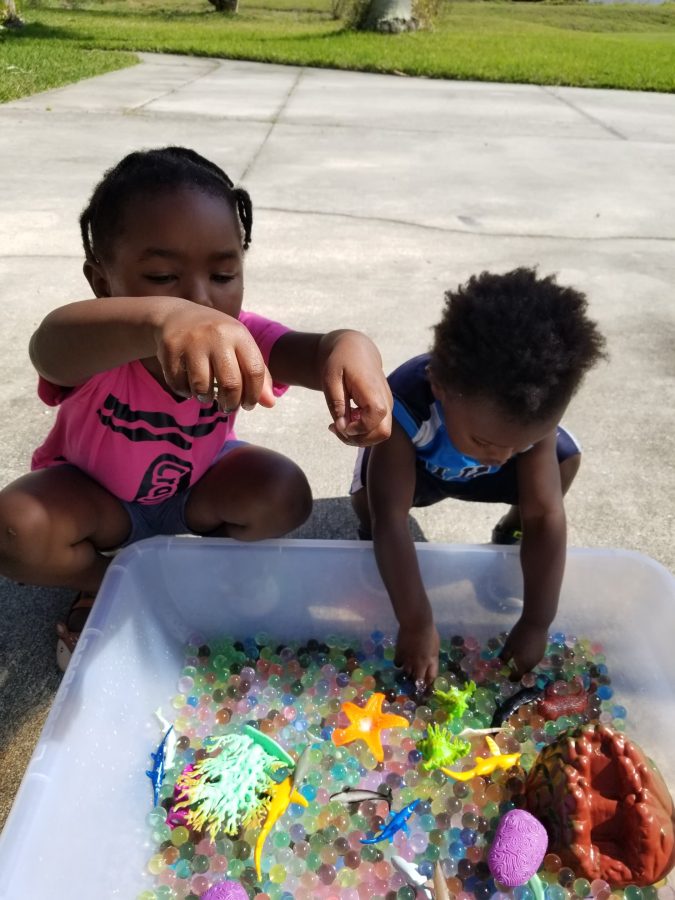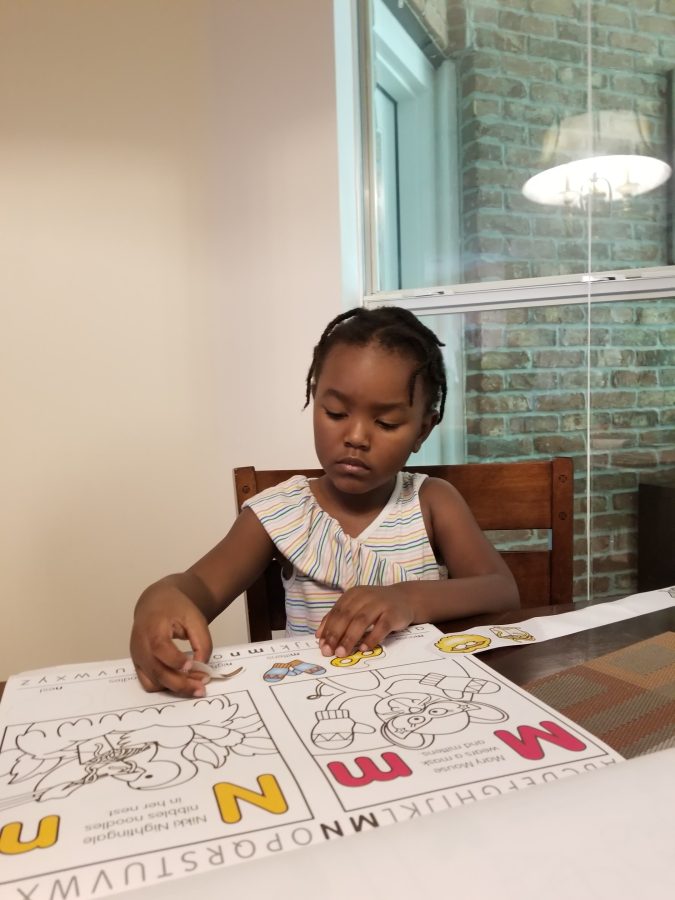 Meals: For breakfast, I make items a la carte, and sometimes that means homemade items that I reheat from the freezer. Frozen egg muffin bites save me time, too. For lunch, I pack a bento box for the kids so it's ready to go, and I eat leftovers. For dinner, I plan ahead of time, either an instapot meal or something I can make in an hour or less.
Clothes: Lay out clothes the night before, as this helps the clothing wars I have experienced with my daughter.
Activities: Busy bags and books in rotation, sensory bins, outside play, gardening, and I'll give my oldest "homework" to do (activity sheets I print out or ABCmouse). I mainly keep "office hours" during screen time, and afternoon naps/quiet time. I work in 30-minute increments and switch the activities in between while working nearby, as they need constant supervision. I set my expectations to my clients that I may not reply right away to an email, but if they really need me, to call or text. If I miss it, I will call back when I can. –Maya Sutherland
Working from Home with Big Kids
I have been a full-time work-from-home mama since my oldest was about 18 months old. For the last seven years, I have weathered stomach bugs, hurricane days, and school/daycare closures while faithfully stationed at my desk. I'm lucky that at their current ages, my kids can be successfully independent with a little supervision and direction.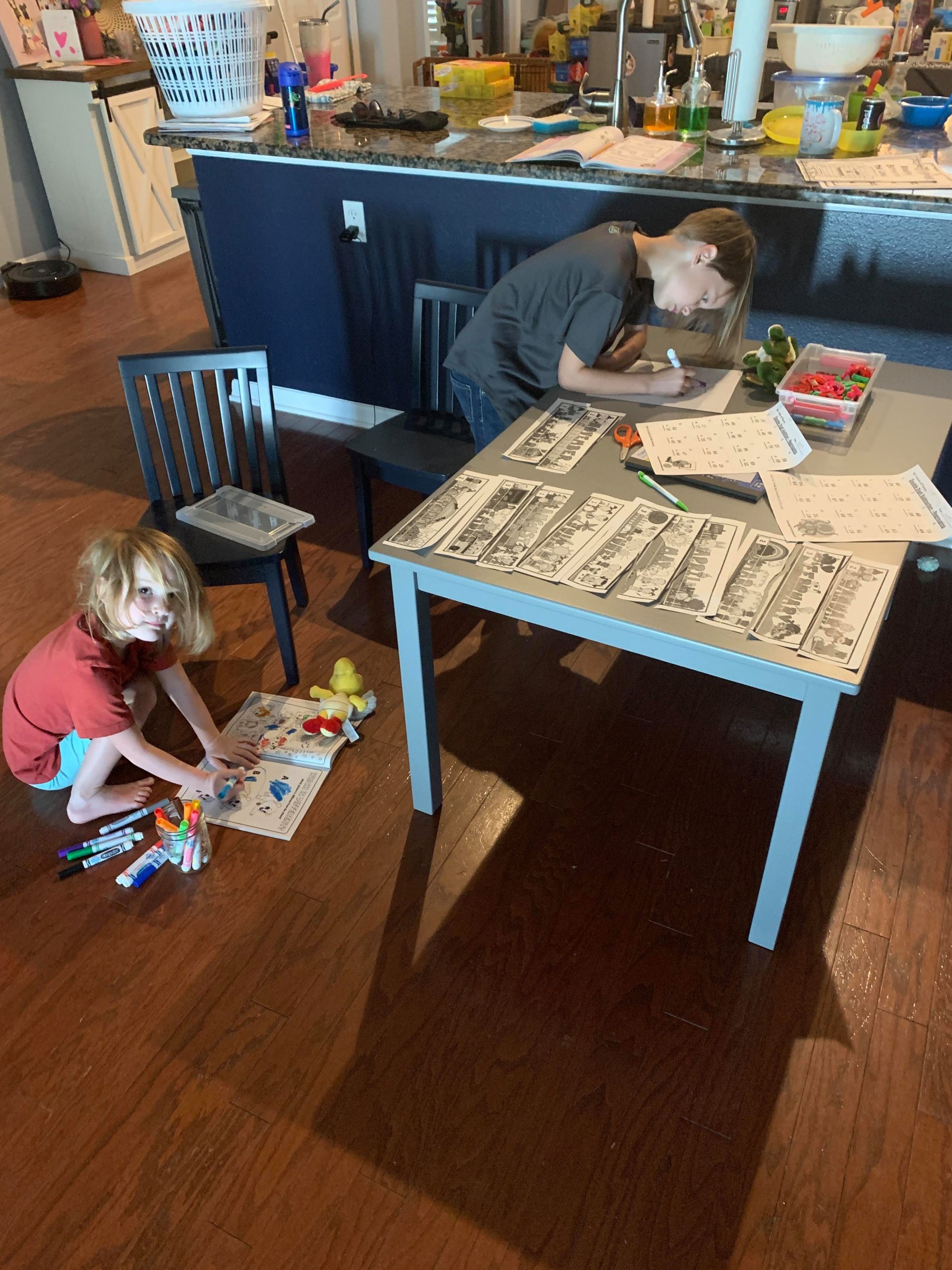 Meals: Meal prep like your life depends on it. Lunches can be prepared the night before and then reheated are key. I've never been more thankful for my air fryer and its ability to churn out chicken nuggets in seven minutes. When it comes to breakfast, I am usually working by the time they wake up, so I set out dry cereal, milk and a bowl of fruit on the table first thing. They get up at their leisure and have breakfast and watch TV… the morning is my golden time. If I get up early enough, I can get up to four hours of uninterrupted work done while they feed themselves and zone out.
Clothes: Lay out clothes the night before. Having my kids not dressed at 2 p.m. just makes me feel unproductive, so this is an easy win for my mental health.
Activities: Must be self-driven, and unless they are being destructive, mostly anything goes — there's nothing that can't be cleaned up before bedtime. They are allowed to watch TV until 10 a.m., any later and they become grumpy little jerks. With TV and video games off (their main sources of argument), they realize quickly it's more fun to play together than argue and have to play alone.
At the end of the day, we clean up any messes (they are kids, after all), and by about 6 p.m., I am done with work, the house is in reasonable order, the kids are (mostly) happy, and we're ready to move on to dinner and our "business as usual" evening routine.
Other Work-from-Home Hacks
1. For the love of everything, if you are on an important conference call, LOCK YOUR OFFICE DOOR. Don't be BBC News guy, but bless his heart, did I feel for him!
2. Explain to them what you're doing and why you can't come open a straw for their CapriSun every 10 minutes. I have definitely said the phrase, "Do you like going to Disney? This job is how we pay for Disney. Do not come into this room." Excessive? Yes. Effective? Also, yes.
3. Use the Amazon Echo from room to room. If I hear bickering start, I "drop-in" from work and check-in. I can't get up from my desk every time I hear a squabble, and since I'm on calls a lot, I need it to NOT escalate. They eventually realize they don't want to involve me in small arguments so they sort it out, or argue quieter — either way, I'm counting it as a win.
4. Set up a self-serve snack station that is stocked at the beginning of the day and replenished after bedtime. Remind them that everything they get for the day will be there, and it is up to them to ration it. This staves off the endless whines of "I'm hungry!" throughout the day. My mantra for them is, "If you can't do (or get) it yourself, then now is not the time for you to do (or get) that."
The unexpected bonus of having your kids home while you work? Hugs and snuggles on breaks without it being an HR violation. –Lindsay Cofield-Solie
What work-from-home tips do you have? Sound off in the comments, and be sure to join our Jacksonville Mom WAHMs Community Group on Facebook!