My husband is a very "hands–on" dad – he always gets up with the kids in the morning, and feeds and gets them dressed, so that I can sleep a little longer. (I take the evening shift!) He's great at Legos and plays princess dolls with our five-year-old without an ounce of self-consciousness. He colors, changes diapers, and plays "camping" or "restaurant" on the weekends in the living room while I run errands. He's a great Dada.
But even great dads meet their match eventually. Last week was the first time I had traveled for work since Spencer was born. While I was in Orlando, Jon had to care for both children by himself overnight for three days for the first time. It was a rough couple of days, and Spencer didn't help anything by deciding that sleeping was not on the agenda. Here's my husband's text to me last Sunday – I had not even been gone a full day:
The first time Jon traveled for work Spencer was 14 weeks old, and I was on my second week back at work from maternity leave. Those were three very difficult days for me. Since then, Jon's traveled several times, and I now think I have it down, most of the time. But I think the kids know when one of us is gone, and react accordingly by fussing or not sleeping.
I knew it was going to be a tough three days for Jon by himself, having been through it, so I did the best I could to help him out before I left. Whenever either of us has impending travel or is on a trip, there are a few things I make sure happen.
Of course, even the best preparation doesn't always make things go smoothly. The first night I was gone Jon called me at 10:30 p.m. to tell me he was taking Spencer to the ER at Wolfson's and could I please get someone to come sit at the house with Mattie. Fortunately, Spencer was fine, just a virus that made him sound like he had laryngitis and a mewing kitten when he cried. But stuck in Orlando, far away from my baby, I was appropriately freaking out until Jon let me know what the doctor had said.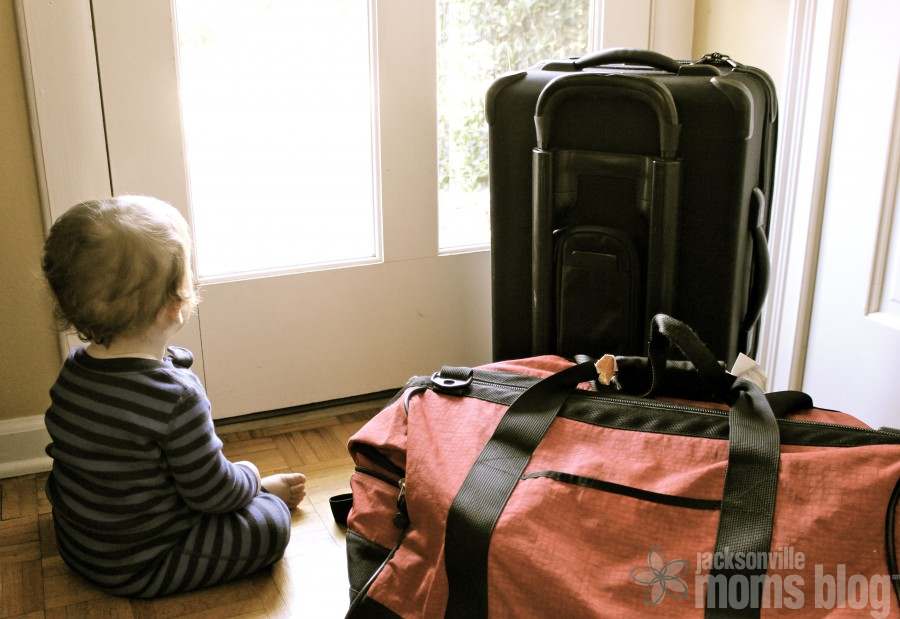 Travel for work is never easy, for the parent who goes or the parent who stays. At least if you're the parent traveling, you can count on a nice dinner out that does not include coloring on paper place mats, and a good night's sleep in a quiet hotel room.
Most of the time. Unless your kid is at the ER.
My Tips for Traveling for Work
Stock up. The cupboards are full of formula and baby food. There is food in the fridge and a plenty of diapers and wipes in the baby's closet.
Line up a babysitter. The evening routine, in my opinion, is the trickiest because everything has to happen all at once. You need to eat, they need to eat, baths, bottles, books and bed all have to happen within a two hour-ish time frame, and everyone needs to get to sleep. That's hard for one person to manage alone. So one of the nights I was gone one of our babysitters came and helped Jon until Spencer was asleep.
Frozen dinners:  Terry's Kitchen and Prep Chefs are my go-to places for frozen meals. (Even though Jon didn't have much time to eat while I was gone, the freezer has dinner options all of the time!) As a working parent, this is a must. I just don't know what the day at the office will bring, and knowing that I have something that can cook while kids are fed and pajama-ed is a huge help.
Skype and Facetime: Spencer is too little to talk on the phone, but Skype and Facetime are easy even for him to sit in front of so we can, at least, see him. And even though Skype conversations don't tend to last long with a five-year-old, Mattie and the traveling parent feel better afterward having been able to connect for a little bit, even if it is just virtually.
P.S.: Though in my world three days alone is a long time, I know it's nothing for many moms. My friends who are single parents or military spouses and manage days, weeks and months on their own are the strongest parents I know!
What are some of your tips for traveling for work and leaving the kids home?