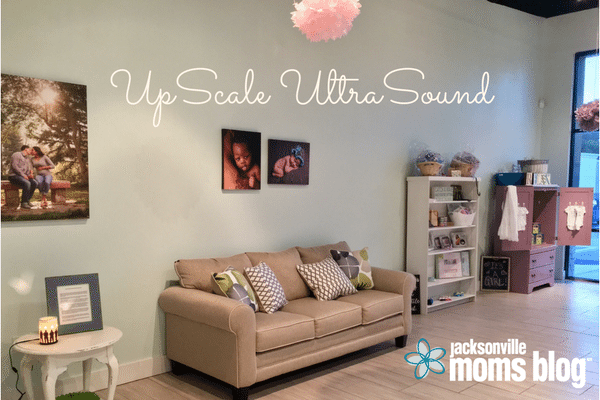 Confession: While my husband and I are expecting our first child next month, I haven't necessarily been "hashtag blessed" with oodles of excitement over our upcoming bundle of supposed joy. Don't get me wrong — at the ripe, geriatric age of 35, this is what I want. It's what I've always wanted; motherhood lives within my bones. When I spent a minuscule four months questioning my fertility over a few negative pregnancy tests, I was devastated; I cried with joy when the last test revealed that faint extra line. Call me selfish, but living neck-deep in the discomforts of the third trimester has left me a bit freaked out over just how drastically our happy little life is going to change. My precious Starbucks money will be spent on diapers. Evening pillow talk with the husband will be replaced by late-night feedings. What little sanity I have these days will be swapped with a sore post-birth vajayjay and a severe lack of sleep.
When I received the opportunity to see my son in action in the form of a 3D/4D ultrasound, I jumped at the chance. I am a Type-A mega-planner and was desperate to put a face to this little guy, as I have been saddled with guilt over feeling a lack of connection thus far to the sweetheart we've dubbed "Archer." His jabs to my ribcage are less, "Awww," and more, "WTF are you doing to me?" My burgeoning belly is less, "Beautiful miracle," and more, "Seriously, can ya get any bigger?" Thankfully, my wonderful experience at UpScale UltraSound alleviated that guilt and then some.
The Prep Work
The 3D/4D ultrasound is recommended for pregnancies at 28 to 35 weeks, which is the optimal time to get the clearest image. Amniotic fluid is at its peak, and your kiddo isn't so big that he resembles a smushed uterine pretzel. To enhance picture quality, Leah, the owner of UpScale UltraSound, recommended that I significantly up my water intake a couple of days in advance. To ensure active movement during the procedure, I was allowed a "sugary snack" 30 minutes beforehand. Let's just say that I looked forward to this sugary snack all day and settled on the biggest chocolate chip cookie I could find.
After filling out a bit of paperwork, it was time. Note that while 3D/4D ultrasounds are oftentimes an elective "fun" experience, Leah has over 12 years of professional ultrasound experience, in both the medical field (emergency, vascular, obstetrics) and the classroom setting as a college instructor. On the rare occasion that something is found wrong, Leah will personally contact your physician to discuss findings.
Finally 'Meeting' Our Son
The second that probe was placed on my belly, tears welled in my eyes. Our son! Our lovely, sweet babe was wiggling away in live 4D, trying to eat everything in sight (like mother, like son) from that delicious, cookie-tasting amniotic fluid to his precious little hands to the umbilical cord. Homeboy was hungry, and I loved every minute of it, as did my husband. Leah beautifully documented the action in a series of photos, assuring us the entire time that everything looked perfect, pointing out all of his little body parts — including his high cheekbones, long legs and sweet, not-so-little baby feet that measured at a whopping 7 centimeters (like father, like son). She was able to guesstimate his current weight by measuring the circumference of his noggin' (that also showed hair!) — just over 6 lbs. at 35 weeks. We got to see Archer open his eyes, stick out his tongue and suck his thumb. Already in the womb, this child has major personality! Talk about a wonderful, much-needed connection. We were able to commemorate the amazing experience with a CD of images, which Leah also emailed to us.

More About UpScale UltraSound
Located in Ponte Vedra, halfway between Jacksonville and St. Augustine, UpScale UltraSound opened in Spring 2016 when Leah longed to make a more personal connection to her clients and patients. The beautiful event space at UpScale also hosts baby showers, gender-reveal parties and live viewing for friends and family. Boasting a wide variety of ultrasound packages, UpScale also includes offerings for a photography session, a prenatal massage, gift packages from local vendors and more. Going beyond pregnancies, Leah also specializes in insurance-covered diagnostic care, performing abdomen, obstetrics and women's health ultrasounds.
Discounts, Offers & Events
As Leah's husband is a veteran, UpScale UltraSound offers the largest military discount for ultrasounds in Northern Florida and is hosting a free Military Meet-Up on Monday, January 30 for current and expecting moms. (Learn more on the Facebook page!) And through the end of February, any and all booked baby showers will receive a free ultrasound and live presentation during the shower ($150 value).
UpScale UltraSound is located at 145 Hilden Road, Suite 113 in Ponte Vedra, FL. Call or text (904) 465-9062 or visit UpScaleUltraSound.com for more info and pricing.