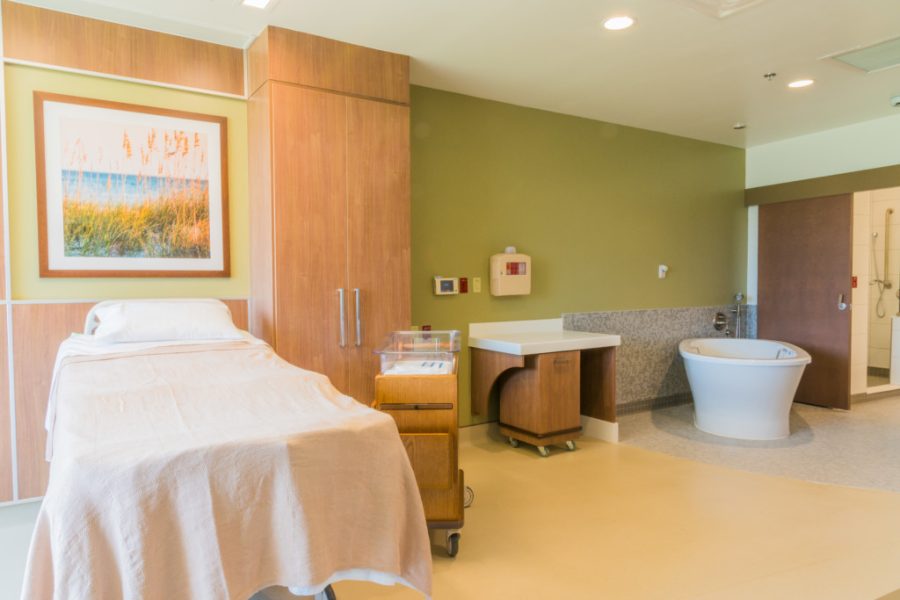 The birth of your baby is one of the most cherished moments in your life. Whether you're a first-time or seasoned mom, you want every part of the day to be perfect. And while you can't always control what happens in the delivery room, you can at least have a nice delivery room!
"It's like a hotel," said Katie McPherson, UF Health marketing specialist. Katie recently invited me to take a tour of the newly opened Labor and Delivery Unit at UF Health North's new hospital near River City Marketplace. I was expecting a typical labor and delivery floor, but what I walked into was anything but.
UF Health North officially opened its hospital in May 2017. The Labor and Delivery Unit opened Aug. 15, and was the last phase of the 92-bed hospital. It is the region's newest, most advanced Labor and Delivery Unit, and includes 12 state-of-the-art delivery suites that serve as the location for labor, delivery, recovery and postpartum care.
Each suite comes with plenty of fabulous amenities to help make the hospital experience warm and inviting, including a private bathroom with a large walk-in shower, a couch and pull-out bed for families, a mini-refrigerator and, in some rooms, a hydrotherapy tub for laboring moms to relax in. But it's not just the labor rooms that impress. The entire floor offers a spa-like feel.
Upon entering the unit, I was shown the four triage rooms. This is the first stop a mom-to-be will visit. These rooms are used for women who suspect their water has broken or for those who think they are in labor.
If labor has begun, moms will move past the circular nurses station and into one of the labor rooms. You won't have any anxiety about the birth of your baby in one of these modern suites. Each labor and delivery room overlooks the hospital's rooftop garden. Moms can enjoy the view through the large window that spans the entire length of one wall. Thanks to the big window, natural light pours into the room.
Adding to the spa feel of the unit are several luxurious amenities you wouldn't normally find in a labor and delivery room. One of them being a labor tub. Three of the labor and delivery rooms come with a hydrotherapy bathtub, allowing mom the opportunity to labor in water before delivering. These rooms are available on a first-come, first-served basis.
Another neat feature is the hospital's Sonifi system, which works through an iPad beside the bed that can be used as a remote control for the large flat-screen TV mounted to the wall. The system allows patients to watch their favorite shows or movies, view health education programs, listen to music, see test results and much more. One of the most appealing features for moms is the ability to order food, because we all know women will never be as hungry as they are after labor. This new technology allows moms to browse the cafeteria's menu and create the meals they want, whenever they want, throughout the duration of their stay.
Perhaps the coolest thing about these rooms is the bed. Any mom who has ever stayed the night in a hospital bed knows how uncomfortable it can be. The UF Health North Labor and Delivery Unit must have been designed by a mom because after your delivery, a new, more comfortable mattress is brought in. Hallelujah!
The UF Health Labor and Delivery Unit delivered 11 babies during its opening month in August. They are projecting 30 babies in September and 50 a month by the New Year. On a day when more than 12 mamas come in, the unit is prepared with eight overflow rooms. The rooms, while not as big as the labor rooms, are just as modern and accommodating and offer everything needed to deliver a baby. The rooms are also used for other women's services, such as hysterectomies.
The health and safety of moms and their babies are of utmost importance to UF Health. There are two dedicated OR rooms for planned or emergency caesarean sections, and a team of midwives and doctors is available around the clock for each and every birth. While the unit does not have a regular nursery, there is a small nursery for babies who may need extra care by medical staff.
Speaking of safety, the UF Health North Labor and Delivery Unit makes sure that no baby leaves the hospital with anybody other than his or her parents. The unit is a rectangular shape with a locked door on each end. Nobody can get through those doors without proper identification as well as permission from mom. Babies and parents will also be given wristbands that must match before they can leave.
UF Health North invites expectant moms to tour the new Labor and Delivery Unit. More information is available at North.UFHealthJax.org/babytours.