I was recently invited to spend a morning at Align Chiropractic, a local Jacksonville family chiropractor. I was so impressed by my experience that I had to share why this is such an amazing practice for your entire family!
When walking into Align, you will quickly notice how the experience sets them apart from traditional chiropractors. From essential oils diffusing and mellow modern music playing in the background, to the sweet sounds of a toddler playing and a baby cooing, Align Chiropractic immediately felt like a warm, welcoming place for me and my children.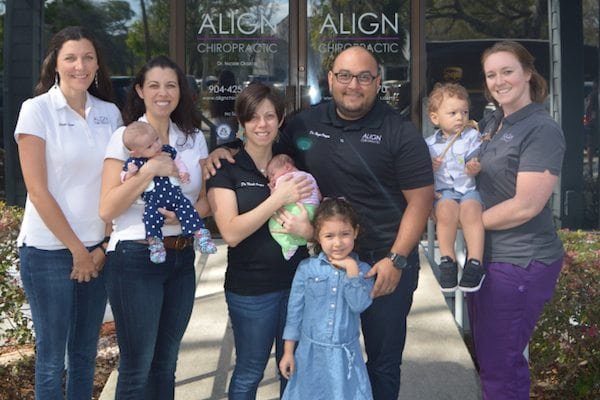 A husband and wife team, Dr. Nicole and Dr. Hugo Orozco spent individualized time getting to know me, my family history, and focused on my whole body vs. just what hurt me at that moment. Unlike a typical patient evaluation process, it truly felt like a unique, conversational one-on-one consultation where I could ask questions, get answers, and understand my treatment options. They then performed a detailed and comprehensive structural examination which allowed them to customize a plan of care tailored to my specific needs. Plus, their personal, gentle approach made me feel completely at ease while getting an adjustment.
One of the things that sets Align Chiropractic apart is that they are more of a structural correction chiropractic health center for all ages and life stages as opposed to conventional chiropractic that focuses on symptom relief. With structural correction, Dr. Nicole and Dr. Hugo focus on correcting the body's "underlying foundation" — the spine — so that the spine reaches as much of its normal structure and function as possible.
Although Align Chiropractic sees all members of the family, they place an enhanced and expert focus on prenatal, postpartum and pediatric care. Having an additional 400+ hours in specialized training makes Align Chiropractic a trusted choice among local midwives, OB/GYNs, pediatricians and doulas who refer their patients. Ultimately, keeping moms healthy during their pregnancies leads to safer births and healthier babies.
What makes Align Chiropractic unique for moms, kids and families when compared to traditional chiropractors?
Their focus is on correcting the structure rather than relieving pain.

Whether you're a first-time mom or have had multiple pregnancies, getting prenatal chiropractic care benefits expectant moms by promoting a more balanced pelvic environment for the expanding uterus and developing baby. This allows for shorter labor times with less intervention and improved recovery outcomes from labor and delivery.

As a partner with local birth centers and OB/GYN offices alike, Align Chiropractic can assist during active labor to help "clear the path" for baby and ensure that mommy's pelvis is in the best possible position for birth.

Not only do their gentle techniques help nursing moms relieve tension in their back and neck, they can also help with newborns and infants who are having trouble with latching.

As children face developmental phases and reach new milestones, chiropractic care can help promote overall health and wellbeing.

After a bump, bruise or fall, pediatric chiropractic care can realign a child's structure to help their body fully recover.

From newborns to teenagers, children of all ages are able to receive preventative, structural chiropractic care to support proper neurologic development and function.
Consider a Therapeutic Massage at Align Chiropractic!
Expecting mothers can relieve tension with bodywork and massage throughout their entire pregnancy. Their licensed massage therapist, Christie, is one of the few massage therapists locally who are certified in prenatal massage. However, you don't have to be pregnant to put some effort into your overall wellness. Whether you are looking to simply relax from a stressful week, or you're needing massage therapy for a specific structural condition, Christie utilizes a variety of techniques that aim to create an individualized experience.  
How do I receive more information about Align Chiropractic?
You can find more information about the family-friendly services provided by Align Chiropractic on their website at Align Chiropractic.  If you'd like to schedule a complimentary consultation, you can call their office at 904.425.8070. Be sure to check them out on Facebook at Align Chiropractic Facebook page.