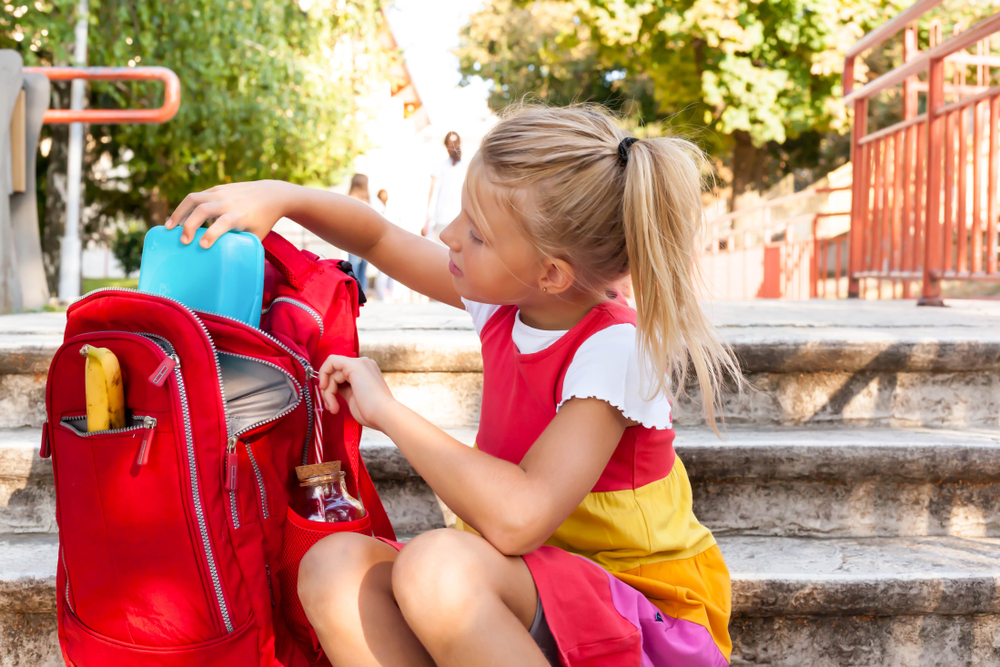 School is almost in session again, and this year, my son will be heading into class with a lighter backpack. I know, this isn't something I ever thought about before either. But, at the end of the last school year, it got me thinking when I heard my 10-year-old son groan and sling his backpack into the car like he was lifting 100 pounds.  
When we got home, I took a hard look at what was in it. To be honest, I don't pick it up often because that's his responsibility. I may take the lunchbox out from time to time, but I usually just unzip it and go.  
Out I pulled a lunchbox, three water bottles, a small Pokemon trading card notebook, his school binder filled with a notebook and random papers, a pencil box with more pencils than it can hold, empty Ziploc bags which once held snacks, treasure chest prizes from his class like erasers, stickers, and candy, a pair of over-the-ear headphones, and a jacket. I wish I had thought to weigh the bag at that moment to really know how much strain he was putting on his 80-pound body.   
Turns out there is actual guidance around this topic. According to the American Occupational Therapy Association (AOTA), as a general rule and to prevent injury, a full backpack should weigh no more than 10 percent of your child's body weight. But it's also important to note how a student wears a backpack is often just as important as its weight. Make sure the backpack is properly fitted to the child, so weight is distributed evenly across their back and shoulder area. You may want to switch to one with a lumbar strap for extra support. 
I know when I was in school, I would wear my backpack on one shoulder or side of my body. Apparently, this is not a good idea because it can cause discomfort and strain muscles in people of all ages. 
Tips for Lightening the Load
Here are some of the best online tips I found to lighten the load and strain on your child's back, neck, and shoulder this school year. 
Consider a backpack with wide, padded straps.

 

Carry the backpack on both shoulders to distribute the weight evenly.

 

Adjust the height of the backpack so that it extends from approximately two inches below the shoulder blades to waist level, or slightly above the waist.

 

Pack the heaviest item closest to the center of the back to minimize additional strain.

 

Have them fill up their reusable water bottles at school and empty it before they come home.

 

If your school allows it, consider a backpack with wheels or a waist belt. They may not look the coolest, but their back will thank them for it.

 

Many things jammed in the bag can be carried instead.

 

Do a weekly or nightly bag clean-out to remove unnecessary weight. 

 
I know we'll be making some adjustments when my son heads back to school and paying more attention to his backpack.