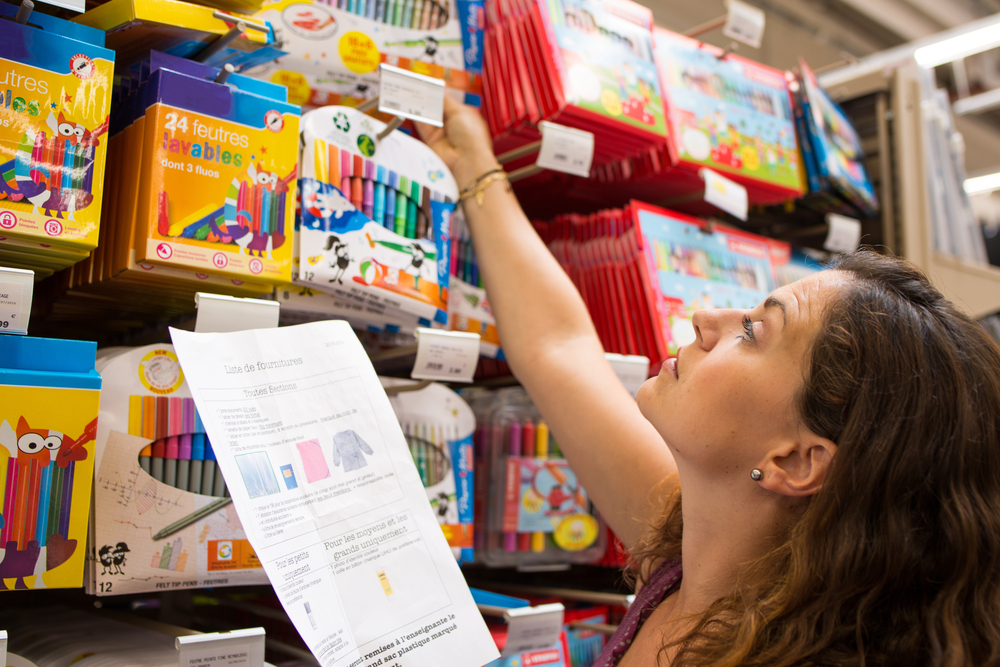 I have always loved school supplies. As a child, I would get so excited to open a new set of crayons or when my mom would let me use one of the red pens she used to grade papers. As an adult working in an office, I love having colored paperclips and a cup full of pens, highlighters, and pencils at my desk.
When my youngest child started kindergarten, I was so excited to shop for her school supplies, but that all changed after receiving her first school supply list. I naively packed up my then 4- and 5-year-olds, and we headed to our local big-box store, list in hand. We had fun picking out her first big girl backpack and lunch box, but as I started trying to find the rest of the items on the list, I ran into trouble. I couldn't find the primary composition notebook anywhere. I wasn't sure if the colored folders were correct. The oversized white shirt for resource? I ended up with a $15 pack of men's undershirts because I couldn't find just one shirt. I spent close to $100, and I still didn't have all of the items on the list. And the shopping experience was crazy — crowded aisles, kids of all ages running around grabbing stuff, including my own, and lots of cranky parents.
Over the years, I have developed a better game plan for school shopping. With two kids in school and two lists, I make multiple stops at various stores, and yet I still end up ordering some online. Each child has a reusable grocery bag where I store supplies as I buy them until school starts. I used to keep the bags in the kitchen, but the kids kept digging through the bags trying to open supplies, so the bags moved to my closet, where I'm always tripping on them and moving them around. Each year I think, "There has to be a better way to do this, right!?"
Turns out there is a better way. Educational Products, Inc. (EPI) is the no. 1 prepackaged school supply company in the U.S., and their system is so easy to use! Your school submits their grade-level supply lists to EPI, and EPI creates custom packages for one-stop shopping for families. Parents have the option to order using a paper form or online. The online method was so simple — I entered our school code, selected my child's grade, and paid for the supplies. No trips to multiple stores, no crying kids in the aisles. The boxes are shipped directly to the school so parents don't have to worry about storing school supplies over the summer, or their children opening all of their new school supplies before school even starts and breaking all the new crayons and using the Lysol wipes to help clean the kitchen. Not that I have any personal experience with this happening…
To keep costs affordable, schools are given the option to select a combination of brand-name items as well as EPI's house-tested brands. This way you can get the Crayola crayons and Elmer's Glue often requested by teachers, but you can save money on the other items. I wanted to see the supplies in person before committing to ordering for the next school year, and my kids and I both loved all of the items! They are packed cleanly and efficiently, and every item was in perfect condition after being shipped.
If you're interested in trying out EPI at your school, speak to your administration or parent group. If you're involved in PTA, this is a great idea to bring up at your next meeting. There are options to make this program a fundraiser or use additional funds to sponsor children in need at your school. The standard school supply sale window begins in April and runs through mid-June, so now is the perfect time to start planning at your local school.
EPI is celebrating National Craft Month in March, and they are giving away a $250 Arts & Crafts Pack to one lucky winner! Plus five winners will receive a sample school supply pack with all the essential items a child needs for school. Check out this awesome sweepstakes  (running through March 31, 2020) here.