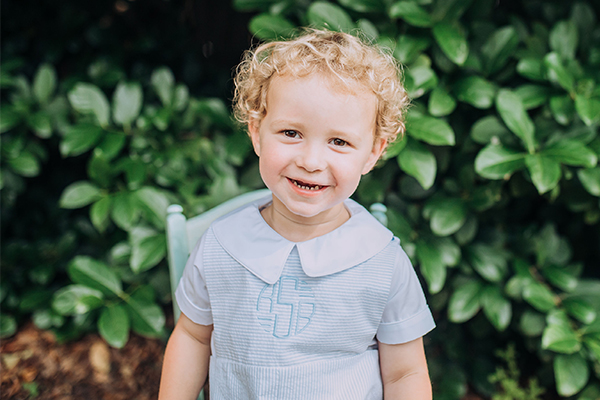 I daydreamed for years about what to name my children. (My favorite character from the Brady Bunch, Cindy, became a no-go-name for me in fourth grade when the meanest girl at summer camp was also named Cindy.) When I got married, I knew we would need to incorporate my husband's family in some way into the children's names also. Fortunately, I had four kids; unfortunately for my husband, this meant a lot of name discussions. I memorized the rolled-up family trees stored in my closet and talked to relatives about dead relatives' names we were considering, and I graphed names on Baby Name Wizard (and still do, just to see how popular my kids' names are getting… especially when I see one show up on the Pottery Barn Kids catalog). And I always, always considered their monogram before we made any final decisions.
Naming a child is such a huge part of welcoming them to the world. I know couples who didn't speak over name choices, babies whose names were chosen but were changed days after they were born, and couples who agreed without a second thought. For us, the girl names all came easily (grandmothers), but the boy names were more of a challenge for us to reach an agreement. I knew we couldn't name our son Philip Michael because his monogram would have been (on some items) PMS (ugh). But we also didn't name him Michael Philip, because his older sister's initials were already MPS (or, mSp, if we're talking monograms).
Here's a brief history of monograms, in case you've ever wondered:
Monograms have existed for thousands of years. Early on, they were used to mark coins with the ruler's initials. Later, artists included them in their pieces to claim their work. Eventually, they became part of many monarch's symbols. Nowadays, people use monograms for both practical and decorative purposes — even your favorite college football team's logo (whatever the letters may be) is considered to be a "monogram," as are many brand logos like Louis Vuitton (LV) and Yves Saint-Laurent (YSL).
The Victorian method of monogramming is generally the most common — the person's first name is in smaller font, followed by the person's last name in a larger sized font, followed by their middle name in the smaller font. The last name with the larger letter in the middle creates an emphasis on the importance of one's surname (and therefore, family, which we all know is more important than grits or sweet tea in the South!). If you change your name when you are married, your monogram changes also. Bed linens are traditionally monogrammed in the woman's initials, because years ago when people sewed their own linens by hand (which took years) in hopes of being married, they didn't know what their married initials would be, so they used their current ones. (Today, many couples use the woman's first name initial, married last name, and the husband's first name initial.) And, one final note, monograms are the same size font when you are listing names first, middle, last.
The Practicality of Monograms
There are many practical reasons to monogram — backpacks at school and towels at the pool during swim practice all look alike, so adding a monogram helps identify which kid has left their item behind. In a four-kid family like ours, putting my child's name or initials on everything just makes it easier for me (and them) to take the right lunchbox, tote bag, and water bottle every morning. (I also color code them… but that's another blog!) When your child is too small to say their name or preschool requires everything is labeled, a monogram is a cute way to take care of that. (NameBubbles.com is my second favorite.) Monogramming a keychain, wallet, phone case, water bottle, or tote bag helps identify it if you leave it behind by accident (among friends of course) and helps that item stand out among other people's belongings that may look really similar.
The Sweeter Side of Monograms
When I got married, my new initials happened to be my paternal grandmother's. When she passed away, anything that had MSS on it naturally came my way. Of course, I couldn't have planned this, but there is something very special in having my grandmother's monogrammed items now. When I knew we were having a second girl and her name would definitely not be close to her sister's monogram, I hesitated on continuing to monogram things for my older daughter, since we would want the hand-me-down. Then I decided — who cares? People who know us know my youngest is wearing her big sister's old dress, and people who don't won't have any idea the monogram isn't hers anyway.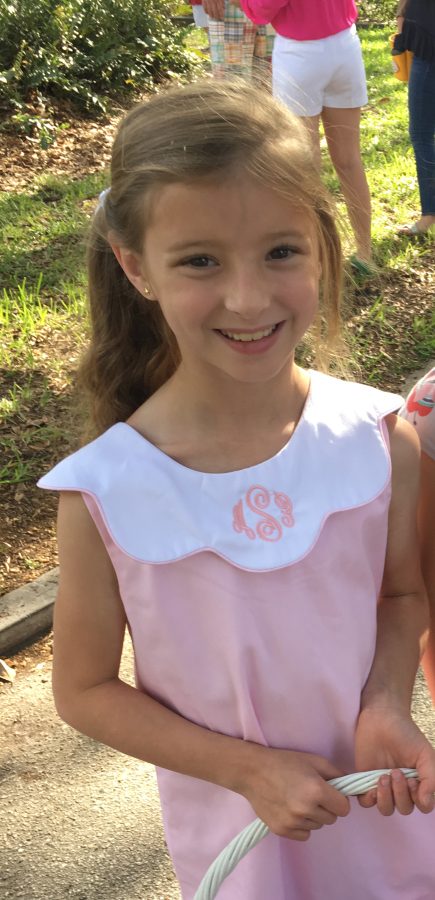 There's something sweet about wearing a monogram that belonged to a mother, grandmother, or sister. So I still monogram my oldest daughter's things and save them for her little sister, and then store them for their own children one day. (But take heart, frugal friends — swap groups for monogrammed items do exist!) Monograms definitely add a little sparkle to something generally nice looking but that could use a little zing, like a little boy's polo shirt or a T-shirt from Target. They can also spice up an outfit as a pretty decoration on boots, scarf, or a necklace. They add "that something special" to the decor in a bedroom or on pillows, and can turn a baby gift (like a pretty bib) into a forever keepsake. Monograms, for the most part, are "pretty," but they also link generations and family, which is a win-win in my book.
Like smocking, a lot of people are yay or nay on the monogrammed front. But I think putting a child's initials on certain items gives them some identity, it ties to them to their family, and it adds a little extra, even when the monogram is purely practical. And if you don't need any more convincing, here's a pretty funny video on Why Names (and Thus) Monograms Matter.