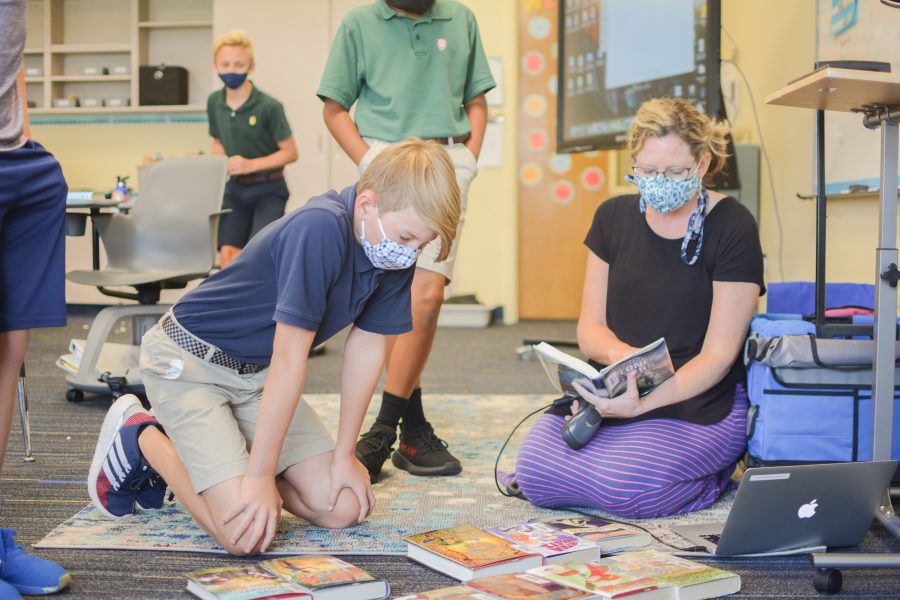 I am the mother of a 4-year-old. 
That sentence carries all of the weight that you know so well. As the pressures and judgments of the mothering world come down upon you, let me put you at ease regarding your child's ability to acquire language and literacy skills in order to become a strong reader.
Environment: Surrounding young children with a print-rich environment is clutch. Watching my daughter bloom into her reading self is awe-inspiring. Although the science and theory behind her development into a little reader is interesting, observing it in action is truly magical.
Movement: Allowing children to "play" and move their bodies in order to bring a story to life demonstrates the kind of motivation and comprehension that cannot be accomplished in any other way. Children develop at their own rate and in their own way, but one of the key foundations for all youngsters is using movement in literacy development.
Progression: Once your child is on the path to reading, they must be nurtured and allowed to grow through each stage of the process. Step-by-step, they can progress into a person who finds that they have a passion for reading because it has been a part of their life journey all along.
I am the mother of a Jacksonville Country Day School student. I am beyond thrilled that these building blocks of creating readers are a priority for my daughter and her classmates at JCDS. It is one of the many reasons I have chosen this amazing school for her education.
How does a school accomplish the endeavors mentioned above to grow readers? Let me answer that with some specifics, as I am also the Literacy and Library Specialist at JCDS.
Environment
At JCDS, we know that helping students to build their love of reading at a young age is vital. In our early learning classrooms, children are encouraged to select picture books and nonfiction books that appeal to their interests. They have many books rotated through their classroom libraries and access to thousands and thousands more in our Fletcher Library. We also teach early learners how to recognize the parts of a book and the text features within. Our young students even practice "reading the pictures" in their abundant text environment. 
Movement
Children move their bodies during literacy lessons and bring print to life at our natural playscape. Not a day goes by where characters and adventures are not acted out in the fresh air. Whether using hand signals to demonstrate a literacy skill during class time or applying dancing and movement to a book with music, the body is engaged to support the brain's learning. Even accessing fine motor skills to accompany text is a piece of the literacy puzzle at Jacksonville Country Day School.
Progression
Fostering a love of reading must expand as our students grow older in order to scaffold them to new heights and create new successes. Children learn how to select "just right" books that are most appropriate for their reading level. They learn how to find books that intrigue them. Students explore new authors and are encouraged to risk-take when investigating new genres of literature. They are encouraged and supported along each step of their individual reading voyage in a developmentally appropriate way.
We KNOW that our Sharks love to read. As their Literacy and Library Specialist, and a Shark mother, it fills my heart to the brim watching our tiny 3-year-olds, all the way up through our 6th graders, contribute to our community's passion for reading. 
As you approach the opportunity to read with your children, I encourage you to let them be your guide to the books they love… and, as they read, you can be their guide to a deeper understanding through the environment you provide, movement, and a steady supportive progression! 
For more information about Jacksonville Country Day School, visit jcds.com.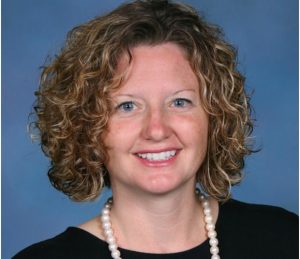 About the Author
Jen Currie is a mother and the Literacy and Library Specialist at Jacksonville Country Day School. Jen has her BA from Canisius College in Elementary Education and English and her MS from University At Buffalo. Jen and her family moved to Jacksonville a few years ago and she has been teaching at Jacksonville Country Day School for two years. Prior to her time at JCDS, Jen spent three years at the Porter-Gaud School in Charleston, South Carolina, and 12 years as a teacher in Buffalo, New York.