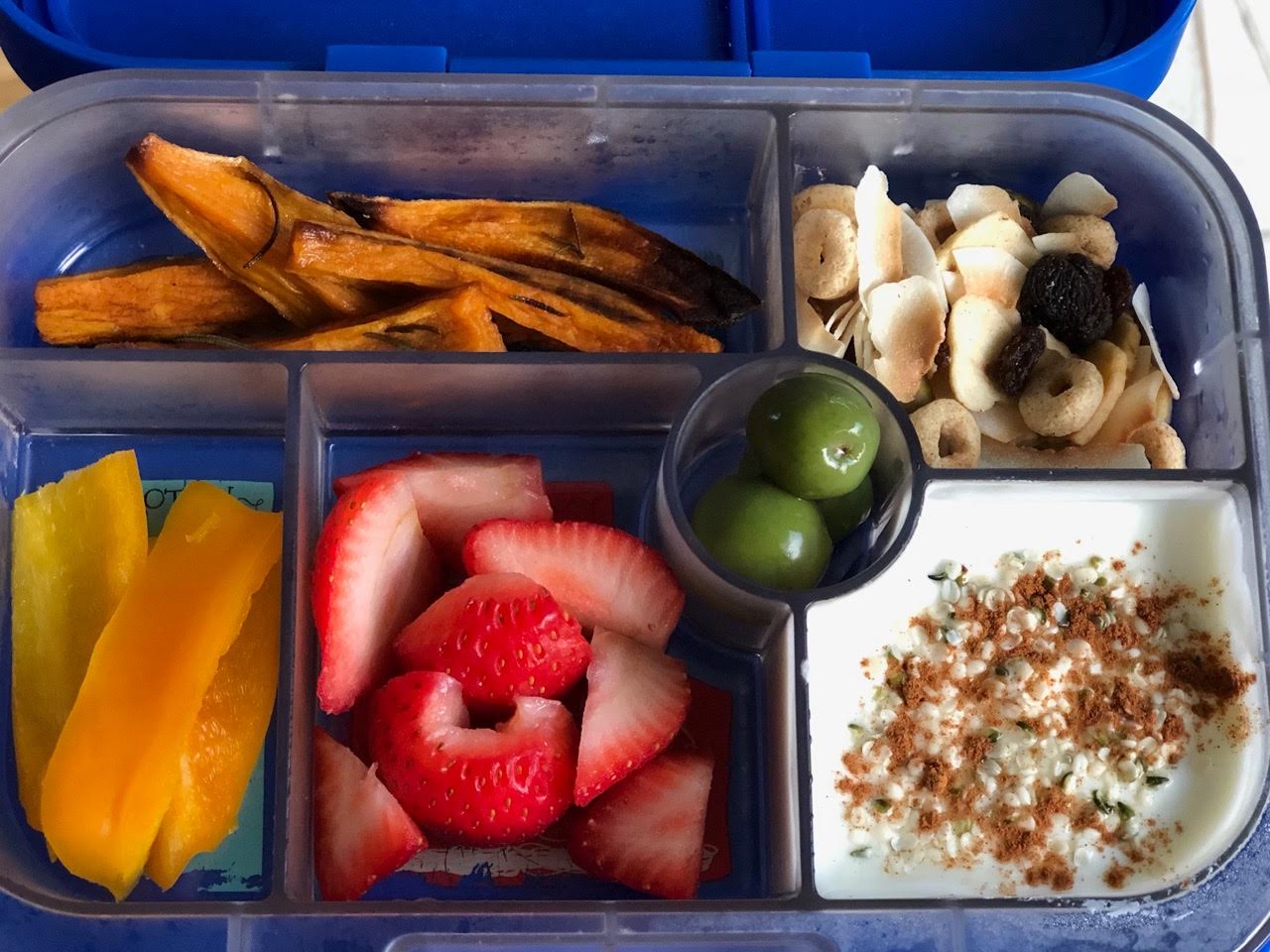 I hear it all the time from parents. It's the bane of their existence. The daily chore that looms over them day in and day out. Packing school lunches.
We are a couple of weeks back at school and already the exhaustion has set in about what to pack that is both healthy and will actually get eaten. The battle is real, but it doesn't need to be that way. As a mom of two and a certified nutritionist, I have developed some simple tools over the past three years of making school lunches that have helped both me and my clients.
Find a Great Lunchbox
Most kids like bento-box styles where they can clearly see their options and the food "doesn't touch." Invest in one that doesn't leak and you don't have to replace every couple of months — they're using them every day and they take a beating, so durability is the name of the game. Both Yumbox and Planetbox have some great ones, but a quick browse around Amazon will give you tons of options. If your kids prefer hot lunches, then invest in a good, insulated thermos that will keep last night's leftovers toasty warm. Check out this post for some other ideas!
Follow a Formula
Find a formula that your kids love, so you can easily mix and match from those "pre-approved" categories. Here's how it works in our house:
Protein: Grilled meat, organic lunch meats, hard-boiled eggs, organic cheese strings or hummus.
Fruit: Berries, oranges (pre-peeled for the little ones), melon, cut apples (toss some lemon juice and cinnamon on to keep them from going brown) or unsweetened apple sauce.
Crunchy Veggies: Carrots, cucumbers, peppers, celery, pickles, fennel or my kids' personal favorite, jicama.
Starch: Crackers, roasted sweet potato fries (these are great as leftovers), rice cakes or popcorn.
Fun Foods: By fun foods, I don't mean junk food. My girls' school has a no junk-food policy, so I include things like trail-mix, toasted coconut chips, banana chips or dried fruit.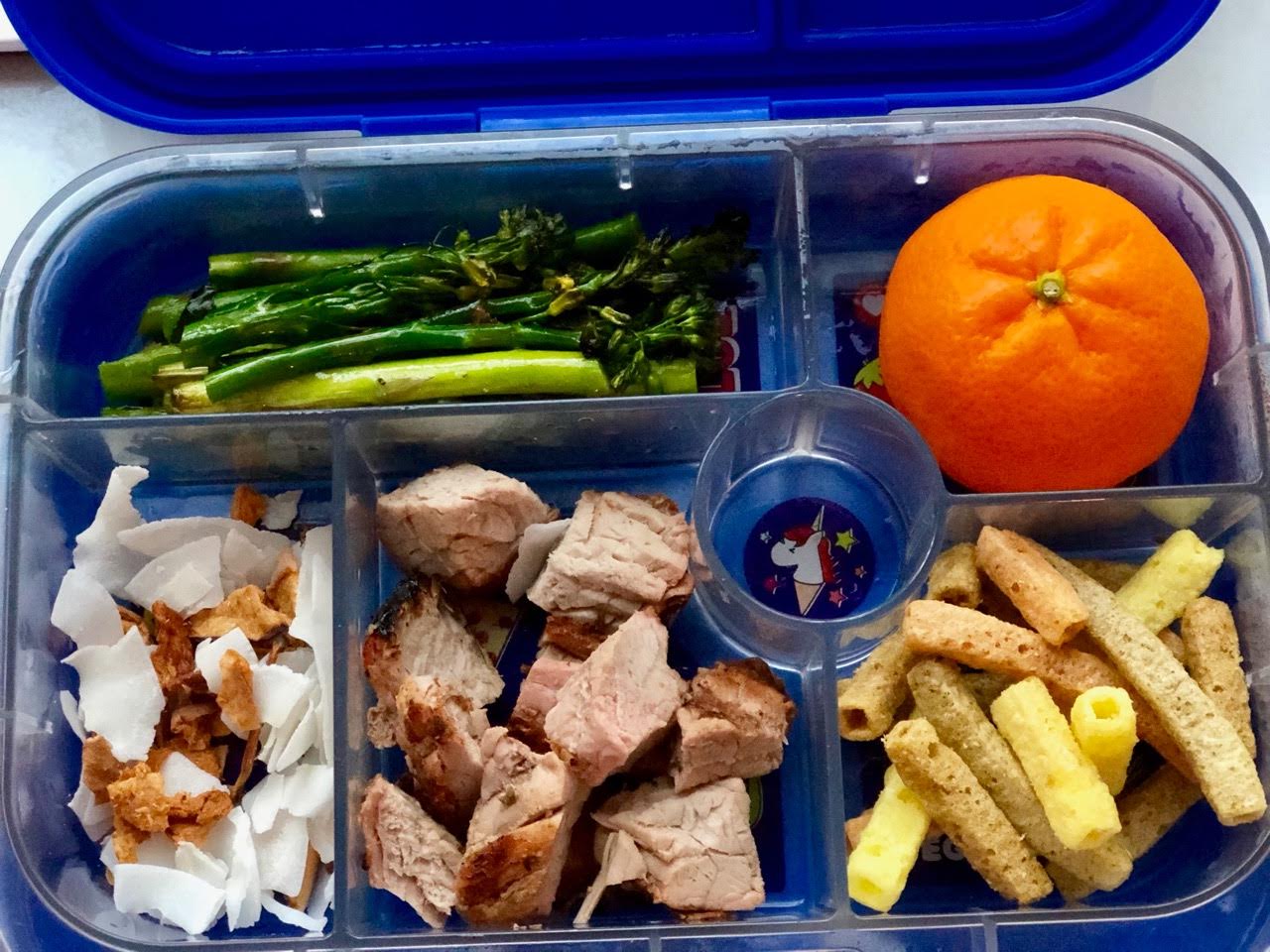 Make Extra Dinner & Pack Leftovers
Last night's meal should be your savior. It takes so little time to bake an extra sweet potato for fries or throw an extra chicken breast or two on the grill. Planning ahead saves so much time in the long-run for easy school lunches.
Pack School Lunch While Cooking or Cleaning Up from Dinner
This goes hand in hand with tip no. 3. When you or your other half are cleaning up from dinner and packing away the leftovers, get those lunchboxes out and start packing. The other big benefit to this is that your kids are getting home-cooked food rather than pre-packaged, not-so-awesome food. You might save yourself some dishes, and by the time the kitchen is clean, the lunches are packed and you can move yourself to the couch for a little Netflix and chill.

Involve the Kids
This is a big one and can vary based on the age of your child. Once you've created your formula or categories (see tip no. 2), you can sit down with the kids and brainstorm some ideas for each category. This way, you minimize the chance of lunches coming back untouched. There is nothing more frustrating than opening a lunchbox at the end of the school day that you have slaved over, only to find it mostly uneaten (along with a very hangry kid on your hands). Kids need to have input in their food choices within parameters set up by their parents. You can also take them along grocery shopping to pick out a new fruit or veggie to try. If your kids are a little older (typically fourth grade or older), they can start packing their own lunches (with a little eagle eye from you to make sure it fits your guidelines).
Anything we do day in and day out can get monotonous and exhausting, but with a few simple steps, it can also become formulaic and habitual which dare I say makes it… easy!
I post a lot of lunchbox inspiration on my Instagram feed, so follow along @katiehammillnutrition. Also for all you moms out there who need a little fresh start of your own now that the kids are back in school, I am launching the next round of my popular nutritional reset program on September 4. Details can be found at KatieHammillNutrition.com.
About the Author
Katie Hammill is a Canadian at heart and has been soaking up the Florida sun for the last three years. She is a certified nutritionist, mom of two, wife, kitchen renegade, fitness fanatic, Buffalo Bill devotee and avid carpooler. Her mission is to take the incredibly complex relationship we all have with food and simplify it for REAL life. She believes there is no one universal style of eating that we should all follow. We are individuals and life gets REAL very quickly, so sticking to a diet that doesn't work for you is a waste of time. As a mom, she knows it's not always easy to feed your kids with all the conflicting information out there. It is her role to decipher the good from the bad and share the true story behind the headlines. She wants to give you confidence in the choices you make when feeding your family. Follow along on Instagram at @katiehammillnutrition for healthy recipes, insights on the latest nutrition trends and some random rants thrown in for good measure. She works with families from young to old, and beginner to aspiring athletes just like you to find the place where healthy feels great and is truly sustainable.