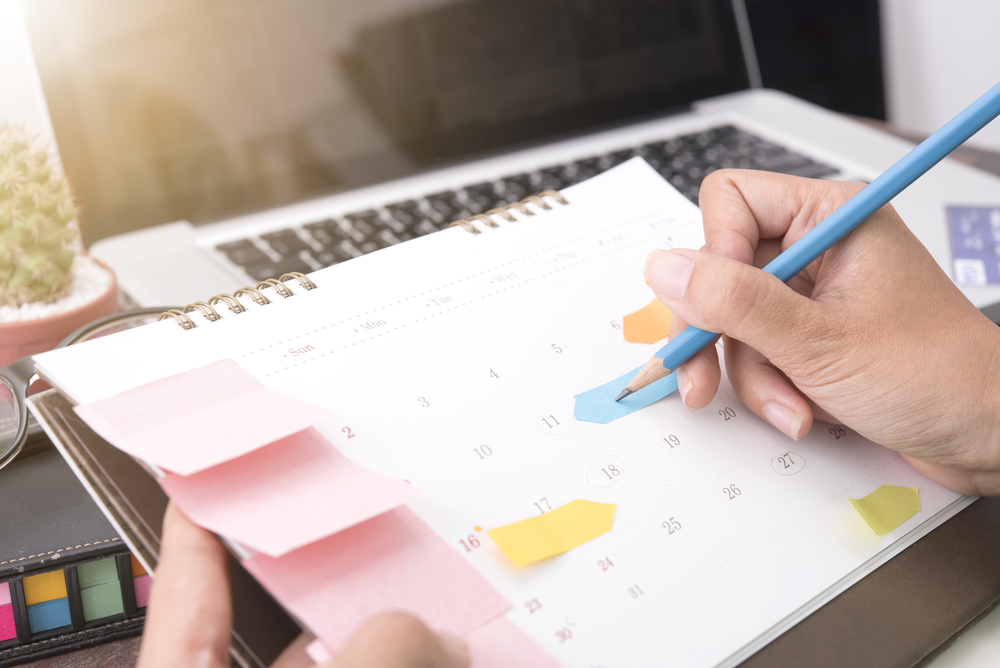 YES!! Summer is over. I love summer, I really do — including the heat and all the ice cream and beach days that go along with it — but nine weeks of ever-changing schedules is getting to me, and I'm more than ready for school to start and to get back to a regular routine. There are a few things I plan on taking care of before the end of August though. As the school year begins, autumn in Florida slowly arrives, and we start looking beyond bathing suits and beach towels and toward our fall to-do checklist:
Sign Up for Kids' Fall Activities
Believe it or not, some registrations are already over for fall sports! Soccer, flag football, ballet and fall baseball (all things my kids are interested in) are already taking registrations or are finished with registration. Most fall sports start a week or two after school starts in Duval and St. Johns Counties, so don't wait if you think your child will want to participate. We've had several great seasons with Soccer Shots of North Florida and are excited about the new ballet studio my daughter will be attending, Saltmarsh Dance.
Calendar
I'm talking scheduling EVERYTHING through December 31. I have printed out my kids' school calendars and fall activities, noted random days off and early dismissal days, fall festivals, upcoming birthdays, the first day of soccer practice and the kickoff meeting for my church group, also highlighting days I need babysitters or need to take a day off from work. If it's not on my calendar — in my personalized-stickered-starred-and-monthly/weekly-kid-color-coordinated planner — then it does not exist. It's the only way I can manage four kids, three school schedules and multiple after-school activities and events.
Clean Out Closets
I know our Florida kids will be wearing shorts straight through December, but before school starts is always a good time for me to assess what fits them, what hand-me-downs we have, and what needs to be donated or given away — and what kinds of pants and sweaters we need to buy for those few random cold days that tend to sneak up on us Floridians. My heart always breaks as I clean out my babies' closet — how are they already in some 3T clothes?! But onward and upward, because with four kids, I haven't got the closet space for sentimentality anymore. Having a mental picture of what they all have to wear already definitely helps retrain me before I click the "Add to Cart" button too many times on my favorite kid clothes websites.

Sign Up for Florida Prepaid
I'm also checking off worrying about paying for college for FOUR kids by looking into the Florida Prepaid Back-to-School Campaign that runs August 1 through September 2. While we as parents and my kids' great teachers are getting my children ready academically for college one day, Florida Prepaid can help our family prepare financially. Right now, families who enroll in a Prepaid Plan between July 16 and September 2 will have a completely waived application fee! Just use code: BTSBLOG18. The benefit of signing up now is that families don't have to worry about the $50 application charge that comes along with Open Enrollment. Enrolling in a Prepaid Plan during this time means submitting an application that will be processed during the next Open Enrollment season. If you sign up before Open Enrollment and you are not satisfied with your plan price when Open Enrollment begins, Florida Prepaid will help you select another plan or payment option to meet your goals and your budget.
A Florida Prepaid College Plan allows families to lock in tomorrow's college tuition prices today, paying lump-sum or setting up a monthly payment schedule. Prepaid Plans are guaranteed by the state of Florida, and the value of a plan can be applied to qualifying institutions nationwide, both public and private.  With a Prepaid Plan, you don't have to worry about how much Florida public college and university costs go up in the future — or the ups and downs of the stock market. Florida Prepaid Plans are a promise that your child's college tuition will be ready when the time comes. Learn more about making a Florida Prepaid College Plan part of your back to school checklist.
Hit the Beach
I know, summer in Florida lasts, like, forever. But when fall starts, the beach seems to become the last thing we think about, between football (Go Gators!) games and soccer practice, planning a fall trip to see family and finding a pumpkin patch. So taking the kids to enjoy the sand and waves is one of my top five must-do-one-more-time-before-school-starts list. And squeezing in an ice cream cone or four is also not a bad way to end the summer!