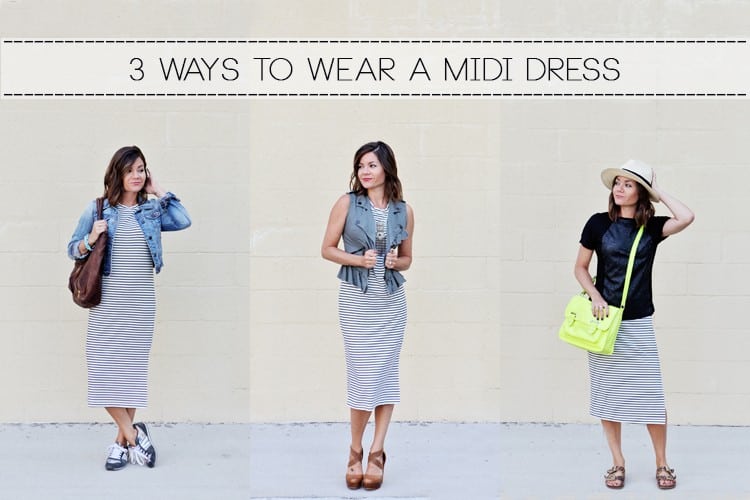 I love the midi dress!
It's the cuter, spunkier cousin of the maxi dress. Midi dresses typically hit mid-calf, which is great for those of us on the short side (I'm 5'3″) who find that maxis usually end up dragging the floor like an awkward wedding dress train. The shorter midi has a more casual, easy vibe. In fact, the style is so easy to wear that I often find myself reaching for a dress instead of shorts or pants, especially during the hot summer months.
Today I want to share three simple ways to style a midi dress!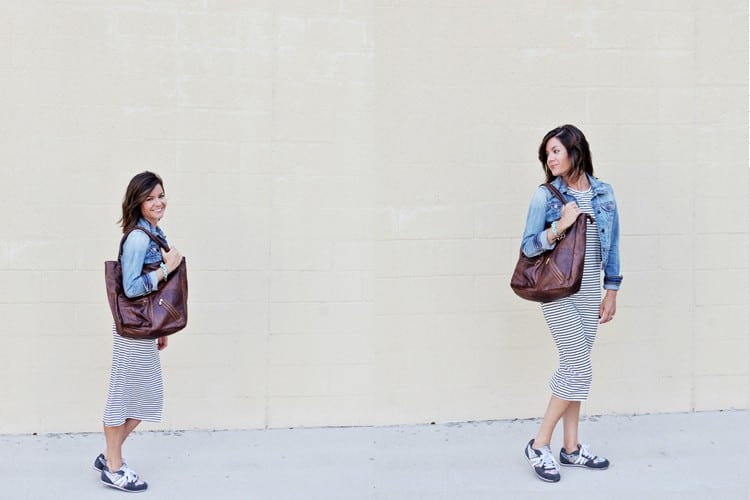 1. Pair it with tennis shoes and a denim jacket.
This is one of my favorite effortless, casual outfits! I topped the cool cotton dress with a denim jacket and added a pair of tennis shoes. So easy! I would wear this look while running errands, taking my 4-yr-old to the library or a play date, or even to a sporting event.
2. Wear it as a skirt!
One of the many reasons I love dresses is because I can easily add layers and wear them as skirts and sometimes even tops. This dress makes a cute skirt! And the black and white stripes are the perfect backdrop for a pop of neon. I would wear this look to lunch with my husband, to a client meeting over coffee, or to a friend's house for a summer cook out.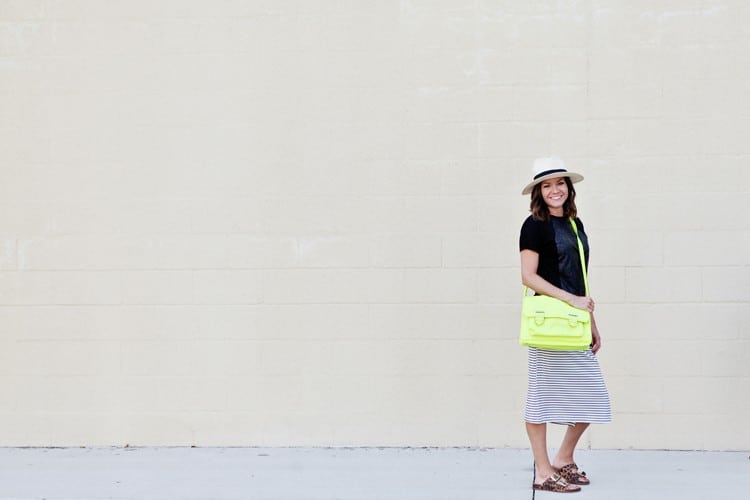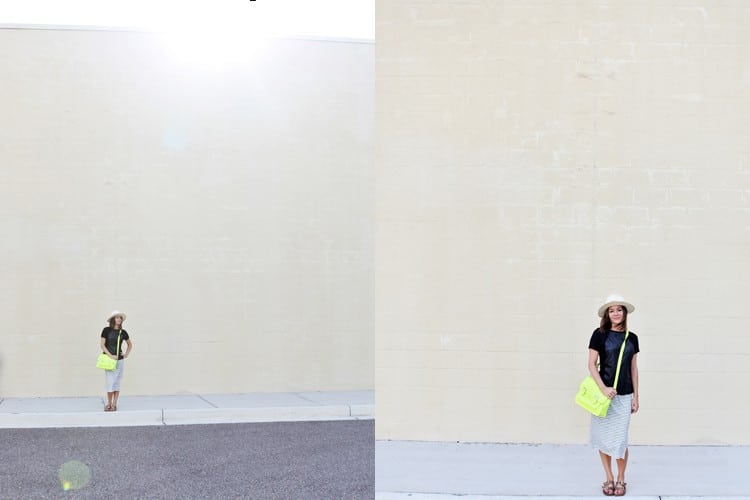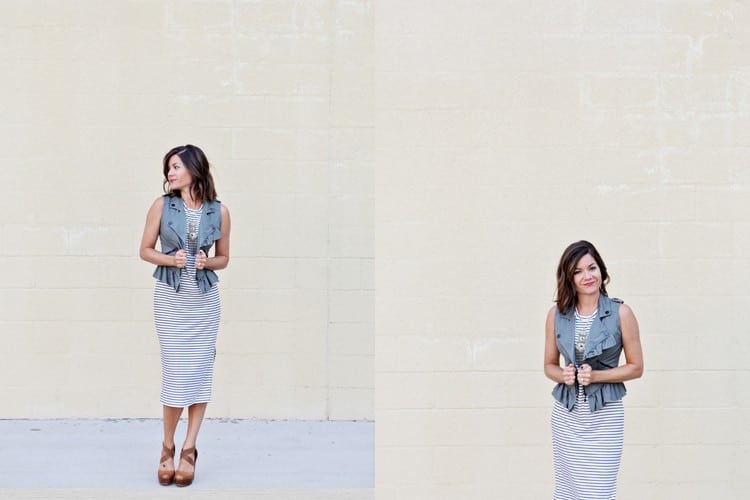 3. Add some bright red lipstick and sky-high wedges.
This casual dress can be dressed up a little bit too! The gold medallion necklace and military inspired vest add just enough light layers. I would wear this look to dinner with my family (I have actually!) or to girls night with some of my friends.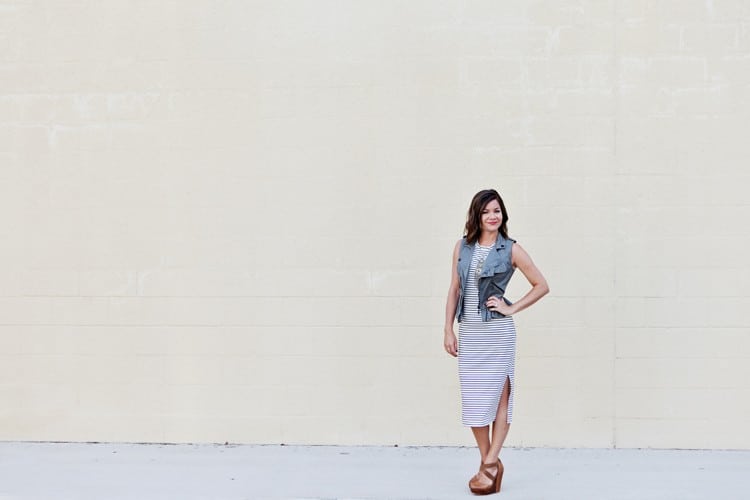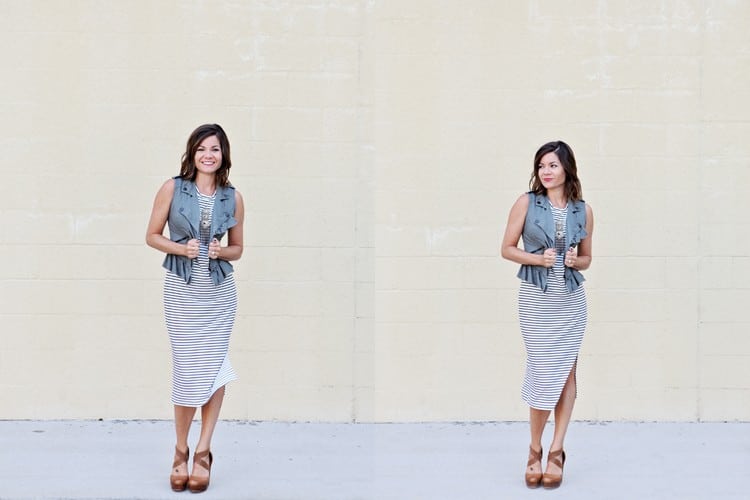 What do you think? Will you give the midi dress a try this summer?!
About the Author
Lyndsay's motto is: "Life is messy. Life is beautiful." And as a lifestyle photographer, her goal is to capture the sometimes messy (but always beautiful!) moments. She is passionate about working with families and embraces the not-so-perfect aspects of her own life as well as her clients. Though she's based in North Florida, she often travels for photo shoots. Lyndsay also writes a lifestyle blog Pink Coffee Photo with an international following. There she posts favorite photo shoots, crafty projects, outfit posts, photography tips, and rambles about her family and faith. She loves doing life on the First Coast with her husband, Anderson, and three-year-old, Kingston Rock. Thrift stores are her favorite places to shop, and most of her "down time" is spent hanging with her boys and making crafty DIY projects.