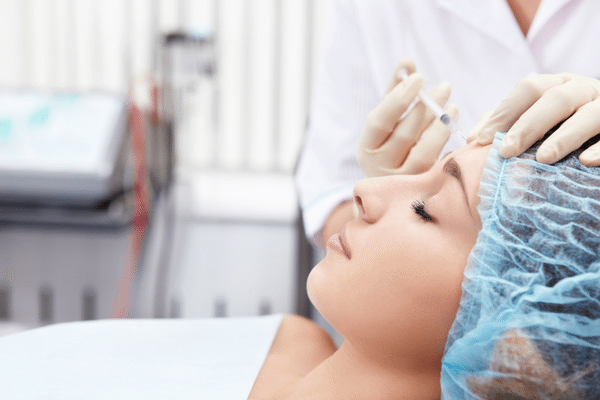 Now that I am older, smack dab in my mid 40s, I am focusing on de-cluttering my life, which includes my beauty counter. I like to keep my skincare simple. I look for products that offer multiple benefits, like tretinoin (THE miracle cream), and I discovered the BEST "eye cream" in the world many years ago. It doesn't just soften my wrinkles or "minimize their appearance." It actually eliminates my crows feet, and I have been using it for 11 years. It's called… Botox!
I've been using Botox since I was 34. I'm not sure my husband knows that little info nugget — yikes! I first tried Botox because my 11s (those vertical wrinkles in between our eyebrows) were so etched in my face. As it turns out, I needed to start wearing eyeglasses, and the constant squinting caused the wrinkles. Even after I started wearing my new specs, I still had those pesky lines. I was already calling on a prominent plastic surgeon while selling anti-infectives and loved hearing about his cosmetic patients during our meetings. I was always inquisitive about Botox, and I finally took the leap into the wrinkle-free zone and haven't frowned since.
I kept it to myself for years. Maybe it was my age or the current time we were in, but people didn't seem to be sharing their beauty secrets when it came to injectables. Until, I was fortunate enough to work as the Business Development manager for Botox while living in Boston. After becoming the Facial Aesthetic representative, friends and family assumed I was using all of the products in my portfolio (which I did enthusiastically and often), and there was no reason to keep it quiet any longer. I sang the praises of Botox like I was Etta James at Carnegie Hall. "At last, my love has come along…"
The more I openly talked about cosmetic injectables with friends, the more they confided in me about how long they had been considering trying it. "WHAT ARE YOU WAITING FOR?!" I would say in my most encouraging, non-judgmental voice. "I'm scared. Does it hurt? How long does it last? Where do I go? How much does it cost? What if I don't like it?"
It seems I get the same questions every time I am engaged in a Botox discussion with a potential first-timer. And a one-on-one conversation always expands to a group discussion as eavesdroppers join in with eager ears. So, I thought it would be prudent to answer these common questions for anyone considering this magical treatment and provide guidance on how to locate the best injectors in your area.
"I'm scared."
There are a few facts about Botox not commonly known to cosmetic patients. It has been approved by the FDA since 1989. Originally used by Ophthalmologists to treat strabismus and blepharospasm (crossed eyes and involuntary rapid blinking), Botox is also currently approved therapeutically to treat cervical dystonia, hyperhidrosis, overactive bladder/urinary incontinence, chronic migraines and spasticity. For these therapies, the dose can be 3-10x more the amount of Botox a patient would receive. Botox was approved in 2002 and cosmetic doses are miniscule compared to some therapeutic doses. When Botox is reconstituted and injected, it has been refined and purified into protein form from its bacterium molecule. Needless to say, it is safe and effective.
"Does it hurt?"
In the state of Florida, Botox is injected by experienced and highly trained Physicians, Advanced Registered Nurse Practitioners (ARNPs) and Physicians Assistants (PAs). A tiny needle is used, and you may experience slight discomfort, but pain would be considered minimal, if any. You can apply a numbing topical cream or icepacks to the targeted areas before treatment. Numbing cream can take several minutes to work, so I wouldn't typically recommend it for a treatment like Botox. Overall, I would categorize the injections like a quick rubber band snap or quick tiny pinch. I don't use numbing cream or ice. However, if you must pre-treat an area for fear of discomfort, I would recommend the icepack method. It's quick and effective.
"How long does it last?"
Botox is indicated to last up to four months. Research shows chemical denervation begins in 24 hours, which simply means it starts working fast. It is a gradual improvement with full results realized in two weeks. If you are looking to "erase" certain lines, a recommended treatment protocol for you may be to get Botox every three months for the first year to ensure targeted muscles stay relaxed so those wrinkles don't have a chance to "remember." After you have consistently treated an area of concern, you may find you can treat that area less frequently since the wrinkles have been relaxed for an extended period of time. Each patient is different, and some find Botox lasts longer than four months, while others find it lasts only three months.
"Where do I go?"
This being the most asked question. People are well aware of the magical powers of Botox, but many don't know how to find a trusted injector. Great news — it's not so hard to find a great injector when you know where to look.
Go to botoxcosmetic.com and click on the Find a Doctor (FAD) link. Enter your zip code and how far you are willing to drive. I always put in 25 miles to capture a concentrated amount. TIP: The practices will be listed in order of usage, meaning, who performs the most Botox procedures. Typically a lot of Botox procedures translates into happy patients returning for continued treatment due to high patient satisfaction. However, some practices can have several physicians, ARNPs and PAs as trained injectors, so don't be discouraged if your favorite dermatologist or plastic surgeon isn't listed in the top five on the FAD list. He or she may be a solo practitioner with excellent outcomes and high patient satisfaction, it's just that they don't treat the volume that a multi-practitioner office treats. I suggest checking out the practice website and looking at their Before and After photos of patients treated with Botox. A well designed, user friendly website with Before and Afters is another indicator of high patient satisfaction.
The botoxcosmetic.com website is an outstanding tool for patients. It provides safety information such as most common side effects, contraindications for use, questions to ask your provider before first-time treatment and other FAQ. It is a must read for anyone who wants to become more informed about the proper use, benefits and side effects of Botox.
"How much does it cost?"
From what I have seen in Jacksonville, Botox can cost up to $15/unit at some practices. Some charge $10/unit. For reference, if you are treating your glabellar region (between your brows), this typically takes approximately 20 units. So, it could cost anywhere from $200 to $300. TIP: Research a few practices in your area and sign up to receive their e-newsletter. Also, "like" them on Facebook and follow them on other social media outlets. Many practices host events where treatments, services and aesthetic products go "on sale" throughout the year. Now that I am loyal to my injector, I anticipate that practice's events so I can purchase my Botox on sale and "bank" it for future use. Not every practice offers this type of event, but many offer events that are informational for potential first-timers and provide discounts on their products. I will discourage you from following the lowest price of Botox you see advertised. Botox isn't a treatment where the lowest price is best. It is considered a medical treatment, so, experience, patient outcomes and patient satisfaction are key considerations. Do your research. Ask your friends. I find everyone is eager to share when they love their Botox. Just don't ask a friend in front of her significant other, ha.
Another way to save on future treatments of Botox is to sign up for Brilliant Distinctions (BD). It is a free program offered by the makers of Botox, and most offices participate and offer BD to their patients. You will see a logo on the FAD results site by each practice that offers BD, which is another indicator of a reputable practice. Brilliant Distinctions is a patient loyalty program, so when you are treated with Botox, register your treatment, and you will save on your next one.
"What if I don't like it?"
If you don't like it, Botox wears off in 3-4 months, and your muscles gradually return to their original state. I have yet to meet anyone who didn't like Botox. I will say, every patient and facial musculature is different and requires a unique "recipe" to find their perfect result. It may take 2-3 treatments to find your perfect recipe. After your Botox treatment, if there is anything you aren't pleased with, call your injector. They most likely will recommend waiting two weeks to see you for a follow-up so the product can have time to take full effect. If any dose adjustments are needed, they will be quick at the follow-up visit.
Remember, the goal of Botox is to provide natural results. An excellent example of someone who has utilized Botox properly for years, probably a decade at least, is supermodel Cindy Crawford. She has publicly supported Botox and its benefits, and she is one of the best examples of proper technique and dosage.
And then there are the celebrities who MUST STOP! As a fanatic and previous representative of this magical treatment, I still feel like it's my baby. When I see these celebrities overdone with injectables, it offends me! I take it personally. If you are someone considering Botox for the first time, please don't let these celebrities with unnatural results deter you from trying it. A good injector knows how to achieve natural results for you and after you have performed your research, trust in their expertise.
I always warn my friends at the end of our discussions, "Be careful, the side effect you may experience is that you might just LOVE it!"