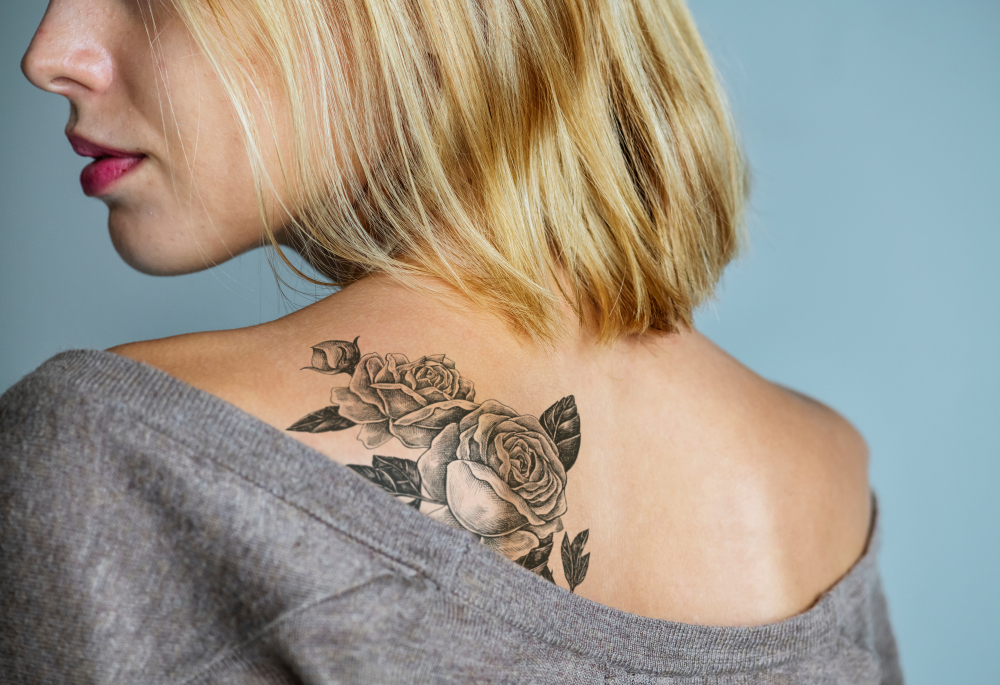 I'll never forget the first time I thought about being a "tattooed mom." It was 2012, and I was crouched over my infant daughter's car seat, wrestling the buckles while carefully balancing a diaper bag, when I heard the young voice of the daycare provider. "Hey!" she piped, "I really like your tattoo!" It was then I realized that my five-month postpartum lumpy-mom body was exposed in the lower back area, showcasing my early-2000s tattoo. Like any good late '90s/early 2000s young adult, I had added a little art in what is loving known as the "tramp stamp" area, and just to fully commit to the trend of the time, it depicts a whimsical Amy Brown fairy mid-flight. "Um… thanks," was all I could reply as I tried to pull my shirt back down. I wasn't exactly embarrassed, but I had not yet figured out exactly who I was post-baby, and I didn't know if I was the same person who could still rock a "tramp" ANYTHING, let alone body art.
I have added a few more pieces since then, including a large shoulder tattoo that represents my family, and another piece on the other shoulder that was just for me — a quote from my most favorite book and accompanying artwork. Now when people ask about what is showing, I love having the opportunity to tell them what went into each piece and why they are important to me. In speaking with other mom-and-dad friends who have body art, I've come realize that they all have equally beautiful stories — quotes to honor parents, images that honor pregnancy and infant loss, pieces that honor family and friends… there is a little bit of everything, and every person has a story behind their tattoo.
The stereotype of who is tattooed has changed throughout the last 20 years, and it has become super common, especially here in Florida where we are fortunate enough to be able to show skin nine months a year. We are also incredibly lucky to have so many talented artists here in Jacksonville! I have tattoos from both Omar Safi at Revelation Tattoo Company and Grace Dlabaj at Todd Lake Studio, and they are both wonderful to work with and very talented artists.
Thank goodness that after my second child, more mom confidence has kicked in and I have fully reclaimed all parts of me and my body, including that young, innocent part of me who was ALL IN on a tramp stamp years ago with "no regerts."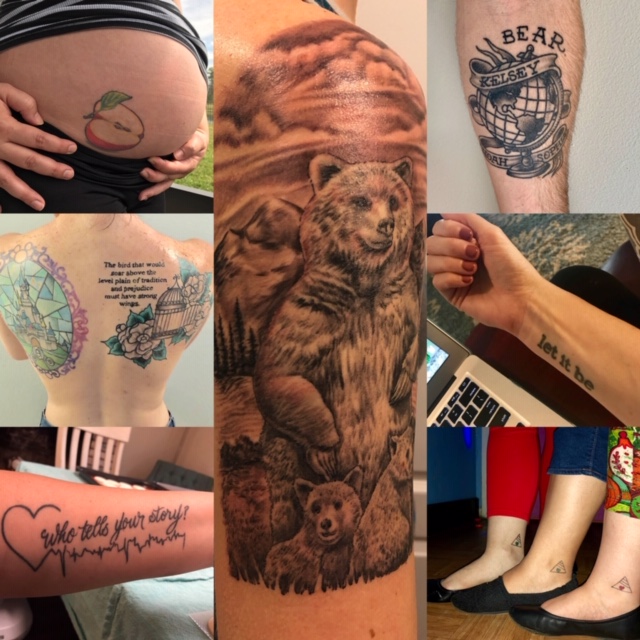 Above tattoos on local moms (left side, top down): Apple with three seeds to honor repeat pregnant loss, now expecting her second daughter; Disney castle with five stars in the sky honoring five lost pregnancies and "hidden Mickeys" for two daughters earthside, a quote from The Awakening and an open birdcage with magnolias; the last heartbeat image before a full-term stillbirth; mama bear with her two cubs; commemorative family tattoo of a dad's whole world; a wrist tattoo honoring advice from a mom who loved the Beatles and was gone too soon; a series of "mom tribe" tattoos — triangles to represent strength and lines to represent each mom and their family.