If you live in Jacksonville, then you've likely heard of the local business that is striving to make the world a better place, one stitch at a time, Rethreaded. Winners of One Spark 2013, Rethreaded is an organization that's mission is to break the cycle of the sex trade industry by offering the women affected by it a new start. Their motto is "sewing a new story" and that is just what they do. Rethreaded offers training programs that focus on sewing and life skills to offer these women a chance to "sew their new story."
Through their business of up-cycling t-shirts into beautiful jewelry and accessories, they have not only made a positive impact on lives right here in Jacksonville, but all over the world too. Fashion that makes a world of difference… that is what Rethreaded is all about.
And again, Rethreaded continues on their journey and is in fact "sewing a new story" with the release of their newest piece of jewelry, the Harmony Necklace. The Harmony Necklace, as it is named, was designed with the thought of restoring "harmony" into the lives of women who are affected by the sex trade industry. It is available in three gorgeous colors, Lucite Green, Teal, and Coral. By purchasing the Harmony necklace or any other Rethreaded product, you are not only getting a beautiful, handcrafted piece to accentuate your look but you are also joining the fight to combat the sex trade industry. You are fashionably becoming an advocate for women!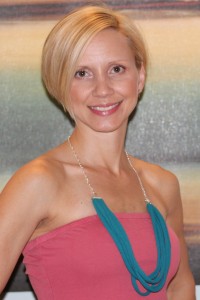 I was given the opportunity to wear the teal Harmony Necklace. This simple yet stylish freedom fighting statement necklace is very fun and versatile. And it can be worn with just about anything, anytime. But what was really amazing about this jewelry were the opportunities I was given to tell its story, the Rethreaded story. Just standing in the grocery store check out, I was complimented on it and asked about it. While telling its story, I got such an amazing feeling of pride that I am helping to spread the word!
So come out and join Rethreaded for their launch party for the Harmony Necklace on March 28th from 10 am to 4pm at the Rethreaded Warehouse, 820 Barnett Street Jacksonville, Florida 32209.