If you're anything like me, I seem to struggle with what to get the men in my life at Christmas. Whether it's my husband, dad, or brothers, I am always looking for something they can use, but also something special and personal. It can be frustrating, and I can guarantee that if I ask, I will have a conversation that goes something like this, "Hey, so any idea what you want for Christmas?" With the response of, "Uh, I don't care, you don't have to get me anything."
You know they don't really mean this, but it's like trying to paint a cat's toenails to get a straight answer. So this year, I did some research, and compiled a little list of goodies ranging in price, to make everyone's life easier when it comes to gift giving for your favorite dudes.
For the superhero who shaves
If you're looking for a perfect gift the men in your life won't want to return, check out the Justice League Gillette gift packs from Walmart. Gift sets like this one include a variety of Gillette products he'll actually want to use. Starting at only $9.88, each set includes a unique Justice League character, providing an epic save on an epic shave. The set includes Gillette Fusion ProGlide Shave Gel, Endurance Clear Gel Antiperspirant/Deodorant and Gillette Body Wash Hydrator (which is great when temps go from hot to cold and dry skin appears). Pick one up at Walmart to add to his gifts under the tree. My husband is in the military and has to shave practically every single day. He also loves the Justice League, and we have been waiting anxiously for the new movie to come out. When I saw this gift package, I just knew it was a must! After all, every hero needs a secret weapon — even mine.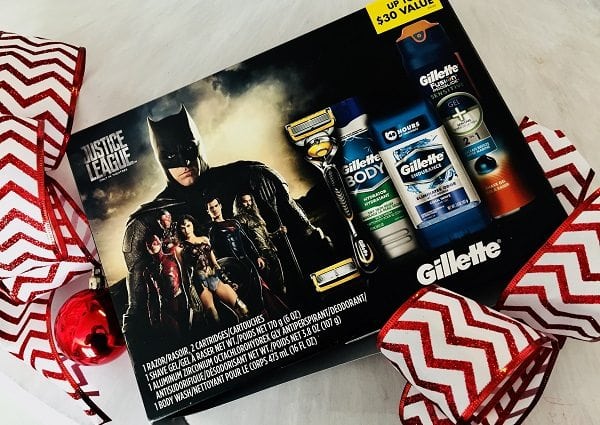 For the coffee lover who needs a pick-me-up
If your man likes a little caffeine pick-me-up, how about the gift of coffee? Not just any coffee, indulge in some of the good stuff! Try some new specialty coffees that maybe he hasn't had before. Or put together a coffee gift set he can take with him to work.
For the sporty man in your life
Go out on a limb (or wall) and check out Beaches Rock Gym for a thrilling gift I'm sure your guy won't forget. Or, do you watch Ninja Warrior and hear your man say, "Oh I can do that." Challenge is on! Get them a gift card to Velocity Air Sports and watch them test their endurance on their Ninja Warrior Obstacle Course. Or for the golfer in your life, Top Golf in Jacksonville is always a fun time, and their gift cards have no transaction fees, never expire and can be redeemed at any Topgolf location in the U.S.
For the guy who needs some pep in his step
I've joked with my husband, and said, "You know what, you're just getting socks!" Funny thing is, he says there's nothing better than a new pair of socks. Think about getting fun designs and prints and allow them to show a little bit of their fun, eclectic, and artsy side without being too over the top. You'll have fun picking out the best socks that suit your guy's personality. I've found him the perfect socks that he and my 4-year-old son love!
With all these easy gift ideas, I hope you and the guys in your life have a great holiday season. And we know they'll have a clean shave and smell good for those holiday photos (and snuggling up on cozy nights)!
Tune in to First Coast Living on WLVT Channel 12 this Friday, Dec. 1 at 11 a.m. and 2 p.m. for more of my holiday gifting tips for the men in your life.