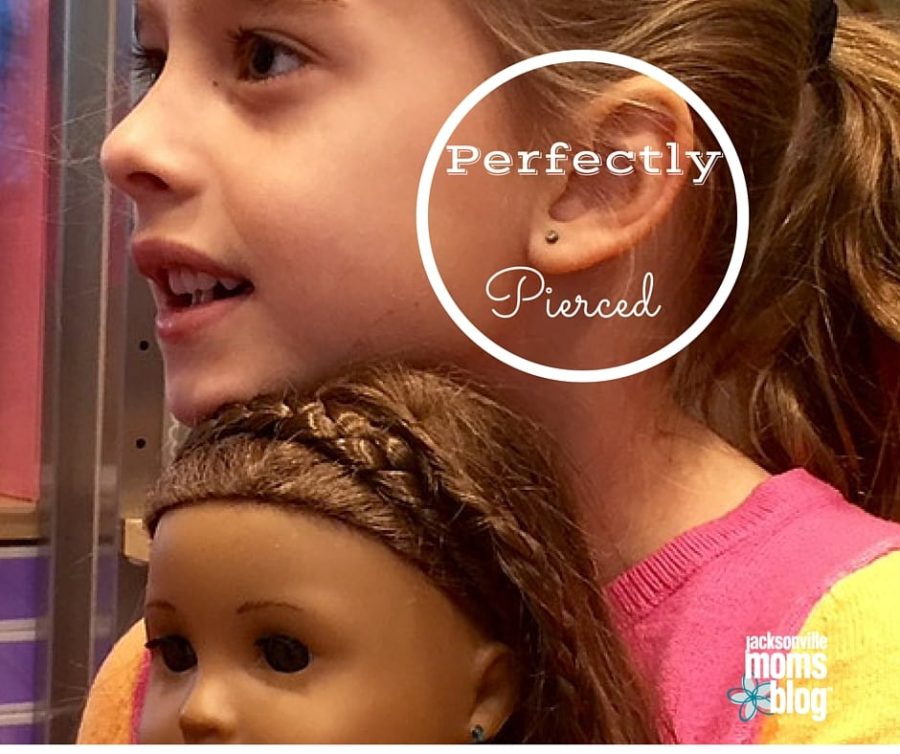 Ear piercing is a right of passage for girls (and their moms!). When to pierce is a personal parenting decision, and many moms weigh their own experience when choosing the age to go for the holes! No matter when you decide to accessorize your child's lobes, follow these tips to make it a fun experience for all!
1. Safety
The actual piercing guns can't be sterilized (the earrings they shoot through can be) meaning there is the risk for an infection. Make the best decision about timing especially if you are piercing an infant's ear because their immune system is still developing. Your best bet is to see if your pediatrician can do it (see below) because the second component to safety is finding a trained and experienced piercer. Make sure you go somewhere where the staff is trained to pierce!
Ask questions like do they pierce both holes at the same time (usually requires two people working that day), how many piercings have they done, what kind of earrings do they use, etc… Surgical stainless steel is highly recommended by pediatricians because it is antibacterial and hypoallergenic. Save those cute earrings or family heirlooms until after six weeks.
2. Pain Management
Ear piercing though quick is still mildly painful. Most piercers do it cold turkey. Sure, you can ask your pediatrician to prescribe a topical lidocaine cream and apply 30-60 minutes in advance, or the popular old slumber party way and numb with several ice cubes before the needle. But here's my thought. Feeling and remembering that discomfort may prevent your child from getting multiple unauthorized piercings on various parts of their body while still living under your roof! Plus after watching her sister have it done made my youngest totally okay with waiting to get hers done until she was seven! It's not a bad idea to administer a little acetaminophen post-piercing to reduce pain and swelling.
3. "X" Marks the Spot
Where the hole is made matters and moms are asked to approve the location of the dot. There is never a better time to be type A. I brought a ruler with me! Like boobs, no two ears are identical and yes, ear lobes do get bigger (more like stretch out) with age so keep that in mind when centering the hole.
4. Locations & Cost
Piercing is done at a variety of places with varying prices.
Rainbow Pediatrics– For $75, any child (non-patients welcome) can get their ears pierced. Dr. Reddy's office uses the Gentle Pierce system which includes a surgical titanium earrings (that come in a variety of colors and sizes), individual piercer (as opposed to a gun used on multiple people), a cleaning kit, a pocket mirror and a remember the date card. My daughter had two nurses pierce at the same time which was nice, and I liked knowing that if anything went wrong, we were in the best place.
Claire's– In addition to three locations across Jacksonville (the Town Center, the Avenues Mall, and Regency Square Mall), Claire's has the most options for piercing. The price depends on the earring chosen ranging from $18.50-$225(birthstone with 14K gold!). They also offer a surgical grade stainless steel.
5. Maintenance
Post-piercing care is huge and needs to be a priority. Every day for six whole weeks (set a reminder on your phone)  you or your child must turn their earrings and clean them. Most ear-piercing starter kits come with a cleaning solution (basically alcohol) that is easy to apply with a Q-tip. The first week, the ear is pretty tender making the first twists and turns slightly unpleasant. Give your child a heads-up before piercing that the twisting, turning and cleaning can be a little uncomfortable. It's one less battle you'll have to fight later. Encourage them to clean and twist too, six weeks is plenty of time for them to learn. Take it from someone who knows, keep the hair away from the ears! Strands are full of oil and dirt that can clog up this delicate hole not to mention wrapping around the earring back causing quite the headache!
Bring a camera with you but be prepared for anything! No matter how excited a child is, they may balk when it's go-time. Whether it goes smoothly or takes a little coaxing, remember the mommy motto " you are making memories!"