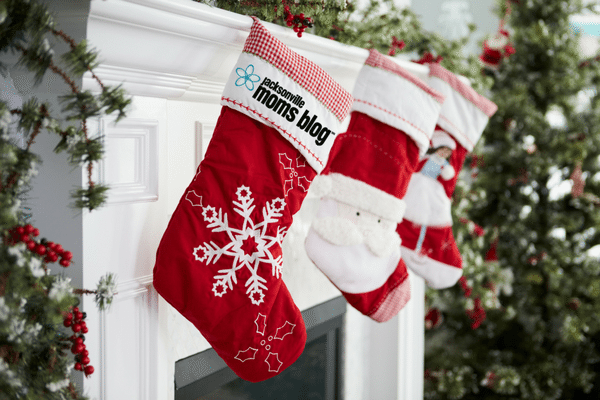 Can you believe there's only one week left until Christmas?! While you may be done with most of your major holiday shopping, you might still have a few holiday parties or white elephant get-togethers to attend. These beauty items are great for parties, hostess gifts and especially stockings. Aside from the typical stocking stuffers of toothbrushes, candy and socks, why not add some beauty faves to the mix? The below gift ideas all come from a few of my favorite local boutiques, so you can rest assured that you're getting a great present while still supporting the local community!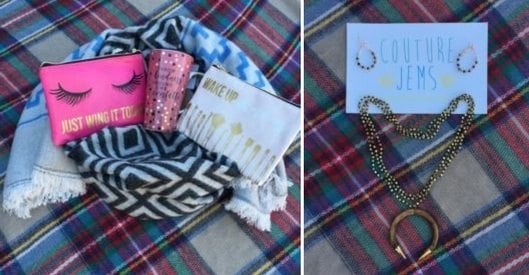 Scout and Molly's: With two locations (one in Sawgrass, the other in San Marco), this is such a unique boutique! They have everything from shoes to scarves to makeup pouches to the cutest party dresses.  Definitely worth checking out for something different and stylish.  The above blanket scarf will keep you warm through the post-holiday Florida chill, and the makeup pouches are totes adorable for someone at any age. And we can all spread a little more kindness, especially during the holidays — this mug is perfect reminder to us all.
Couture Jems: This is my one-stop jewelry shopping boutique — ALWAYS! The owner hand-makes each and every unique piece, some of which includes inspiration from our local beaches.  The above hand-knotted brass bead necklace with a crescent tusk is all the rage right now; I've worn mine almost daily with my outfits! The earrings are handmade with crystals embedded throughout the piece. She also has specials every week and sometimes even some flash sales on her Facebook and Instagram accounts. Make sure you follow her for all the juicy sales!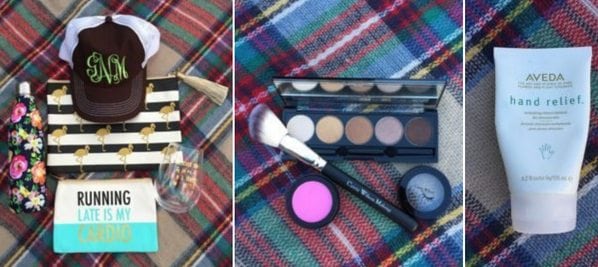 Embellished Boutique: This is my go-to for all things girly and monogrammed, and these are some of my favorite picks from her shop. I would say most of my mom friends need this "Running Late is my Cardio" makeup pouch! (We're moms, so we are excused, right?) And we live in Florida, so flamingos — YES!! Give it to me! This cute steel thermos in the sweetest floral print is also a hit with all the ladies right now, monogramming optional! And all moms need a sassy wine glass to drink from, and one that has a cute saying is even better. While you're getting your vinyl made for your thermos, get yourself a monogrammed trucker hat, too. Perfect for those days when we don't want to do our hair but still want to look stylish. She also runs specials on her Facebook page, so make sure you follow her to be in the know!
Carrie Wilson Makeup: One of my fellow makeup artist friends, Carrie Wilson, recently launched her own makeup line. Y'all know that being a makeup artist myself, I'm picky about the brushes I use and makeup I wear. Her brushes are amazing and at such a great price point. I'm serious, stock up because they're that wonderful. Her blush and eyeshadows are extremely pigmented and look gorgeous on the skin.  You can find all these fabulous pieces at her new studio space in Riverside at 1662 Stockton Street.
Aura Salon: My skin gets really dry in the winter months, and this Aveda lotion is the bomb.com. I use it every night and wake up to super soft hands. Aura Salon on Southside Blvd. is my go-to to grab all my Aveda products.
You can't go wrong with these must-have beauty buys, and let me know if you grabbed any of these gifts for your friends or upcoming holiday parties!