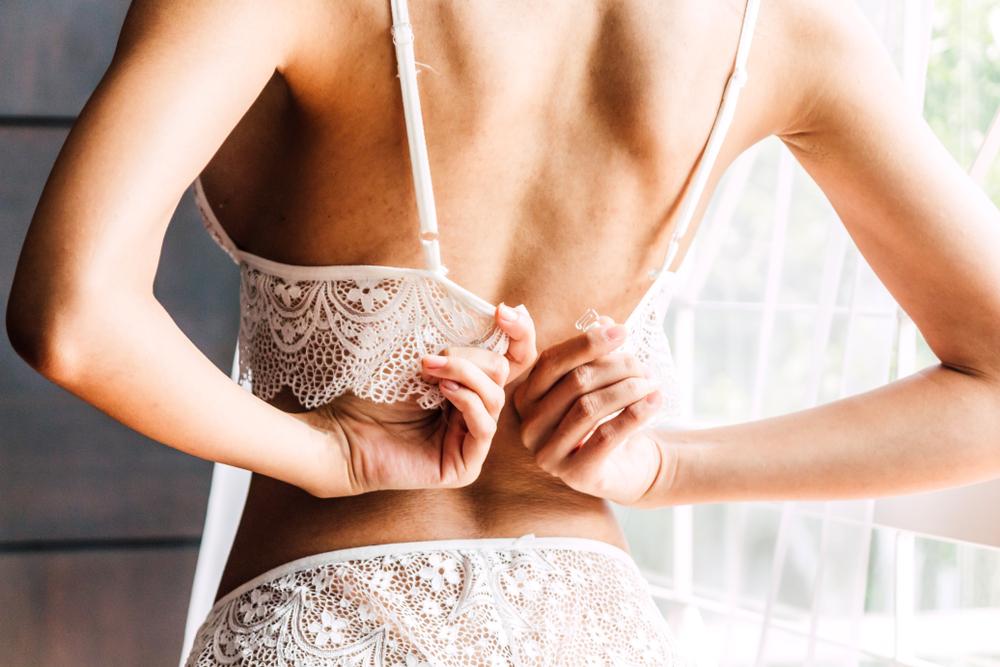 For most of my life, I've worn a size 34C bra. Fine. My breasts aren't spectacular, just regular, but at least I'd finally developed beyond the "carpenter's dream" boys called me in high school — no longer flat as a board. Then nursing my son deflated them from cupcakes to pancakes. I continued wearing my same size, even though their shape had changed. I've heard stylists frequently say the right underpinnings make all the difference — not just in the way your clothing fits, but in the way you feel in clothing. I've wondered occasionally if I was wearing the correct size bra, but not enough to get fitted and try different sizes, and I still felt good in my clothes for the most part.
A few weeks ago, I was enjoying some daily meditation, courtesy of TikTok, and came across a video that ROCKED ME. In 60 seconds, lingerie model @madisonxalexandra proved to me that all this time I've been wearing the wrong bra size. Stores at the mall had her sized as a 36C when she is actually a 28L!!! She put on both bras and went through the different fit checks to show why she is NOT a 36C — and why she IS a 28L. I did those checks on myself and immediately swan dove into the rabbit hole of TikTok to absorb all that is bras, getting fitted, and buying.
I was in Orlando the next day, hit up Bloomingdale's, and spent an hour in the lingerie dressing room trying on 18 bras in different styles and sizes to find two that fit me perfectly. My correct size is not a 34C. It is a 32D/DD. It's not as vast of a difference from 34C to 32D/DD as 36C is to 28L, but I sure felt vastly different walking out of there in my correct bra size. I felt lifted, perkier, taller, more confident — FANTASTIC! When I returned to Jax, I recruited friends to get expertly fitted, and guess what? They were wearing the wrong size, too!

"I don't look like a D cup!" What does cup size really mean?
Understanding that cup size is not about how "large" your breasts are, but that it is the relationship of band measurement (underbust) to bust measurement (overbust) is the biggest misconception. Someone can have a smaller circumference of breast tissue and more projection (like a cupcake) and have the exact volume, and bra size, as someone with larger circumference breast tissue with less projection (like a pancake). The sizes 36D, 34DD, and 32E are sister sizes and share the same cup volume. You can stack them perfectly on top of each other and the only difference will be band length. Conversely, 32D, 34D, and 36D have different cup volumes because of the underbust/overbust relationship. Not all D cups are the same size, and the 32D will be smaller when stacked on top of 34D.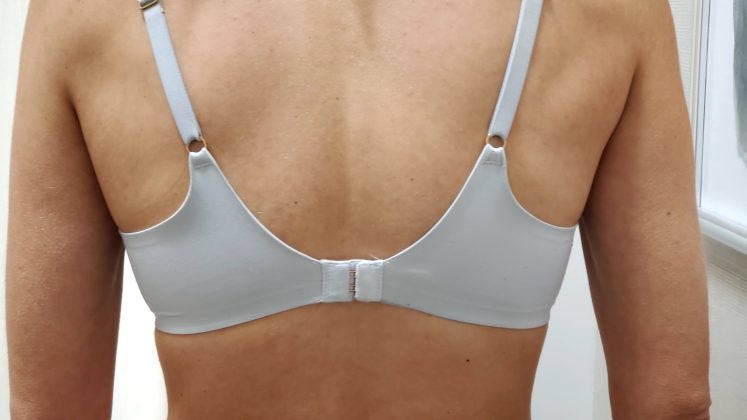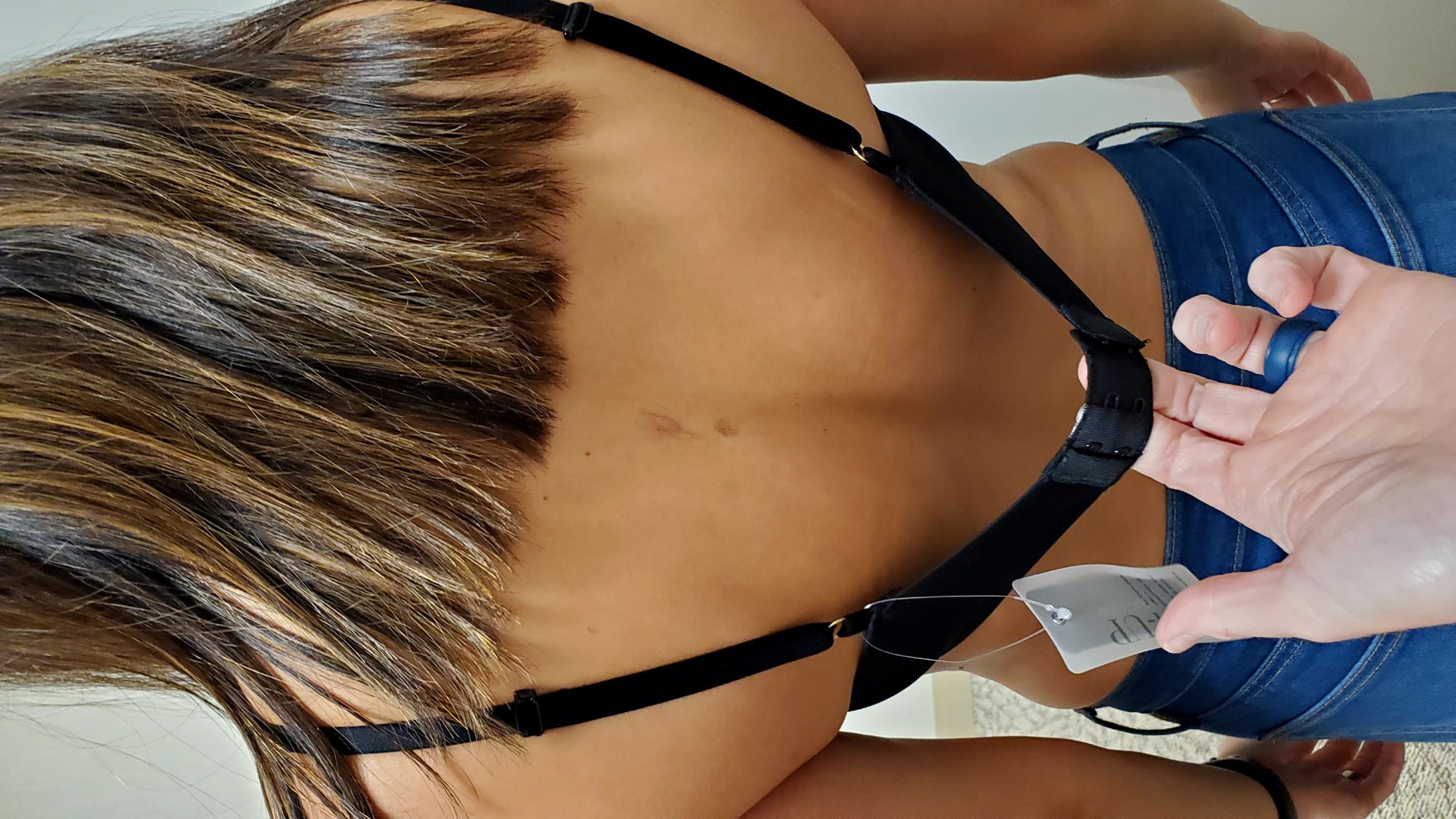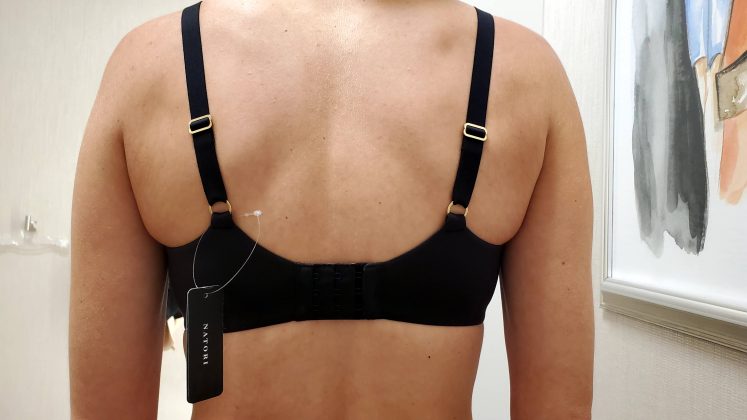 How do I know what is the right band size?
The band is what provides support and should fit snug. New bras should always be worn on the loosest hook. If you start to wear new bras on the middle or tightest hook, then your band size is too large. Eventually, as the bra wears out, you adjust to the tighter hooks. You should only be able to pull the back of your band out a maximum of two inches and properly sized bands should fit horizontal across your back. If the band curves upward, that means your band size is too large.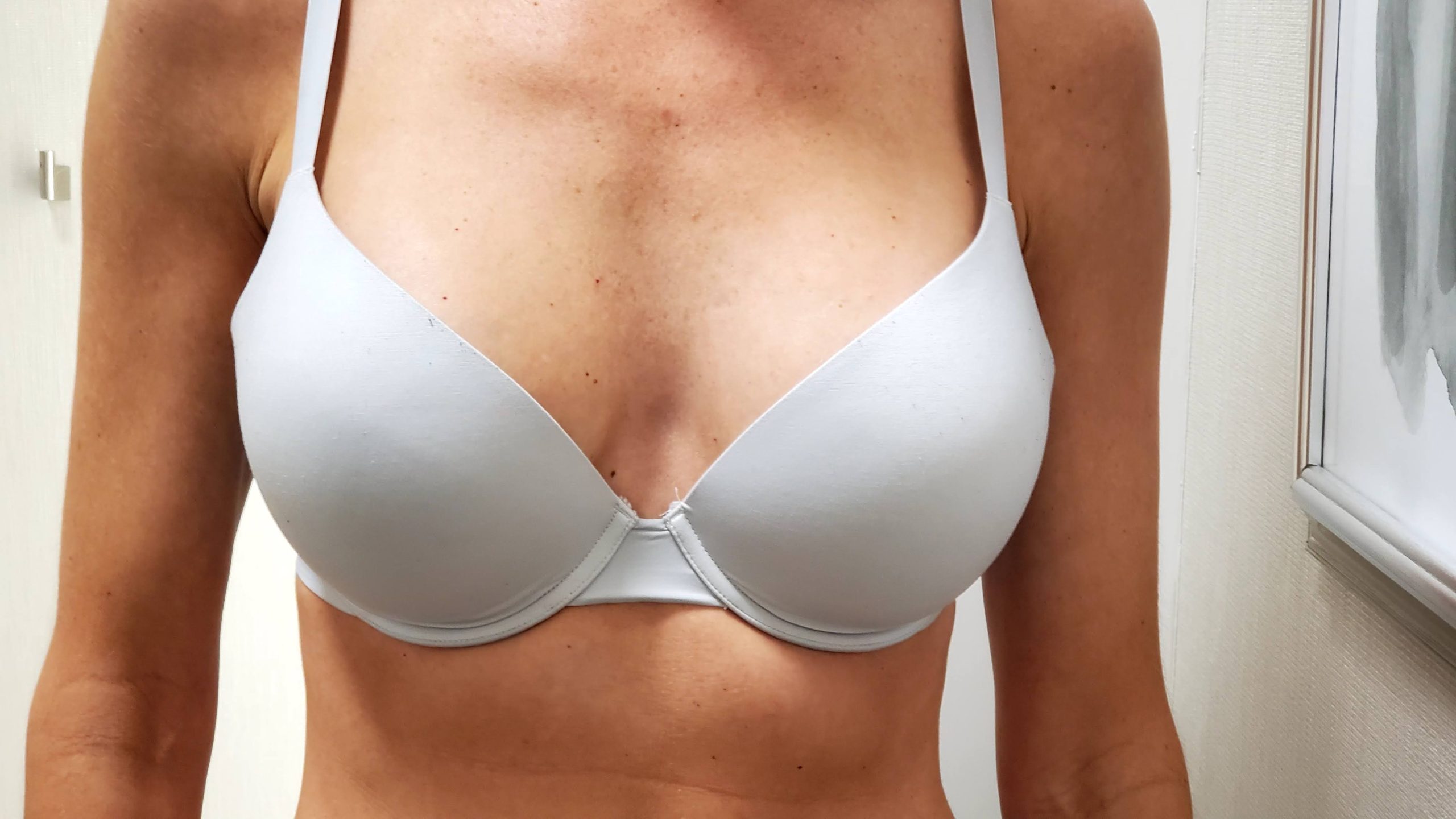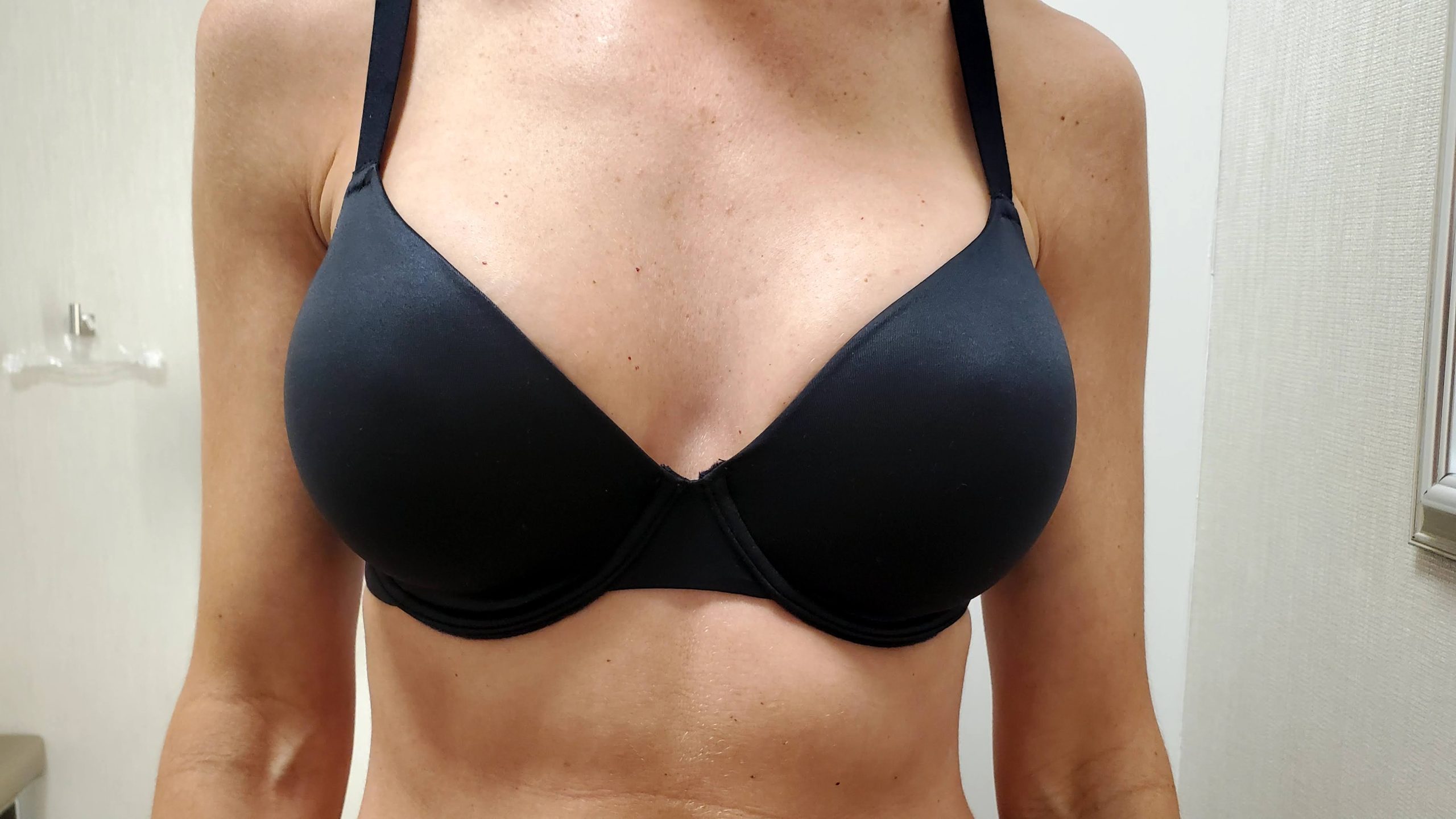 How do I determine my cup size?
Cup size starts with your overbust measurement, then subtract the difference of your band measurement. Generally, in the US, a 1-inch difference = A cup, 2 inches = B, 3 inches = C, 4 inches = D, etc. Also, most women don't consider enough of the side breast tissue when wearing a bra, as the cup should encompass all of the side breast tissue. If the center gore of an underwire bra doesn't sit flat on your chest, then your cup size is too small. If you have bulging breast tissue over your cups, it may be too small or you need to try a different style or brand. Recall I tried 18 bras, all the same style, to find two that fit. If there is gaping in the cup on the top or side, it may be too large. However, before you determine a cup size is too large, make sure you do the scoop and swoop of your breast tissue inside the cup, then adjust your straps.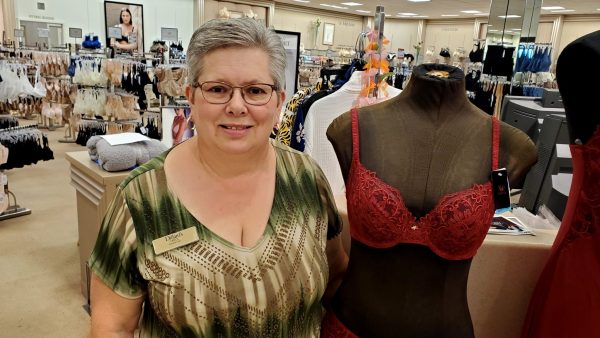 How can I get professionally fitted?
I highly recommend you visit a department store where there is a wide selection of brands and styles of bras — not a mall lingerie store that only carries their brand. My friends and I made a field trip to Dillard's where Carol, a professional expert, helped our gaggle of girls. MANY bras were tried and each friend left with at least one new bra in a different size, better size, than what they wore into the store. If you prefer to try and fit yourself at home, A Bra That Fits has made it easy for you! Check out this bra calculator that has you take six measurements to determine your best size.
If you wear a smaller band or larger cup size than what is commonly found in stores, here are some online stores to try after you determine your proper bra size: Bare Necessities, Bravissimo, HerRoom, Brastop.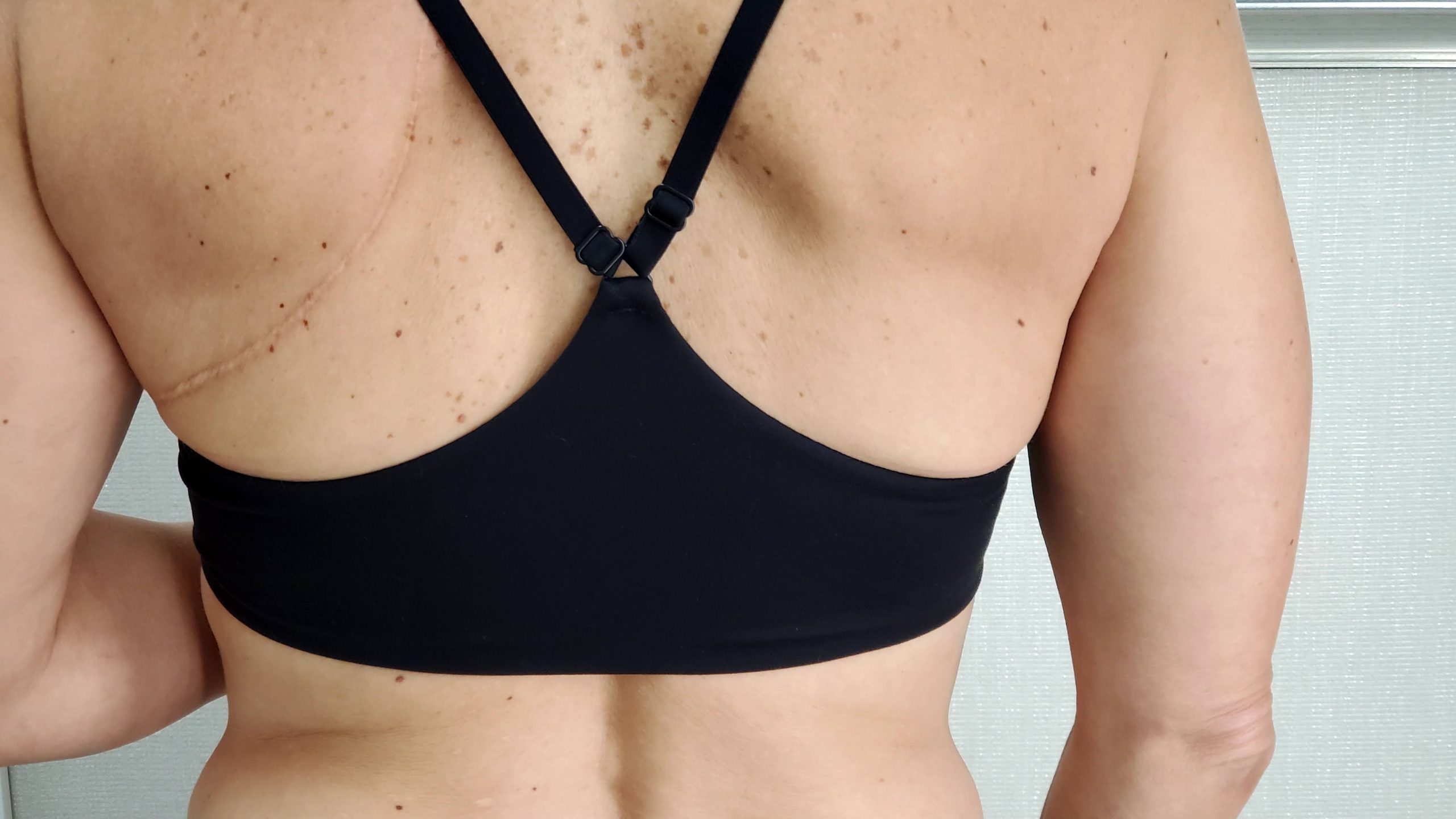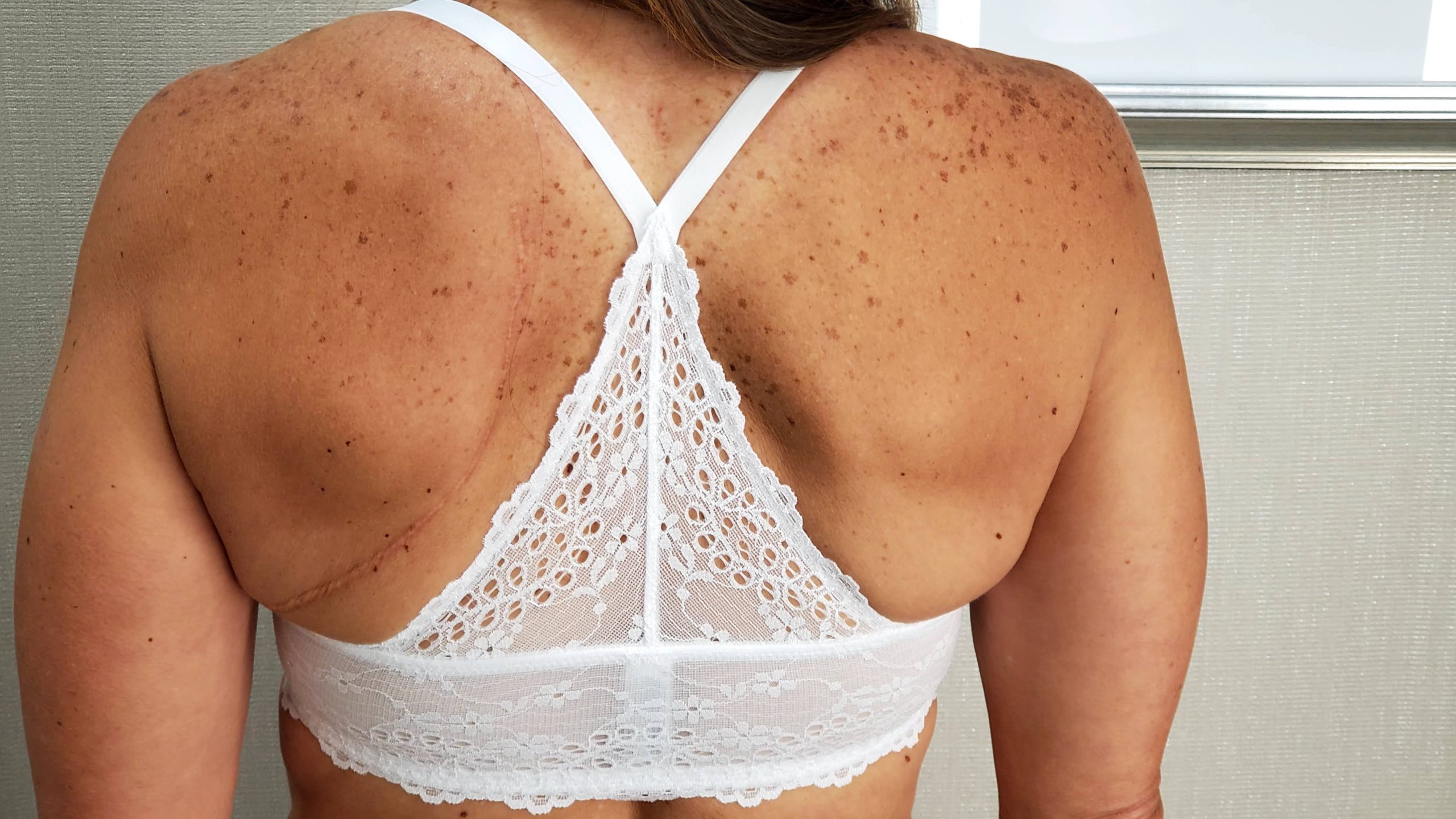 Remember…
Approximately 85% of women are not wearing their correct bra size. So, heed these helpful tips when shopping for a new bra or getting fitted for the right size:
Most people have asymmetrical breasts. Fit your bra to the larger breast and fill the smaller cup with an insert if needed.
Like shopping for bathing suits or jeans, you may be a different size in different brands or in different styles of the same brand. I prefer demi-cups, and the two I found are different sizes: 32D in one brand and a 32DD in a different brand.
Your band should fit snug hooked on the loosest hook, entire breast tissue should fit inside the cup, and there should be zero gaping or boob spillage! Don't forget to scoop and swoop!
If ordering online, read the comments to see how the bra fits compared to standard bras, and follow recommendations of buyer reviews and the fit expert reviews. Try your sister sizes based on reviews.
Lastly my lovelies, you are beautiful. Your breasts are beautiful. You deserve a bra that makes you feel beautiful. I never imagined this seemingly small thing I did for myself would lead to such a boost in how I felt and carried myself! 
Now, who's trying a new bra?