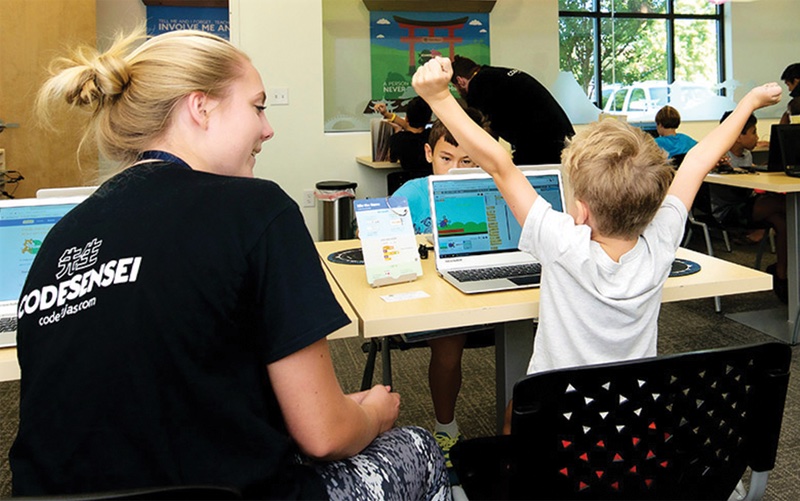 Teach my kid how to what!? I can barely help them with their math homework. Before you write off this suggestion, let's learn a bit about coding. It is an emerging industry, and much like learning a second language, we are starting to realize that teaching kids at a younger age actually comes more easily to them. We are going to cover the top five reasons to teach your kid how to code with Code Ninjas. And here's the greatest news of all… you don't even have to do it yourself!
Prepares your child for the future
Technology is truly changing the job market. New jobs are constantly being created: developers and programmers, machinists and builders, engineers and designers. Even self-service is replacing low-skill, entry-level positions like cashiers, stockers, and delivery drivers. Automation is forcing the labor market to "upskill," and instead of being checkout clerks, the next generation is becoming the designers of self-checkout machines.
It's the backbone of everything we do. If you are in sales, you need a CRM (customer relationship management solution). If you are in banking, you need a financial management solution. If you are in retail, you need a payment processing solution. If you are in marketing, you need to create websites, design ads, and leverage a marketing engine. In essence, coding makes a lot of our work lives easier. We can automate routing tasks, it helps create order and structure in project management, and it helps us build routines.
Technology is required for every job, and whether it's banking or retail, everyone needs to have a basic understanding of coding and technology to be successful in the workforce.
Improves academic performance
Coding requires attention to detail. You miss a colon or misspell an object name, and your code breaks and your application does not work. Coding uses mathematics — in order to have an object move across the screen, it requires an understanding of basic math, geometry, and algebra.
It also encourages good grammar. While computer languages (JavaScript, Python, C#, etc.) are different than a written language like English or French, they place importance on proper spelling, standard formatting, and importance of consistency. Coding requires keen attention to detail to capture the proper placement of capitalizations, spelling, and overall format (referred to as syntax).
Develops a variety of skills
Critical thinking: With coding, you are turning an inanimate object into a working solution. This requires coders to think through how they will solve a problem in order to find the solution. What has to change, what function do I have to create, and how do I make this thing move?
Problem-solving: When creating new functionality, a coder is required to think through what steps it will take to develop the solution, breaking down the solution into specific steps and turning each step into a line of code.
Logic: Thinking logically is key, such as with algorithms, which are a procedure or formula used for solving a problem in a finite number of repetitive steps.
Creativity: Coders are creators. They turn their ideas into reality. As a coder, you can create characters. You create the digital processes that optimize the way we work, shop, and live life. And with coding, you can create new applications, video games, and robots.

Fulfills your child and impacts others
There is a huge sense of accomplishment when you create solutions and you watch formulas come to life on a screen. It fulfills you at a deeper level. When you create a solution, it's scalable. It doesn't just impact one person, it has the potential to impact the world. It impacts every user. In today's mobile world, digital solutions have the ability to quickly scale and improve the quality of life for many. A great example is Facebook, reaching billions of users within just five years and helping people connect with long-lost friends or family.
Think about the top of Maslow's Hierarchy of Needs: Esteem. We are building confidence in your kids when they learn to solve programs and achieve self-actualization (discovering their full potential).
Learn in a fun environment
At Code Ninjas in Ponte Vedra and Fleming Island, they create a fun, vibrant, and innovative atmosphere where kids can work with a group of peers with similar interests and build a positive network. They can learn to code by playing games like Roblox or Minecraft. It's also fun to show off your new creations and get positive feedback from other users.
Code Ninjas Code Senseis® support and encourage your child team during their session. They'll build and grow alongside fellow ninjas in a state-of-the-art dojo. They also offer year-round and summer camps, and parents' night out on Fridays!
Special Offer for Jacksonville Mom Readers
Coding empowers kids to bring their ideas to life. Learning to code helps kids create new things and find solutions to common problems. Who wouldn't want that for their little one? Give Code Ninjas a try today! Their Fall into Coding special begins today…get $100 off your first month when you mention Jacksonville Mom. Call them today to schedule your first class (game building session), which is always free!
About Code Ninjas
Code Ninjas
is the nation's fastest-growing kids' coding franchise. In our centers, Code Ninjas Fleming Island and Code Ninjas Ponte Vedra, kids ages 5-15 learn to code in a fun, non-intimidating way — by playing and building video games they love. Kids have a blast and can't wait to come back. Parents are thrilled as their children gain confidence and new skills including coding, math, logic, and problem-solving, as they progress from white to black belt. We make coding fun!