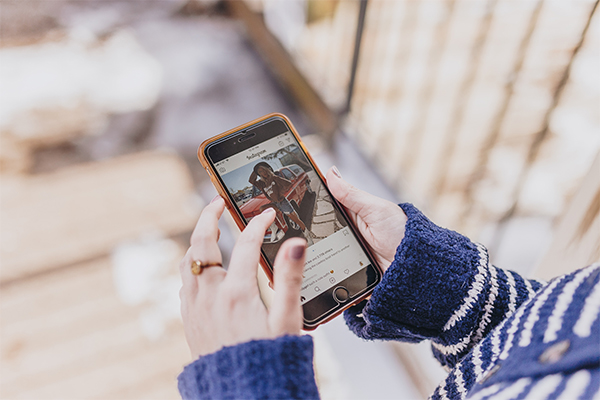 Okay, I admit it, I love shopping. Online. I don't have time for anything else. It's fast, easy, and shows up at my door. Amazon will let me return it for free. With my favorite websites, I've got my sizes and my kids' sizes down and don't need to return things. (Except Native shoes, which I can never ever get the size right for. J-12 is NOT a shoe size, people!)
But, I admit, I have also gotten burned shopping online. Those late-night Insta-scrolls, they've gotten me. I'm a sucker for a pretty picture. But when those things I bought at midnight actually showed up at my door some months later, I realized I'd been had — dresses that didn't fit or were see-through, a bag that looked nice but wasn't well made. After an embarrassing four Insta-shopping fails, let me save you the pain — here's my advice on things you should always look for before buying something online with a single Instagram click.
Read the comments on the ad. ALL of them. Yes, do it. Read the comments about customer service. Run the other way if people are complaining about the amount of time it takes to receive something they ordered. If the product arrived without a piece or was dirty or damaged. See if the company responds at all to complaints, offers to help, doesn't respond at all, or just makes excuses. And check out what profiles you can of people who commented to see if they have actual real profiles. I know the item looks pretty and it's a good price, but sometimes internet trolls are good for something and they speak the truth!
Go to the company's actual website. Close Instagram, and Google them. See if they have a real website. See if they have a real Facebook page. Read those comments. Make sure the page has actual followers and more than a few posts over a long period of time. See if there are any online comments or reviews not on Instagram or Facebook about the company. Read them all. Check their real website. Are the grammar and syntax correct? What are the shipping rates? Return policy? Really important: Is there contact information? Not just a contact us box where you put in your email and type your issue, but a real phone number, street address, and email address. If not, red flag!
If you buy, check your email receipt immediately. I was looking for linen clothes to wear to work in the summer. I thought I'd found a great site with cute inexpensive (it's linen) clothes. Was I wrong. I ordered a bunch of dresses, but when I got the receipt it was not in English. At. All. I immediately waged an email war campaign requesting a refund, several times a day, until finally, someone responded. They actually did refund me for the clothes that hadn't yet shipped but said there was nothing they could do about the ones that had. Halfway through the summer I finally received them. I'd ordered three medium dresses. One was so short I had to use it for a beach cover-up. One was definitely not linen and had a button sewn over a tear in the fabric in the sleeve, but that dress was so small I couldn't have worn it anyway. The other was completely sheer. I wore it a few times with a slip but that was it. What a waste.
Screenshot and Google search the image in the ad. I saw a really cute dress several times in my feed until I finally gave in and bought it. Perfect for my birthday, I thought. When the dress finally arrived, it didn't look like the picture at all, other than the general pattern. It was straight-up polyester, the kind that would go up in flames in 30 seconds if you stood too close to a candle. Later, after searching the company online, I learned that the actual photo in the ad was of a dress from Anthropologie from a few years ago. Google Imaging the ad could possibly have saved me the disappointment.
Report the ads. Some of the companies I bought stuff from had the audacity to keep targeting me for ads. So I relentlessly reported them as scams — click on the three dots on the top right of the ad, click "report ad," click "scam." Eventually, they stopped.
Now, not everything I have bought off Instagram has been a fail. I have some great eyeshadow from Glossier and a pretty necklace from Keil James Patrick. But those times I did my homework before I made a purchase and it worked out just fine. Maybe I was naïve or just too willing to take advantage of a deal, which I'm sure those super marketing gurus know, but you get what you pay for and I've learned my lesson. Now I never buy off Instagram without digging deeper. Here's hoping I save you the time and trouble!