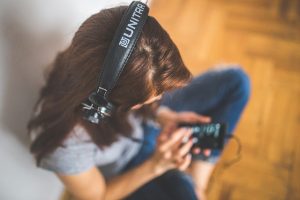 You're 13 years old and driving in the car with your father. He has AM radio on (you remember AM radio don't you? Go away, younger millennials, I am not explaining this). There are boring men speaking, and once in a while a woman who sounds like she taught you the Dewey Decimal System. There are mentions of legislation, wars, and something about a guy named Dow Jones. You are zoned out and bored out of your mind, hoping your dad lets you connect your Discman so you can show him who Nirvana is. Good luck. You sit there in that car swearing that you will never be THIS boring of an adult listening to people talk as you drive around. Silent promises to yourself of the hottest mixed CDs would be the ONLY acceptable items allowed in your car. Flash forward and here we are in 2019, in an era of Podcasts and us showing our parents how great these little episodes of only people talking can be. This is who we are now.
My Very First Subscribe
I was uneasy about the Podcast at first; there weren't a ton that I felt compelled to be apart of or dedicated to. Then suddenly it happens, your very first podcast that you hit "subscribe" to and start telling all your friends about. Mine was a little one called Armchair Expert, hosted by Dax Shepard, a.k.a. Mr. Kristen Bell, a.k.a. Anna from Frozen. This man's podcast has everything I want in ear entertainment — humor, celebrities, real-life experts, and the ability to make any human interesting. He has an uncanny ability, along with his sidekick Monica, to make you feel like you want to sit in an attic and talk to whoever shows up. Each guest he has had, from Will Ferrell to Dr. John Gottman, feels like my new best friend within the hour I have listened. It usually shocks me when I find out that someone hasn't listened to Armchair Expert, and I feel a personal responsibility to get them to listen to it.
The Ultimate in Mom Boss
I assume by you reading a post on a website such as ours, you are a parent — and probably a mom. There are two women out there who are nailing the "moms in social media" career, and lucky for us, they have a podcast. Their names are Cat and Nat, with their podcast of the same name, and are straight out of Canada. Cat and Nat have been bringing everyone who finds them real, raw, funny and hard motherhood moments for the past several years. They have been on live tours and even recently published a book. Lucky for us later in 2018, they decided to give us the next best thing to zone out and ignore our kids for a minute to: a podcast. This is my personal podcast to ignore the world, a.k.a. not socialize while my kid is at an afterschool activity. It has a significant amount of humor and an unexpected amount of advice on achieving some serious #momboss goals. They give me a lifeline when I think no one gets it, encourage me through their own stories of wins and losses in developing a business for themselves, and I feel like I could high-five them through my headphones when they discuss mom guilt from having goals of your own aside from raising tiny humans.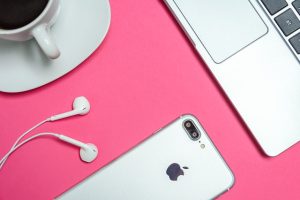 Step Aside Keith Morrison, There's a New Place for Murder Mysteries
There are a LOT of murder-solving podcasts that have popped up in recent years. The OG of them is My Favorite Murder, which I highly recommend, but if you want to dive deeper I am here to help. I have listened to a few of these in the past couple years, and my new current favorite is To Live and Die in LA. How do I describe it, without ruining details? I can't. To be honest, I am still listening to it as well, so don't ruin anything for me. To Live and Die in LA is also produced by the same team who did Up and Vanished, which I also enjoyed. Crime podcasts are for those of us who enjoy a solid episode of Dateline but are sick of obvious outcomes, to those who really enjoy knowing your stance on the Jon Benet Ramsey case, and people who like a solid mystery series. There are a lot of psychological layers to these types of podcasts and it makes them ADDICTING. Listen with caution, and I wouldn't recommend around kids who are cognizant enough to understand what is being discussed.
Not Your Mom's Sex Talk
Welcome to adulthood, we now listen to a woman talk about sex and it's not awkward. Sex with Emily is a woman who can make any weird question or taboo pertaining to your sex life, or lack of, seem normal. I have been listening to her for quite some time and let me say that she has completely changed my mind on certain topics and made me feel at ease with others. There isn't a sexual subject she hasn't touched on (pun intended). Lots of her podcasts have experts on as well as other famous celebrities, writers or podcasters as well. She also has a doctorate in Human Sexuality and has been specializing in the subject of sex for years on end. I highly recommend listening with your partner, and maybe even getting some ideas on what to try when the headphones come off… or leave them on — no judgment.
Nerds Unite!
Okay, so maybe this podcast isn't explaining how light years work but it is explaining some really amazing businesses that you probably use or go to. How I Built This with Guy Raz is produced by NPR, which should give you a full moment of "I've become my parents." You're welcome. The big difference is that this NPR show won't make you fall asleep from boredom, especially with the minds behind businesses like DryBar, TOMS shoes, SoulCycle, Method, Whole Foods and so many more. I find it fascinating on how these big names got started and where the ideas came from. You hear about their successes but also about their failures and what they were able to learn from it. Hearing how life led these entrepreneurs to where they are now in these successful brands fills my brain with hope and encouragement.
For me, podcasts provide a moment away from the endless Baby Shark or Disney Channel noise that my household produces. It makes me feel connected to other humans and in an easy, on-the-go format. Put on a podcast while you're doing work or endless laundry, and I swear the task goes by quicker. These are a simple handful of the podcasts I enjoy on a regular basis, but there are a solid amount still waiting to be shared in my subscription list. All of these podcasts can be found where you listen to your music online — Spotify/Apple/Google.
What are some podcasts you absolutely love? Share them with me below!