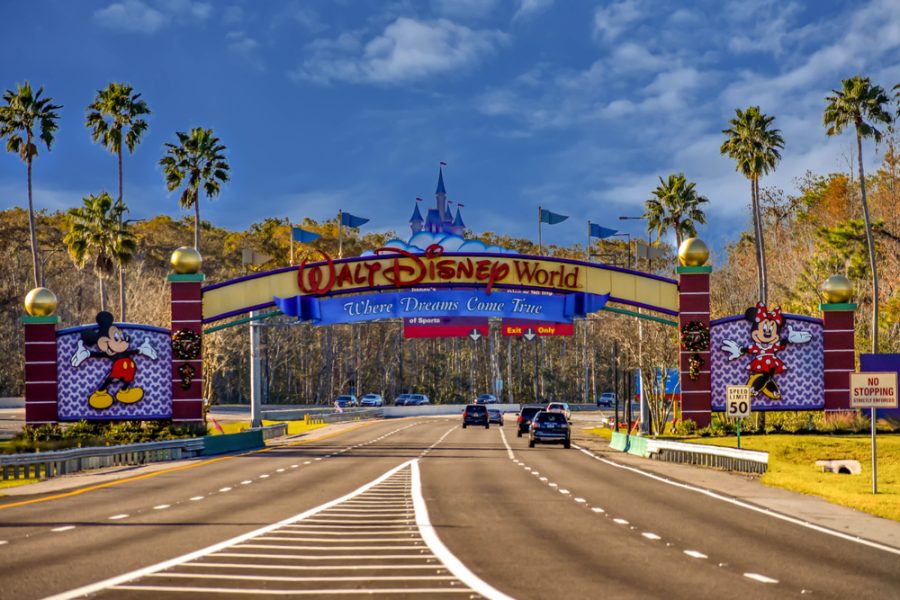 As a lifelong Disney junkie, and a wannabe Disney Parks Moms Panelist, one of the saddest parts about the COVID-19 shutdown was the closure of all Disney parks — every single one across the globe. I was supposed to take a trip earlier this month, but that, of course, was canceled. It would have been the first time one of my kids set foot at Walt Disney World Resort. Is it the biggest deal, in the grand scheme of things? Of course not; it doesn't compare to the much bigger hardships the pandemic has wrought to people across the world. But it still hurt my Disney-loving heart to see the pictures and video of, say, the Magic Kingdom, empty and abandoned.
But there's good news on the horizon! Local news is reporting that the reopening of the theme parks in Orlando is imminent. The Shanghai Disney Resort already reopened, and Disney Springs reopened this week. The big question is, what can we expect when our beloved Walt Disney World Resort lets us experience the magic again? Looking towards the Shanghai Disney Resort and Disney Springs reopenings can give us some clues.
Smaller crowds
For all of us Floridians, this might come as a welcome adjustment. We're used to taking on EPCOT or the Animal Kingdom and groan at all of the out-of-town tourists flooding the park, making long lines and crowded walkways. At Shanghai Disney Resort, however, they were only allowing up to 30 percent capacity — and the number of guests who actually showed up was far fewer. Travel restrictions were also in place in Shanghai, meaning most of the people who visited were local — it's not far-fetched to assume that Walt Disney World Resort will likewise at least initially limit guests to Florida residents only.
More cleaning
In Shanghai, there were more cast members working than there were guests visiting. According to Andrew Bolstein, SVP of Operations for Shanghai Disney Resort, who gave an interview to CNN, that's because they increased the number of custodial cast members, so there are even more people cleaning than before.
Temperature checks
At both Disney Springs and Shanghai Disney Resort, there were temperature checks required to get in. Just like at a doctor's office, a cast member will use a no-touch thermometer, and anyone with a temperature of over 100.7 will not be allowed into the park. And that goes for their entire party, too — so if dad has a slight fever, mom and all the kids can't go, either.
Masks required
Everyone will have to wear masks at Disney parks, and presumably, this rule will apply at other Orlando theme parks as well. Cast members and guests alike will have to wear masks the entire time, including while on rides. The only people exempt are guests who are 2 or younger. You can only remove them when you're sitting down to eat.
Cleaning stations
Have you ever been on a cruise? If so, you might have noticed hand-washing and hand sanitizer stations scattered across the ship. And the same thing will take place at Disney parks. Disney Springs and Shanghai Disney Resort both have placed hand sanitizing and washing stations throughout the park.
Required social distancing
We've all seen the tape placed on the floors at stores like Target and Publix, telling us where to stand as we wait to check out. Well, they're going to be everywhere at Disney parks as they reopen. At Shanghai Disney Resort and Disney Springs, they have markings showing you where not to stand, which is a little different, but guests have evidently been keeping up with the enforced social distancing so far.
Fewer attractions
While most of the attractions at Shanghai Disney Resort were open, some were still off-limits; these were mostly interactive attractions, where guests would be encouraged to touch things, and children's play areas. Some of the stores and restaurants at Disney Springs likewise aren't open, though the shopping and entertainment complex itself is. We can expect that at Walt Disney World Resort, there's a decent chance that not everything will be open or available.
No character meetings
At Shanghai Disney Resort, you could no longer meet with your favorite characters like Mickey or Cinderella and give them a big hug. Instead, you can only take photos from a distance, usually selfies. There's no reason to expect it will be any different at the other Disney parks; it's too risky for both guests and cast members alike to encourage hugs and high-fives during character meetings.
Will you visit Walt Disney World Resort when it reopens?