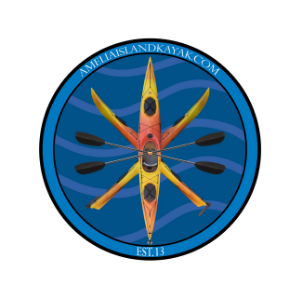 Amelia Island, Fernandina Beach, FL, United States
Amelia Island Kayak Excursions is an award-winning local family owned/operated business offering professionally guided kayak, rentals, Hobie Mirage® Kayaks & SUP's, and motorboat tours for Amelia Island and the surrounding areas. They offer a variety of kayak tours for all experience levels ranging from black water wooded environments, salt marsh estuaries, to Cumberland Island National Seashore, the Okefenokee National Wildlife Refuge, and the Suwannee River. They offer family-friendly tour options as well as complimentary jump seats for little ones and host Kids and Teen Kayak Camps. With all of their kayak tours, they provide a complimentary bottle of water, a pretzel type snack for each guest, and a free digital photo album. "We love what we do and it is our goal to help our guests have an authentic, fun, and informative experience as they explore the natural settings of our area. Kayaking is a wonderful way to get off the beaten path, and we would be delighted to be a part of your time on the water. Let's Go kayaking!"
Awards:
We are honored to have received the following awards:
#1 Guest Rated on TripAdvisor for over 7 consecutive years in the following Amelia Island categories: Outdoor Activities, Tours, Kayaking, Wildlife/Eco Tours, Boat Tours, and Water Sports.
Jax Best Water Sports Rentals
U.S. Senate Small Business of the Week
Nassau County Chamber Small Business of the Year
Jacksonville's Bold City Best of the Best Watersports
Amber and Mr. Bullington (Mark) really know what they are doing. As soon as I was in my kayak and started paddling, the worries and stress of everything went away. What a quick 2 hr trip. Lots of scenery to look at – so many different trees, turtles, flowers. I didn't know that anyone actually lived on the creek.
Would I do it again? I would do it every day if I could. I learned about the color of the creek and some history (which I love any way). Great people, you can tell they have found the 'stress free' job
You must login to post comments
Best part of my vacation!
I just spent a whole week on Amelia Island for my soooo needed vacation. I have to say Kayaking with Amelia Island Kayak Excursions was one of my highlight of my trip. It was very relaxing and fun. The whole experience from booking, the day of Kayaking was sooo smooth and amazing. I had Amber as my tour guide. She was super friendly and welcoming. The reason I liked them soooooo much was because they would ask questions to get to know you better first and then give you recommendation on which route you should go to according to your experience. They knew I was a beginning so they put me in a smaller group on the day of so I won't feel so much pressure to catch up with other ppl. Amber was very patient with me. She would go through all the technique and guide me slowly so that I didn't feel left alone. She also took pictures for the group and create the individual album on the facebook page which I think it's very thoughtful. I would highly recommend Amelia Island Kayak Excursions to anyone who is looking for a fun, relaxing experience. Kayaking with these lovely Staff who actual care about you, you can really feel the love and made the whole kayaking experience sooo much fun!! Thank you soooo much guys!!! All the Best!!!!
You must login to post comments