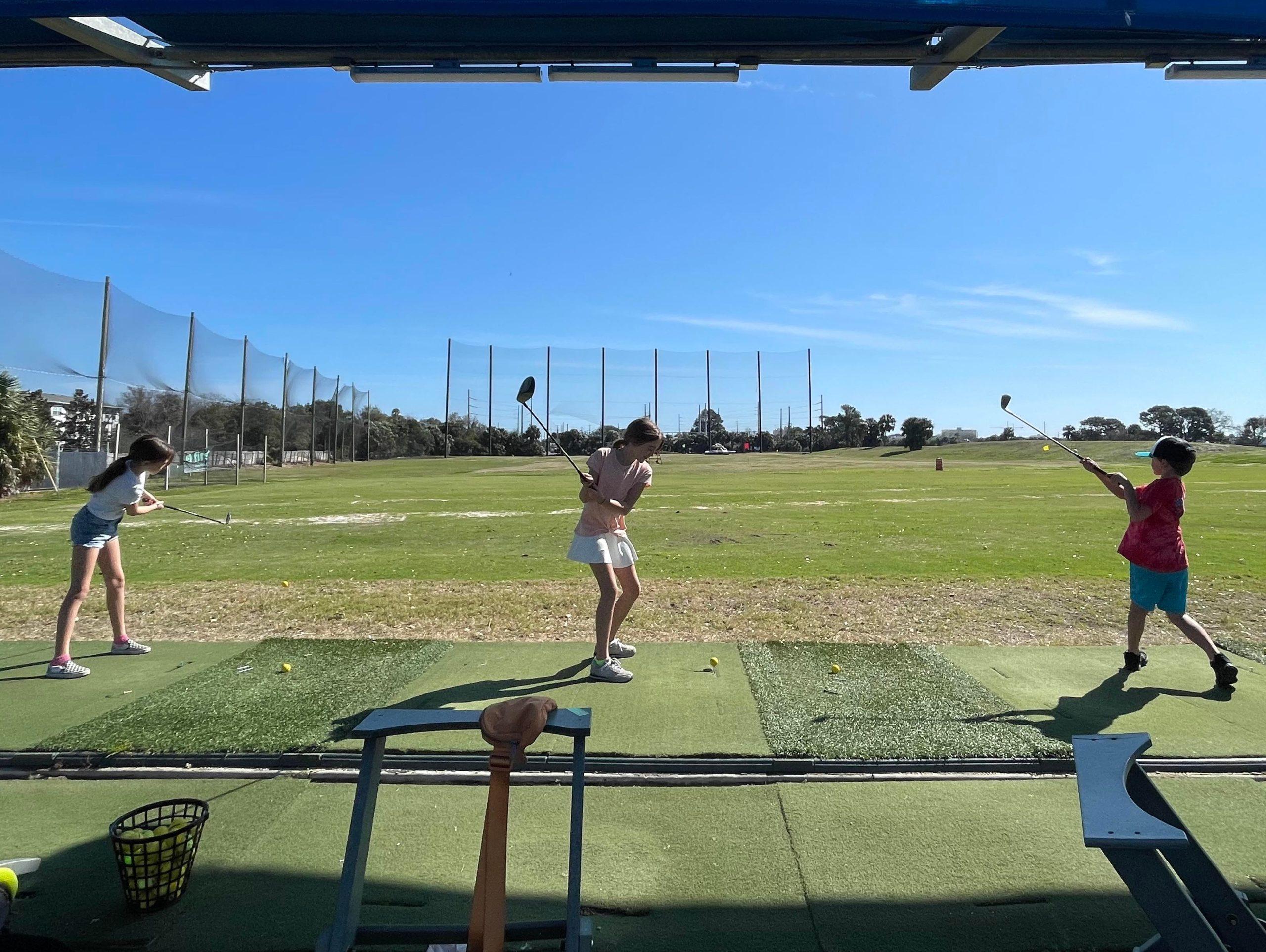 If you want to show off how amazing your golf skills are but are not quite PGA material just yet… then look no further! Here are some golfing places in and around Jacksonville where you can take the whole family and release your inner Tiger Woods!
Jacksonville Beach Golf Club (Jax Beach)
Jax Beach Golf Club offers a driving range with night lights, so you don't have to stop the fun even after sunset. My friend Crystal loves making core memories here with her kids and their pops!
Adventure Landing Miniature Golf (Jacksonville Beach)
Adventure Landing Jax Beach is definitely one of the tried-and-true miniature golf courses in the city, and I am glad this place is still open in 2023! You better check it out with the family before it closes for good. The water park will also be open this summer!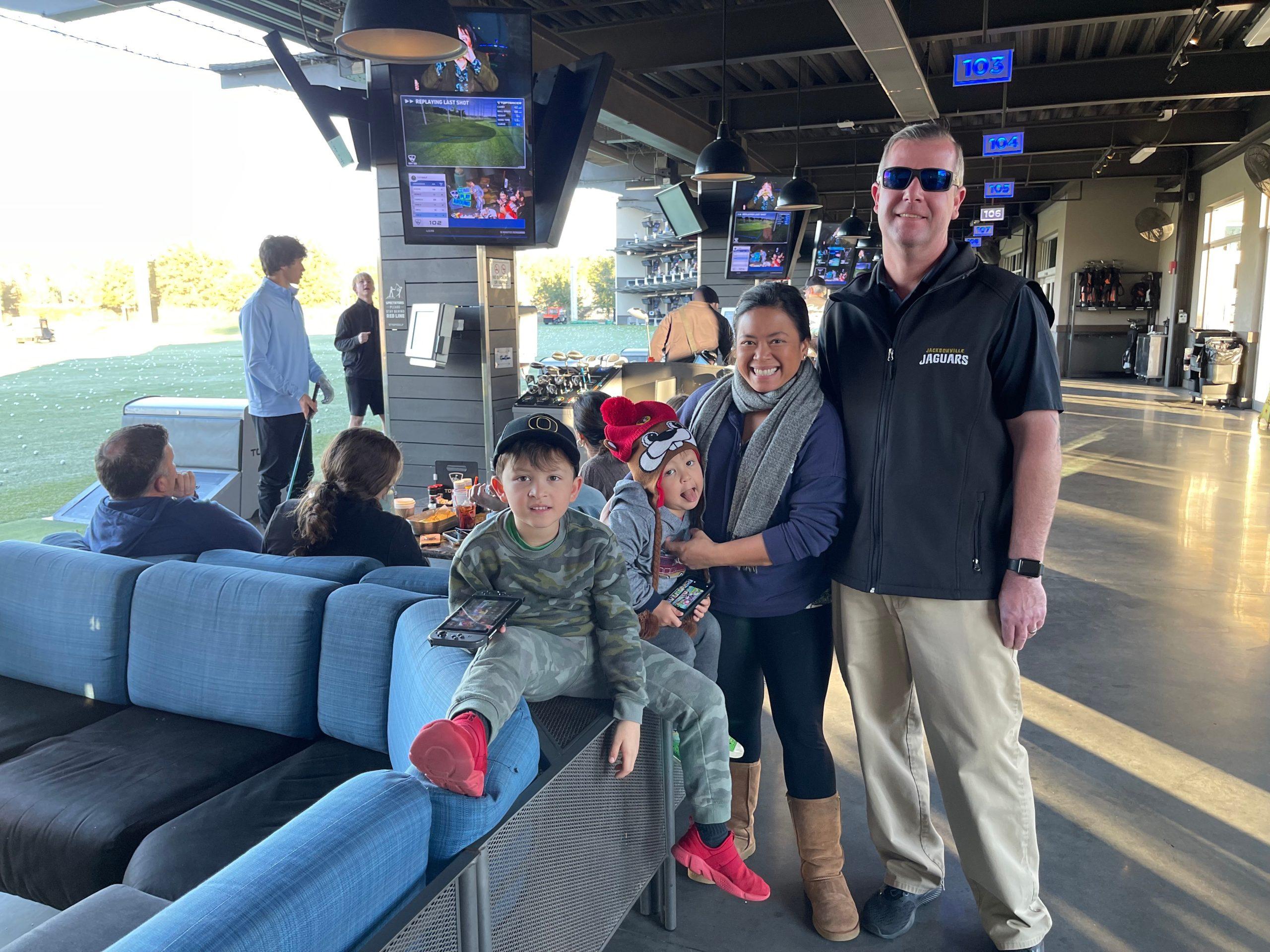 Top Golf (St. Johns Town Center)
Top Golf is an amazing place with bays that can fit up to eight people as you take aim at the giant outfield targets. See who can get the highest score — just like bowling! Rain or shine, you'll be warm and dry playing at whatever floor level you choose, although we always pick the first floor when we have our toddler with us. (It gives me peace of mind!) This place is perfect for large or small birthday parties, too, or just a Sunday Funday family outing. Bonus: They have half-price on Tuesdays! There's also a miniature golf area at the front side of Top Golf.
UNF Golf Complex (University of North Florida campus)
Also known as the "Golfplex," the UNF Golf Complex at the Hayt Learning Center is the University of North Florida golf facility. It is a public course and a practice facility for the North Florida Ospreys golf team, but families are welcome to play!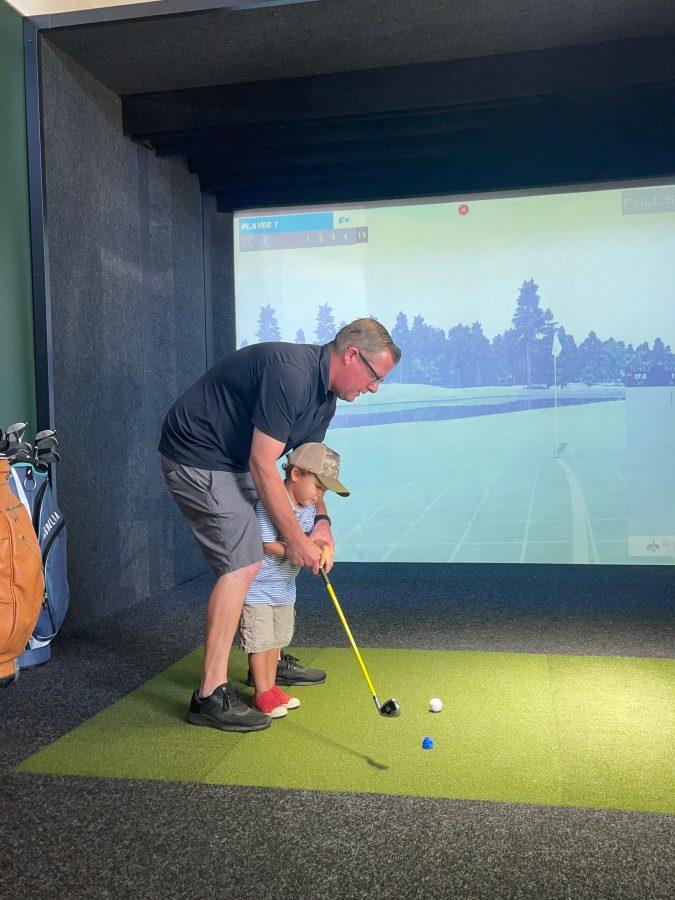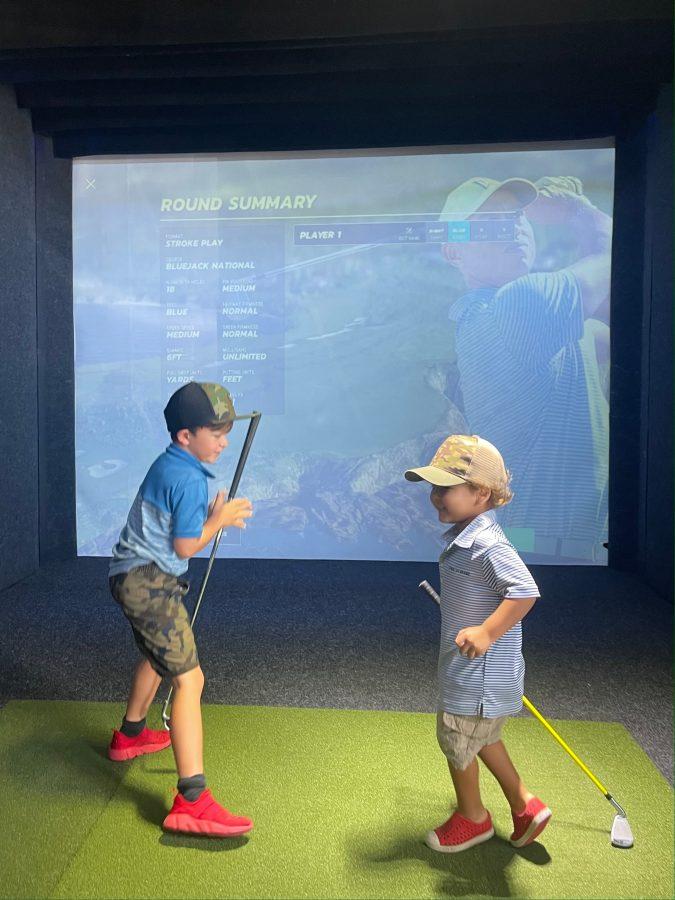 Forescore Golf & Tavern (San Marco)
Enjoy the golf simulator at Forescore Golf & Tavern with family and friends at this sports bar and restaurant located in the heart of San Marco Square. My kids love it here because the simulator has other interactive games besides golf. So they can play baseball, soccer, or even carnival games. Such a cute place also for kids' birthday parties!
World of Beer's Interactive Driving Range (Southside)
Kind of like Top Golf and Forescore Golf & Tavern in one is World Of Beer's Interactive Driving Range. Relax in the lounge area and enjoy playing the golf simulator with your family. Children are welcome!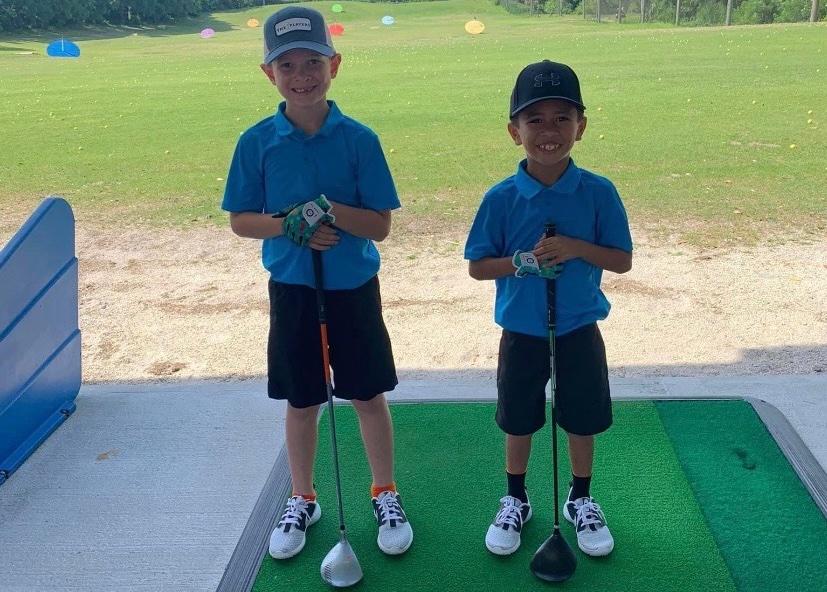 Blue Sky Golf Club (East Arlington)
Blue Sky Golf Club is a driving range in East Arlington with a fun, family-friendly atmosphere. The place is shaded with tables and chairs. Kids can play cornhole or sit and relax on the Adirondack chairs by the fire pit. It is a great place for birthday parties, and they do breakfast with Santa at Christmas! My friend Ruby loves taking her family here, and you can't beat half-off burgers on Friday nights.
Grand Slam Batting Cage & Minature Golf (Arlington)
Located in Arlington, Grand Slam Batting Cage & Miniature Golf is a fun golfing place for the family if your kids are into baseball also, seeing as there are batting cages.
Batt Family Fun Center (Westside)
Located in the Westside off Cassat Avenue, the Batt Family Fun Center bowling alley also includes 18 holes of glow-in-the-dark miniature golf.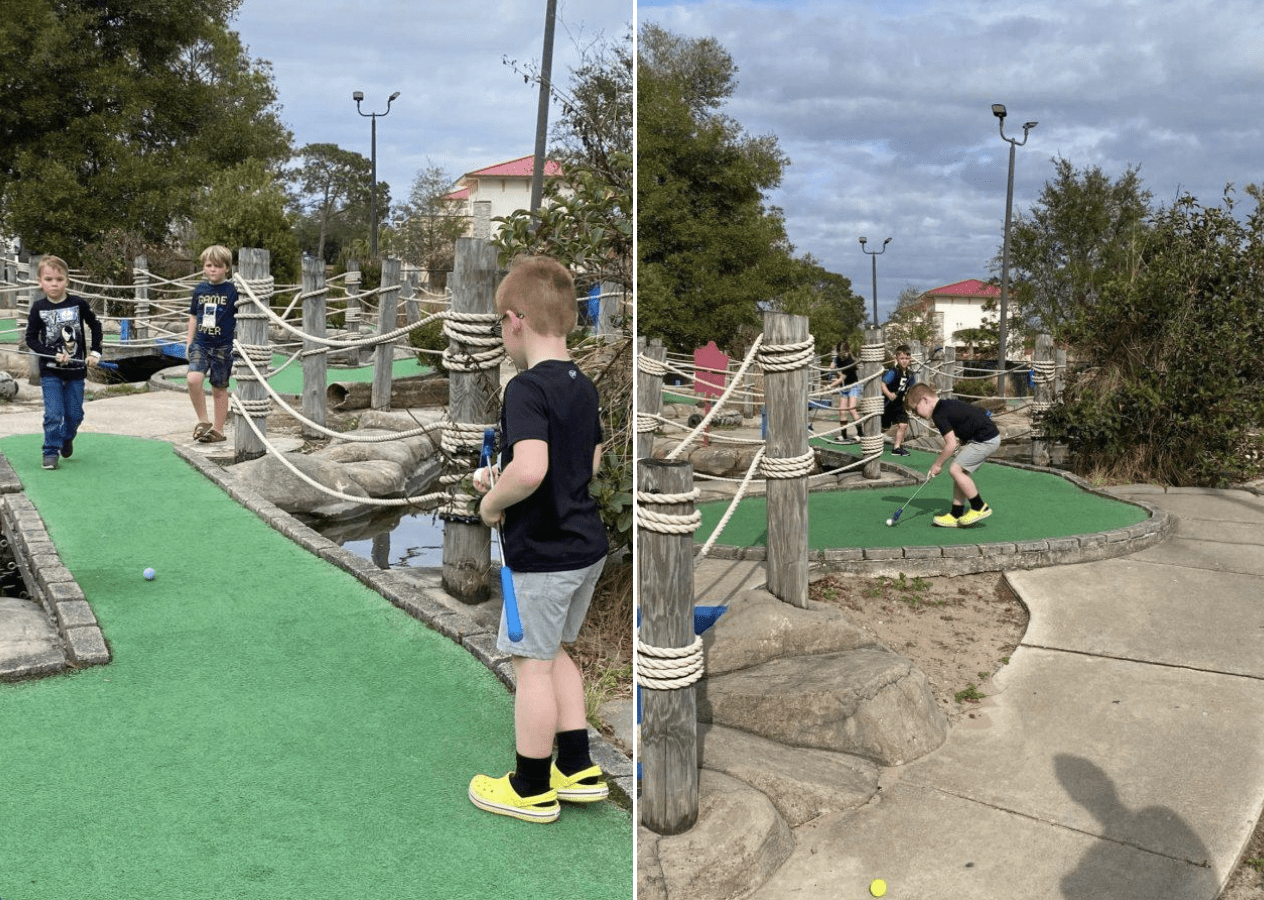 Skate Station Funworks (Orange Park)
Besides the roller skating and rock climbing, the Skate Station Funworks of Orange Park is also the Swamp Golf! Have fun making that hole-in-one at their miniature golf course. It's a great place for birthday parties, and my friend Kristen loves taking her kids here!

Fleming Island Golf Club (Fleming Island)
State-of-the-art Toptracer technology at Fleming Island Golf Club's Top of the Tee allows you to track and improve your golf game or just have fun hitting balls with the family as you practice your swing.
Palm Valley Golf Club (Ponte Vedra Beach)
Located near Nocatee, the Palm Valley Golf Club is an executive 9-hole golf course that is perfect for golfing with kids. You don't have to do a whole round of 18 holes (unless you're up for another round of 9 holes), and the kids can enjoy the driving range and putting green, as well.
Grego MacGregor's Mini Links & Drinks (Fernandina Beach)
Grego MacGregor's Mini Links & Drinks is located in Fernandina Beach, and it is worth the drive for some different golfing fun with the family. They may be known for their tasty drinks, but they have non-alcoholic drinks as well for the little ones!
Island Falls Adventure Golf (Amelia Island)
Also located in Amelia Island, Island Falls Adventure Golf is quite picturesque and worth the drive as well if you're looking for a different scenery for your family while playing miniature golf. You can even walk behind a manmade waterfall at one of the holes!
Putt Putt Amelia Island (Amelia Island)
Putt Putt Amelia Island features 36 holes of putt-putt, and you get a fantastic view of the beach with a nice ocean breeze to compliment your golf game!
Florida is a golf haven! There is practically a golf course or driving range wherever you go. So, go out there and enjoy some quality time golfing with your kids. Who knows? They might just be the next Jordan Spieth or Annika Sörenstam!